Sometimes, our fear of the unknown must be conquered; the mounting pressure to step outside our comfort zone into a strange new situation finally takes control no matter how much we fight it.
Such was the case with me and the ever-elusive Electric Eclectics Festival. After years of being told I should go, I finally took the plunge and attended the 2019 festivities. I'm sure by now, those of you who have never attended have thought or even said out loud "isn't that the weird hippy thing" or "oh, where all the potheads play their weirdo shit" or something along those lines. Now don't get me wrong some of those sentiments are fairly valid….but only in the most endearing way.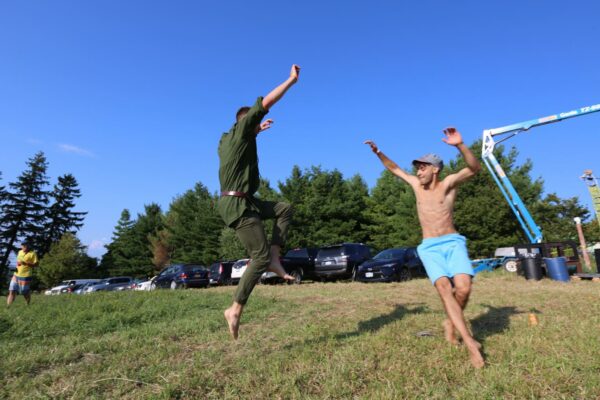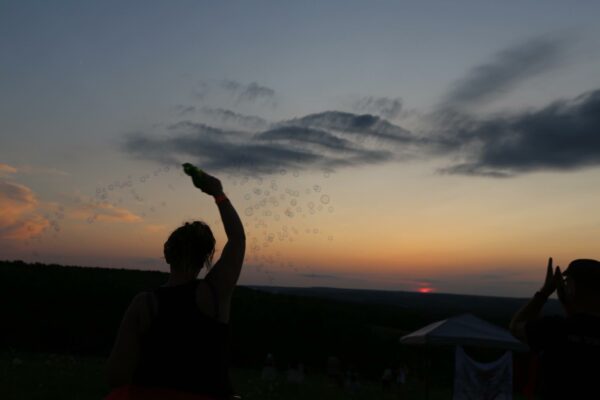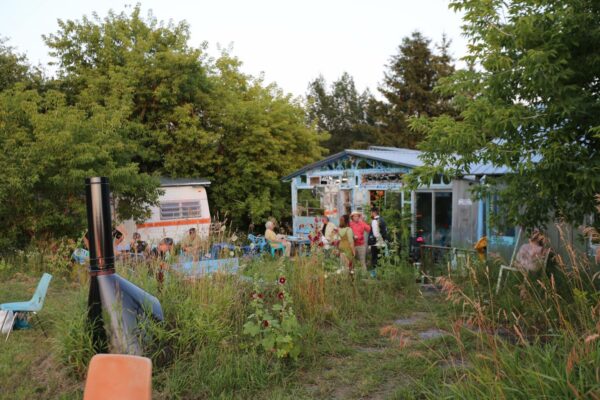 I could already tell on the trip from Owen Sound to Meaford that I was in for something special, my wife and I headed up Scotch Mountain Road on a beautiful sunny August day until reaching a handmade sign pointing us in the direction of EE. We followed the narrow pathway to the gate, signed a waiver and parked.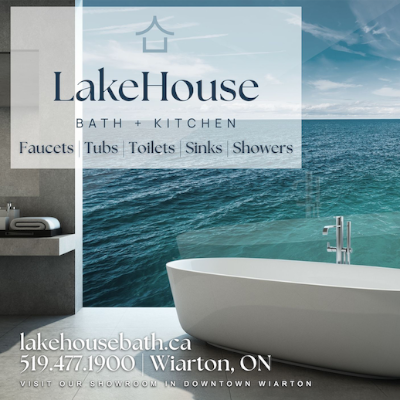 Enter the Funny Farm, the perfectly imperfect festival grounds, the not-so-level terrain, a modest stage, one of the best views I've ever seen (seriously the attendees applaud the sunset!)…..and a wacky tower of impaled stuffed animals…?!?!?!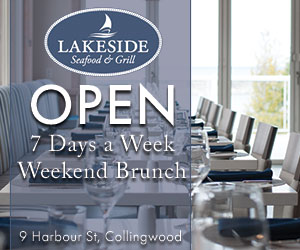 Taking a quick walk around the festival grounds, it's easy to see what makes Electric Eclectics such a beloved festival. The more I observed the more I gave in to the whimsy and let my guard down. It was unlike any other festival I've ever attended; the anxiety of being in a big crowd of strangers melted away. The usual recovery of driving 2+ hours to see noteworthy acts that our thriving local scene can't offer wasn't there. The crowd of a few hundred were completely free to be themselves, some even dressing in peculiar attire and expressive makeup, no pushing or shoving, forming orderly lines. It was truly a sight to behold.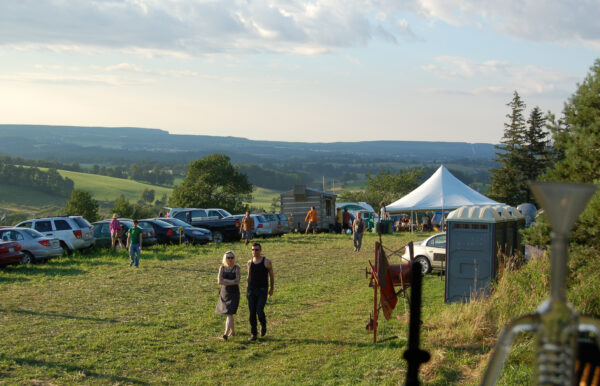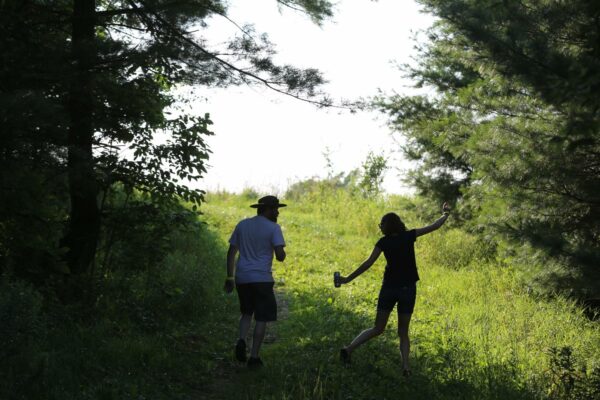 The music I had the pleasure of witnessing that weekend was truly rule-breaking, and not in that cheesy fashion-punk way. I would give anything to watch a person who's spent $3000 on a Les Paul trying with every fibre of their being to emulate these overplaying blues guitarists, watch Sandy Ewen mash steel-wool into her pickups for her set of "prepared guitar"….oh the humanity!
One of the crowning moments of the weekend was watching headliner Lee Ranaldo (of Sonic Youth) suspend his guitar from a crane and throw it over the audience in front of visuals created by Leah Singer as we all stood in shock at the sonic experiments we were witnessing.
At some point during the performance, I was standing next to festival co-founder and director Gordon Monahan who leaned over and said, "did you ever think you'd see Lee Ranaldo swing his guitar around and make sounds like that….in Meaford Ontario?" And that's when it hit me: I was seeing a member of one of the most influential and important acts of the past few decades less than ½ hour from home.
So what makes someone start a festival celebrating outsider art and culture,a festival that's aesthetic is more about the noises you can create than reciting the scales you've practiced? "It's just something I've been doing since youth," says Monahan. "Making connections and honing my skills as a musician…it's just something I couldn't stop doing".
After returning to Canada from Germany in the early aughts, Gordon Monahan and Laura Kikauka, with some prodding from Monahan's brother, co-founded EE. They had hosted some successful shows in the Flesherton area before their move to Berlin where they continued to be involved in the arts. "We were there in the late '80s, early '90s, witnessed the craziness and excitement of the wall coming down. Lived there when people weren't coming to East Berlin because they were 'too scared'. We ended up leaving because of rent prices and the further gentrification of the area….not unlike what's happening in Toronto right now".
Upon returning to the area, they started hosting parties at the 'Funny Farm,' they were well attended and musical performances and DJing would often break out which would end up laying the future blueprints for the festival. "We didn't really become registered as a non-profit or get really organized until 2006," Monahan says of the festival's formation. "We had the land and had hosted events before, but we were a bit nervous to get started. We had just been away for so long that we weren't really sure what was going on in underground and experimental music and Canada and North America, we knew the scene in Germany and other parts of Europe but yeah…and that's when Chris Worden got on board as co-founder, assistant director, and co- curator. Chris was a bit younger and had his ear to the ground for music in North America, coming up in scenes in Guelph and Toronto. He was more than happy to take on a significant curatorial role, and I was happy to let him!"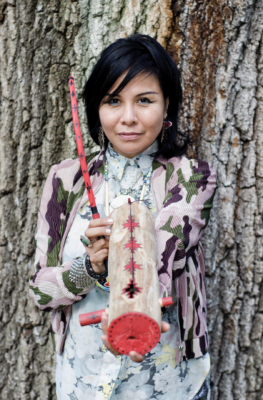 EE had some early success thanks in part to longtime friend of Monahan and Kikauka, Alexander Hacke of Einstürzende Neubauten, who agreed to play the festival along with his collaborator Danielle de Picciotto. "It was great to have Alex and Danielle on board during the early installments, it was good to have a name like that to help in the press…it made what we were doing a little more noteworthy".
While Einstürzende Neubauten most certainly isn't a household name, their influence is undeniable, having been early pioneers of industrial music. You'll notice their band logo tattooed on Henry Rollins' shoulder and their lead vocalist and guitar player would later join Nick Cave and the Bad Seeds.
"Yeah, that's something we definitely try to do every year is secure a 'name''". I mention seeing London ON's Nihilist Spasm Band, who could very well be the first "noise band" on a previous poster. "That was just our second year!", Monahan says excitedly. "Actually NSB's bass player had a prior commitment and couldn't make it so Alex, who was very eager to meet them, ended up playing bass for them" Now, how's that for a once in a lifetime opportunity?!
A quick look on the EE website under the "Archive" header will also show that the festival has been well ahead of others when it comes to equal representation and inclusion. The gender gap and inclusion issue in music has been a pretty hot topic over the last few years. "Oh it's definitely a conscious effort; we try to get to as close as 50/50 as we can," Monohan tells me. The festival has hosted many LGBTQ+ acts including Mykki Blanco, Witch Prophet, and Alexis O'Hara. "I think word has gotten out that this place is safe for everyone to be themselves, from all walks of life".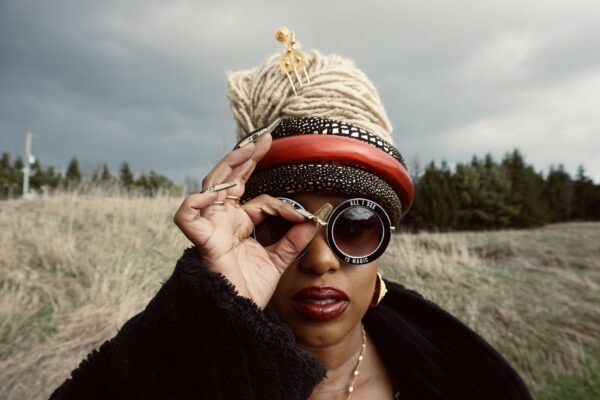 Other notable past performers who have had noteworthy careers include HEALTH, who scored the video game Max Payne 3, Chelsea Wolfe, who's opened for Queens Of The Stone Age and is six albums deep into her own career. EE has also featured many artists that have been short-listed for Canada's Polaris Music Prize, an award that is based on artistic merit rather than just sales and record labels such as Holy Fuck, Austra, Jennifer Castle, U.S. Girls, Yamantaka // Sonic Titan and Lido Pimienta, who would win the award in 2017.
Aside from the aforementioned Lee Ranaldo and Nihilist Spasm Band, EE has also boasted Damo Suzuki of Krautrock giants Can, and Lydia Lunch. "It's pretty crazy", Monahan says of the success of past performers. "We'd reach out to have them play again and they've since gotten an agent and a record deal, someone we got for under $500, their booking agent wants a few thousand…that's most of our budget!"
Operating in a niche market most certainly has its ups and downs, EE operates with a skeleton crew and a shoestring budget with some help from arts grants. "We've weathered the storm for long enough that we have a good idea of what we're doing, sometimes the arts are up and sometimes they're down, but we know our financial limits and operate in it".
Unfortunately, the crew took a hit in early 2019 when Chris Worden decided to step down to further pursue his education. "I was kind of forced to step up a bit", says Monahan, "but after the initial adjustment it really wasn't too bad, we've been doing this a while now and the artist submissions are better than ever, so it's just a matter of slimming down the list to best fit the aesthetic of what we're doing". Taking an educated guess he tells me, "I'd say about 80% of the fest is from all the submissions we get, and about 20% we reached out for. Chris handled a lot of the stuff on the big weekend as well, but luckily we were able to find Charlie Murray, who was a great fit to take on that role".
Like many events and festivals, 2020 brought with it plenty of struggles "We had the dates announced and some tickets sold but no lineup released…out of the tickets sold we refunded a few but lots of weekend pass holders held out until this year", Monahan explains. EE adapted by riding the streaming wave "It was definitely new to us but we made connections with some great organizations, Experimental Sound Studio in Chicago liked what we do and were very helpful". Between 2020-21 Electric Eclectics hosted about 7 streaming events, some featuring festival mainstays like Nihilist Spasm Band, Alexander Hacke, and Shelly Hirsch who will be returning for this year's return to live music. Monahan also kept busy playing festivals and events in Europe between lockdowns and curating a sound installation titled "Memory Cycle" at the Guelph Civic Museum.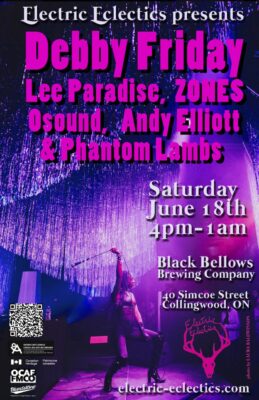 "It was a different experience to put together a festival and not have to worry about organizing travel and having costs be similar whether an artist was playing from Europe or North America, and of course all the artists were paid. We were able to save some money and had a bit of surplus which will help us navigate new costs for this year's festival but we're pretty much picking up where we left off! The only big adjustments will be slimming down the fest from three days to two, everyone is usually pretty burnt out by the the third day", he laughs. "We've also added a second event at Black Bellows in Collingwood.
There's no better time than now to support live music and I can't think of a better place than Ontario's (and maybe Canada's?) most experimental festival. Electric Eclectics at Black Bellows is June 18th and the main festival runs July 29-30, tickets/weekend passes for both events are on sale now! Be sure to check out the official EE website for the lineup and any additional announcements!
Written by Russ Walsh
Photos by Stu Manwell
Some photos provided by Gordon Monahan