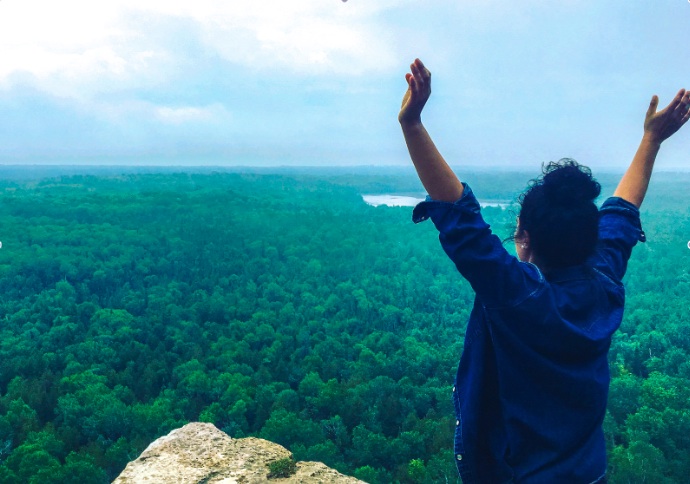 They say island time moves differently. I'd say that's true. But island weather moves differently too.
We had our tickets reserved for the ferry from Tobermory to South Baymouth; we had campgrounds all scoped out; we had a car load full of camping equipment, food and hiking gear; and lastly, we had someone to look after our dog for the weekend.
Off we went in my sexy Mazda 3 hatchback in search of adventure for the weekend.
The only thing we didn't have was a clear read on the weather – it was changing by the hour. By the time we left Saturday morning, the meteorologist had decided on thunderstorms all weekend. We packed our rain ponchos and warm clothes, but threw in our bathing suits last minute just in case.
The Chi Cheemaun ferried us across the channel under a warm June sun and we braced for the storm to hit us as we drove onto the Canada's 31st largest island (174 largest in the world) with our windows down towards the largest settlement on the island, Little Current. The sun still hung in the sky as we drove.
Manitoulin is the English version of the Odawa name Manidoowaaling, which means cave of the spirit, named for an underwater cave where an ancient spirit was meant to live, possibly up to 12 000 years ago as archaeological findings place cultures as far back as 10 000 BC.
We chose a campground called Stanley Park on beautiful Lake Mindemoya in a family trailer park with a few campsites wedged between mini-domiciles. I couldn't shake the feeling we'd landed in a nicer version of Trailer Park Boys when I heard a group of pre-teens run past saying 'Kyle, don't set those fireworks off on the beach or Randy's going to kick us out of the park for sure!" (no names were changed here – swear to God).
But the view was very un-Trailer Park Boys-esque. And as the day wore on, the sun kept shining. Good thing we threw those bathing suits in.
We set up camp, went swimming, read on the grass and went for dinner in Gore Bay at Rocky Racoons. Robin Pradhan has moved his restaurant around Grey Bruce more times than you can shake a stick at…a racoon, but his food and personality are always consistent. I used to work in one of Robin's restaurants, so I know him well, and thought it was a perfect chance to go visit an old friend and eat some momos and vindaloo. The restaurant is a beautiful octagon shaped structure raised up off the ground and with views of the popular Bay.
Remember Kyle and those fireworks? Well, they set them off right around midnight as we were tucking into our tent for bed at Stanley Park. I don't know if he did, in fact, get kicked out of the park – we packed up early and headed out for an early breakfast in Central Manitoulin where baseball games were being played on every diamond on the island. Until they all got rained out.
Yup, the rain did, in fact, come.
There is a lot of driving to do in Manitoulin if you want to really experience everything it offers. No wonder the woman at the campground was surprised we only wanted one night of accommodation. "You really need two nights if you want to see it all," she told me. Well, we took the earliest ferry over and one of the last ferries back, and drove the shit out of my Mazda 3, but we saw enough to know she was right.
The storm finally came on Sunday after the forecast said it was only going to rain for an hour. It came down hard and long, and we braved the Bridal Veil Falls in it, ponchos and all. We downed a bit of lunch in the car to wait it out before tackling Cup and Saucer and when the clouds retreated and sun took charge of the day, we went in search of the lookout point we'd been told was pretty cool.
It was more than cool, though, it was breathtaking. "This looks like Costa Rica," my girlfriend said as she stepped out onto the ledge that'll make anyone with a slight fear of heights shake in their hiking boots. The storm had kept everyone inside so the view was all ours all afternoon.
The hike left us thirsty, so we stopped in at the newest brewery on the block: Manitoulin Brewing Company and tried a few samples before settling into a Swing Bridge and a mountain of Pulled Pork Poutine from the adjacent food truck that together formed a perimeter to the patio.
I took a few Father's Day gifts with me and we hustled to catch the ferry in time back to Tobermory where the evening tourists were loading up on ice cream cones and basking in the 32 degree weather. We had escaped a heat wave in Grey Bruce Counties and had a feeling that storm we encountered was on its way to greet us again.
We didn't experience it all, but we did everything on our check list. And we had a sunburn, some bug bites, a few beers, and some pictures to show for it.
Would we go back to Manitoulin again? Of course. And there's no point in even checking the forecast next time. Just pack for all seasons. The time moves differently on Manitoulin, and so does the weather.
Words and photos by Jesse Wilkinson