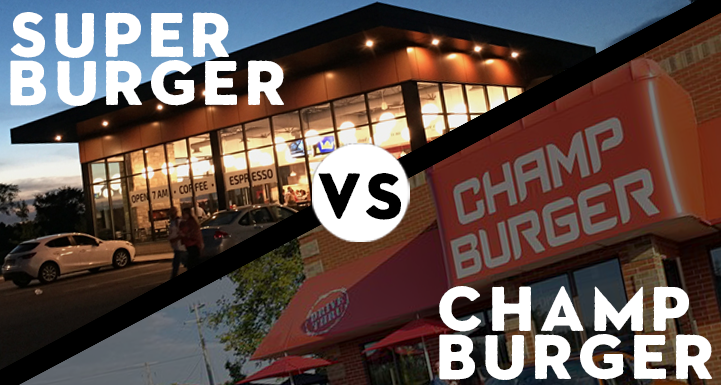 Two burger joints, both alike in dignity, in fair Primrose, where we lay our scene. From kitty-corner grudge break to new mutiny, where bovine blood makes part-time hands unclean.
Primrose is a one horse town 85 kilometers down country of Owen Sound, smack dab centre of a trip to the Big Smoke. If you've ever needed to stretch your legs – you've likely done it here.
You've driven past 1000 times, stopped in to fill your road-weary belly with the sweet ecstasy of grease, meat, cheese, potato, and dill pickle. Super Burger and Champ Burger sit adjacent from one another, both staunchly positioned at the headwaters of the merging Highways 89 and 10 north of Orangeville.
The rivalry has been steadily building since 1990, when the first rendition of Super Burger, complete with its landmark eat-in TTC rail car, was met by then 16-year-old Stan Dimakos and his family, who broke ground on their fledgling business, Champ Burger, a stone's throw away from Super Burger's infamous eastward facing Moose mural. The TTC car, too, was installed in 1990 – perhaps as a way to entice drivers away from the new kid on the block. The iconic street car was removed in 2015 after property owner, James Nicolaou, began plans for an all-new Super Burger that could seat 94.
Advertisement
Both offer a killer burger, fries, onion rings, and all the secondary accoutrement associated with a good and greasy roadside feed. Thing is, settling the debate over who has the better burger isn't so simple. See, nostalgia and memory play a huge role in which joint you choose – and that makes this unique rural Ontario-bred debate a loaded gun of sorts. Loyal patrons wouldn't be caught dead in the opposing camp, and for that, understandably, their opinion is epically biased. Myself? I'd pick Super Burger – thanks to legions of childhood memories and generational loyalties. Prior to writing this story, I had literally never stepped foot in Champ Burger, and never intended to.
These days, the nostalgic Super Burger of old may be gone and replaced by a modernized structure, but the crossroad rivalry remains. No more. We set out to end the debate once and for all following a standardized regimen of unbiased examination and scientifically-based experiential observation.
Cue Matt Palmer. The 6'4" Australian and former semi-pro rugby player/Aussie Navy sailor has called Grey County home for about a year. He's a true burger connoisseur – of note, he's had the exclusive opportunity to feast upon the culinary creations of Burgers by Josh, one of the continent's most elusive and sought-after burger-masters; champions of some upscale, yet Proletariat offerings fraught with decadent touches that include Waygu beef, Capsicum Jam, Old Bay mayonnaise, and homemade Queso.
Further to his burger-eating prowess – Matt is completely unbiased. Prior to sitting down in both establishments, he's had no knowledge of their existence, their histories, or the collective rivalry that has defined the debate – eliminating any shred of pre-existing cultural influence, or familial allegiance.
Definition of Parameters
Instead of cross-comparing the same burger from each spot – say, a bacon cheeseburger with fries – we're choosing to compare the most popular order from each establishment, a decision rooted in hopes that we'll be more accurately comparing the meal that most accurately defines each brand, and is most likely to be ordered by someone who will inevitably offer up their not-so-humble opinion on the victor.
To level the playing field, the beer aspect of Champ Burger will be considered null and void in this faceoff. Beer is not a burger, and as such shall not be permitted to sway Big Aussie's opinion. Matt dressed both burgers identically to coincide with his own personal taste, with ketchup, mayonnaise, onions, pickle, and lettuce.
Neither organization was informed we were coming, or of our intent, allowing the most authentic, everyday presentation and attention-to-detail to inform Matt's verdict. We also didn't bring a big DSLR camera with us so we could operate under the radar, instead opting to shoot the ordeal through the lens of a cell phone camera.
"It's a war," Dimakos told Global News anchor Alan Carter in a viral op-ed article from 2014. But should it be? Is there legit competition? Ladies and gentlemen, we're proud to unveil the findings of the definitive, most comprehensive comparison of these two burger titans in recorded history.
The Contenders
In the west corner, offering flame-broiled burgs since the 1950's – the elder statesman of independent Ontarian fast food culture, boasting an average rating of 3-stars from Tripadvisor and Yelp – Super Burger and its 5 oz. Banquet Burger.
And in the east corner, the young gun burger slinger, media darling of Primrose, and holder of an average rating of 3.75 stars from Yelp and Tripadvisor – Champ Burger and its 6 oz. Champ Banquet Burger.
May the best burger win.
Presentation
Advantage Super Burger.
The Super Burger banquet burger was neat and tidy looking. Big, tall, well organized, and appetizing. By contrast, the Champ Burger offering was a wee bit squished, and much, much greasier.
Beef
Advantage Champ Burger.
Thicker, juicier, and tastier, the Champ Burger is just a better piece of meat. It appears smaller in scope, but it offers a more genuine experience. When you crave a burger, you want something that feels and tastes as homemade (although it's not) as Champ's. Their bun is tastier too.
The Super Burger beef patty does have a larger circumference, giving the illusion of a bigger burger, although it's a whole ounce shy of the competition.
Freshness
Draw.
Both establishments offer a Harvey's-esque buffet style of fresh toppings that allows customers to personalize their order, just like at home. The only real difference here is, Champ Burger adds your choices while you sit down and wait for your order, then hands it over ready-to-go. Super Burger calls you back to the counter and puts your toppings on as you request them.
Both burgers were hot and made-to-order.
Sides
When you're crushing two burgers side-by-side, you have no gut-room for sides. We didn't take fries, onion rings, shakes, or specialty items into account for this story.
Ambiance
Hands down, Champ Burger; but this is a double-edged sword. Champ Burger has evidently been refurbished and outfitted to cater to the 2018 market. It looks as though it's taken the crash-course in Pinterest home decor, equipped with wood accent walls, industrial steel accents, Edison bulb light fixtures, and quilted synthetic leather booths. It's warm, inviting, and feels much homier. Finally, when you walk in – BAM – you're hit with a wave of glorious beef smell. It's the whole sensory experience.
The brand-spanking new Super Burger building is floor to ceiling glass, ultra-modern, and much larger. But – and this is a big but – it's kinda cold. A little corporate. It feels mechanical, and like it's trying too hard to be something it's not. In all honesty, it reminded me of an En-Route station along the 401. The kicker? If the TTC car were still there, this section would undeniably be handed to Super Burger on a silver platter.
The Super Burger staff wasn't rude by any stretch of the imagination, but they were quicker to get our orders out, and less inclined to chat. Finally, there was very little reference to their history. They've been there for 70 years, but it feels as though they've forgotten that. If you didn't know any better, you'd swear Super Burger was the new kid on the block.
Champ Burger's staff were outwardly friendly, adding to the homey feel of the establishment. Does that make the burger taste better? Nope, but it sure helps the customer experience.
THE VERDICT
I could see it on Matt's face before he spilled the news. My worldview slowly began to implode. The room suddenly felt smaller. My breath quickened.
Here's the rub: everyone I spoke to about this story; my parents, friends, acquaintances – the owner of this website – all wanted Super Burger to emerge victorious. Out of a handful of people, only one mentioned Champ's.
Super Burger is the Ontario equivalent to Good Burger from the 1997 Nickelodeon film of the same name. It's a cultural institution. Despite its competitor neighbour offering up a better, bigger burger, Super Burger – at least the collective memory of what Super Burger used to be – is still the people's favourite. But as it stands today, that nostalgia is gone, and the product – although close – doesn't quite stack up.
Alas, the student has become the teacher. Champ Burger is (unfortunately) the better burger.
The beef is better. The space is better. The customer experience is better – but, we need to draw attention to the fact that the Champ Banquet burger is a whole $3.50 more than its crossroad counterpart. Is it $3.50 better? We'll leave that decision up to you – but I'm still a Super Burger guy.
Written by Nelson Phillips
Photos by Nelson Phillips