Changing your environment is a wonderful way to open your eyes to the huge world outside of your comfort zone, and it's an incredible way to learn. Moving around, observing different ways of doing things, and adapting to new cultures and perspectives is how processes and viewpoints progress; you take a little from column A, a little from column B, and you put your own spin on things. C'est la vie.
For Adam and Kim Cooke, owners of Lucky Dog Motors in Owen Sound, the idea to start a used car business in an empty warehouse on the opposite side of town from the fabled Sunset Strip of established auto businesses made perfect sense. Their unique perspective on the auto business and the local community showed them the way.
I stroll into Lucky Dog Motors for the first time, eager to put faces to the white Labrador emblem I've seen on so many car bumpers across Grey-Bruce. The place is huge, loaded with shiny SUVs and hatchbacks. There are couches, music playing in the background, and a red fedora on the coffee table in the lobby. What's immediately noticeable is the lack of snow – we're inside, after all – it's an auto showroom like you'd expect to see at a dealership, except every single car they've got is on display in here.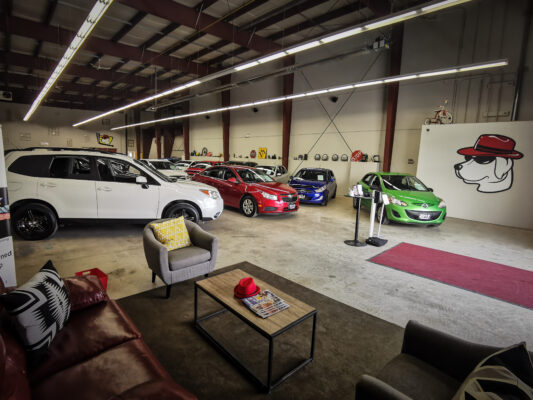 The idea to start an indoor showroom isn't necessarily a new one, Adam says. The couple met in the auto business in Kim's native Florida where they worked and lived for years before moving north to Canada. They were welcomed back to the Great White North by spending the first winter at their cottage in Sauble before moving to Toronto. There, they learned a few more interesting business tactics and high-tailed it for Adam's hometown of OS when they decided condo living wasn't how they wanted to raise their kids.
"I grew up in Owen Sound so it was an easy decision for us where to move. We came up to do some fact-finding, look at some spaces – we knew what we wanted to do – I used to train dealers all over Ontario so I saw the best-of-the-best and the worst-of-the-worst, so we chose the aspects we liked. We found a house we fell in love with and next thing I know we've bought the house and we're moving here and starting a business."
Their business philosophy is what makes this spot unique – we all have the stereotypical imagery of a car salesperson in mind when the word is mentioned – sometimes pushy, sometimes desperate to make a sale, and oftentimes eager to sell you something you didn't initially want. Not here.
This place is all about letting you come to them. Totally hands-off. See something you like? Beauty – the keys are in it. It's indoors – that's unique. Why do it? Cars are clean and they stay clean and detailed, it's warm in the winter, and air-conditioned in the summer. A typical car lot will be dead on a rainy day – not here.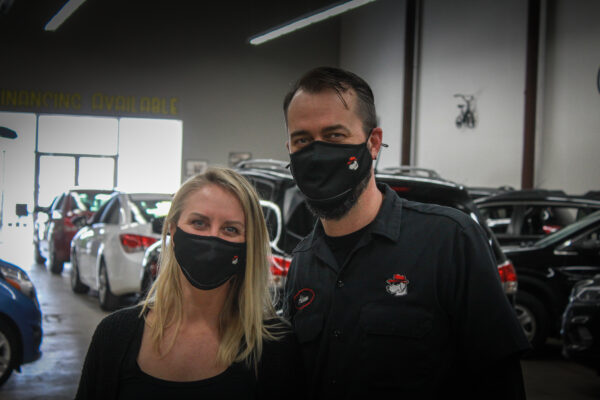 "A typical dealership wants you to buy a new car," explains Adam from behind a Lucky Dog branded mask. "They want you to service it there, buy new parts, etc. They have some used cars there, but they're used to simply show you a used car then they walk you over and try to sell you a payment on a new car. That's just the business model. Our philosophy is, a) we both don't like shoveling snow. I've seen in the city where [indoors] has worked very well."
"And b) we wanted to be disruptive in the industry," says Kim. "We didn't want it to feel like a traditional car-buying experience. Everything's unlocked, the information is in the window, and it's very transparent… There's no running off to get the keys or the manager. There's no one breathing down your back when you're trying to get your bearings and do some shopping."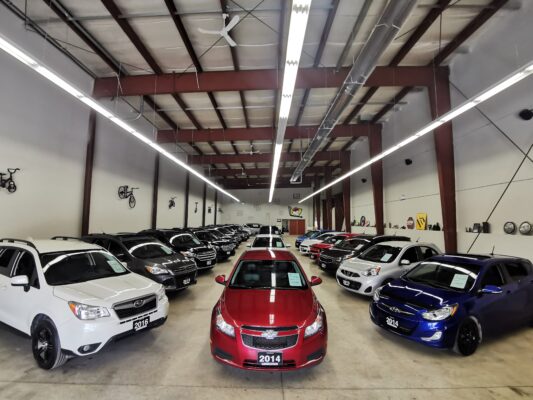 Kim and Adam designed this space so in the event they didn't have many cars in the showroom, they could use the massive empty warehouse to host events – not something you typically hear from your friendly neighbourhood car dealership, either.
"It's just a new way to do business. The cars don't come in here without being safetied first – they're reconditioned, safetied, shampooed – the car you see here is the car we pull out of the showroom and the one you drive home," says Adam. "Everyone shops differently," adds Kim. Especially if someone needs a car right away, it's nice to know there's a quick turnaround. It can be 10 minutes or a few days, depending on how fast you want to move."
I'm a big car guy – I love cars – so next on my radar is the inventory itself. There are no sportscars in here, unlike some of the established dealers who'll place a fire-breathing V8-powered sports car, or a $100k luxury SUV front row center in their space. In reality, they're much more likely to sell a midsize crossover SUV with good gas mileage. From a marketing perspective – and a sales perspective, to boot – that's a terrible waste of prime real estate. Lucky Dog says they're all about serving the community, and they put their money where their mouths are by dedicating the entire showroom to what their market dictates; they know their audience really well, and they deliver what's in demand. It shows – in 2020, they won their third consecutive Owen Sound Reader's Choice award.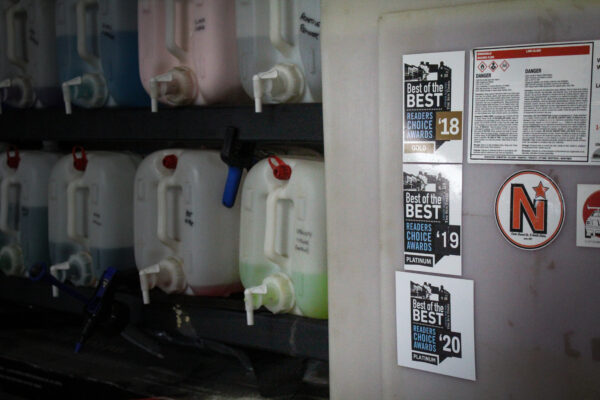 "We really focus on Grey-Bruce," says Adam. "Yes, there are sports cars bombin' around here, but who's our client? The majority of people aren't looking to spend $50k on a car. Cars are depreciating assets and a lot of our clients are really smart with their money. They understand they can get a really nice car for $10-15 grand. We're filling a void where people in this town would typically drive to Kitchener-Waterloo or Barrie to get a used car."
COVID has taken the wind out of the sails of just about every industry, but Kim and Adam are doing what they can to hang tight – people still need cars, and they've been set up to deal with online business since day one. Everything's listed on their website and has been from the start, so adjusting to the pandemic protocols has mainly been taking more phone calls, sanitizing, masking up, and booking customer times to come and physically view the showroom. 

"It's Covid times, I don't know," Kim says, shrugging her shoulders. "Nobody knows really what to expect. We feel fortunate we've been able to stay open to some degree. We keep trying to make the most of it and learn a bit more about social media just like everybody else," she laughs.
—
Words and photos by Nelson Phillips