"For me, it wasn't darkness," answers Geoffrey James of Third Development, "it was a burning desire to offer light." I had asked him about choosing optimism through his music at a time when it's so easy to fall down that rabbit hole of darkness and pessimism. Every song released by Third Development—whether it be their debut album The Thought of Tomorrow, or their newly released single "Shining On"—has an undercurrent of hope. Geoffrey describes it as the feeling he has while composing, combined with wanting to offer a "4 minute escape" from reality for the listener.
A blend of chill electronica, synth pop, and world music, Third Development begs you to join them in a dreamy fantasy world. Soft, reverb-laden female vocals are cushioned by the trance-like synth and drums, as other gentle instrumentation weaves in and out. It's an escape.https://open.spotify.com/embed/album/3qsAvJfW83hQPRNkYzifFx
Geoffrey James of Collingwood, Ontario, leads two lives. He and his wife decided to move here with their two daughters about 8 years ago, embracing the community feel of the area and the access to great skiing. By day he works in finance. But when Ontario went into lockdown last March of 2020, an urge to reconnect with his musical side bubbled up. He's a self taught guitarist and pianist, has experience in songwriting and recording, and self describes as a product of the 80s, aka the golden age of synth. Some main influences for his writing are Thievery Corporation and Zero 7. So amidst the unknown in the early days of the Covid-19 pandemic, he started writing some pieces with synth, guided by his passion to "do something meaningful".
The real sound of Third Development started to serendipitously come together as Geoffrey connected with other musicians and studio engineers online.  First was Sara Fedi, an Italian producer and session bass player currently based in London, UK, who was giving him Logic Pro X virtual lessons.  As the two were working on "The Thought of Tomorrow", a song which would later become the title track for their album, Sara offered to add bass to Geoffrey's synth line.  As more and more songs started coming together, Geoffrey discovered and reached out to other artists from around the globe.  Kintsuku is the beautiful voice you hear on the The Thought of Tomorrow album.  As Geoffrey wanted Third Development to become a truly collaborative project, he asked Kintsuku to write the melody and lyrics that she would be performing.  In doing so, she is even more connected to the words she's singing, and that emotion comes through to the listener.
Third Development's music is mastered by Emily Lazar, a prolific mastering engineer based in New York. Emily is quite possibly the best and most highly regarded mastering engineer in the world. Just check out her Wikipedia page to see the many, many incredible albums she's mastered. She is also the founder of the We Are Moving the Needle foundation, "Aiming to create measurable change for women in the recording industry with the education, equipment and the mentorship needed to succeed." This foundation is a whole other article in itself, but please check it out. She created the organization following the results of a gender inclusivity study about recording studios, which found that only "2% of the producers and audio engineers were women." Read more here.
The compelling visual component to Third Development is also a story of open mindedness and global collaboration. Eden Redpath from Houston, Texas, created an album cover for each and every song on The Thought of Tomorrow. In a highly-visual age where we're often seeing a representation of what we're hearing (as we watch on YouTube, or Instagram, or open the track on our streaming service), I think this is genius. Tying the music to the dreaminess of Eden's artwork makes an even deeper impression upon the listener.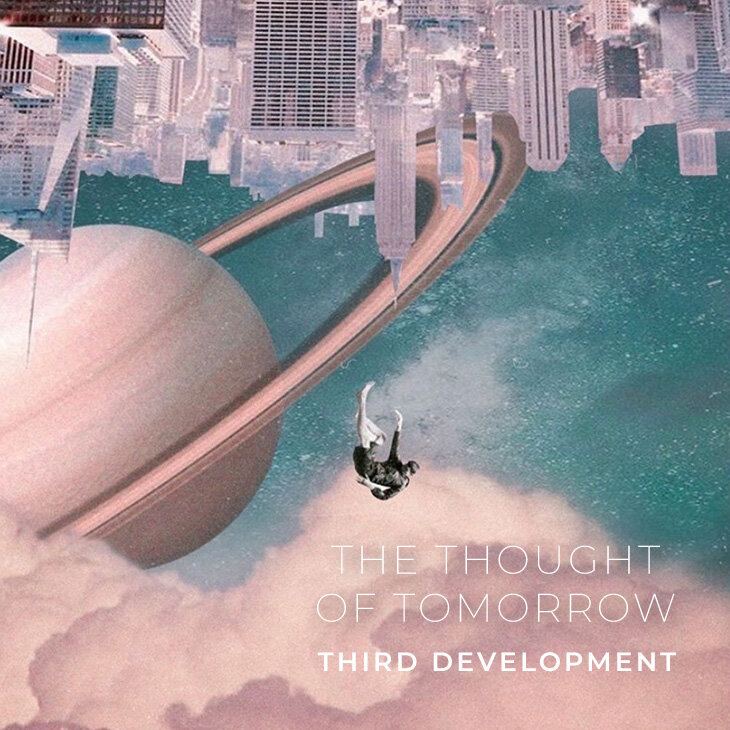 Soon after The Thought of Tomorrow was completed, another song started to unintentionally develop. "Shining On", the latest single from Third Development, is a little more upbeat and driving than their other work, and Geoffrey realized it had to stand alone. He found vocalist Mila Sadé online and again asked the vocalist to write the words and melody that she would perform. What came to be is a beautiful, inspirational single.
To add that impactful visual component to the "Shining On" single, Geoffrey brought in local dancer Erin McAndrew for a music video.  Erin is a gorgeous and expressive modern dancer, and her passion is displayed so beautifully in the video.  As she dances, we see Geoffrey on synth, and the superimposed image of vocalist Mila Sadé.  As Eden has done with her album covers, this music video too echoes the feelings in the music of Third Development.
It seems that there are no limits for what Third Development's next collaborative, inspiring musical work will be. It is incredibly fitting for Third Development's music to be coming out of this time in our lives. This pandemic has shown that global connection is vital, and that technology can be used to bring us all closer together. In turn, this music and the accompanying visual elements is all put together by artists and engineers all over the globe, and is made possible because of the tech we have available to us. With the heart and soul of the project right here in Collingwood, Ontario, it's pretty powerful that this music has a reach all around the world, both through the people involved as well as the listeners.
At the end of our conversation, Geoffrey makes some closing remarks. He notes that in our culture, "There has been a migration to [focus on] things that are less than optimal for our souls, [like] violence, guns, drugs, and alcohol." He continues, "That's not Third Development… you'll never see that from us." Pointing to the mental health of humankind and the complications in the world, he tells me, "If we can inspire a positive impact, that will be a success story."
I've been finding myself putting on Third Development a lot here at home, especially while I'm cooking, cleaning, or getting ready in the morning. I think the elements that have gone into this music really shine through: the focus on global collaboration and connectedness, the positivity and optimism that Geoffrey brings to the heart of every song, and that dreamy fantasy synth world that we all want to escape to right now.
Discover more about Third Development at their website, or on Instagram or Facebook.
Written by Laura Conning