I've got proof there's good things brewing in Grey County. Literally. I'm holding it in my hands as I chat with Alex, Emily, and Kyle from Lovebird Brewing Co.
The first beverage from Grey County's newest craft brewery is a clean, refreshing rice lager called Good Things and it's gaining them some notice in the area. If you haven't heard of them yet, you're about to. Not only are good things happening for this family-run brewery out of Grey Highlands, but big things are on the horizon as well. By the time you're reading this, they'll have a bottle shop on Thornbury's Bruce Street called Lovebird Snack Club that sells their brewskies as well as other craft beverages and curated foods.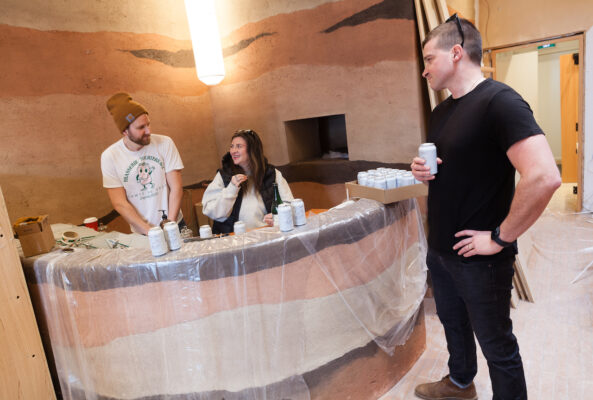 I first came across their beer at Casero – shout out to Todd Milne for the intro – and was impressed by the slick artistic branding. I figured I should probably try one. So I did. And then I figured I should probably meet the people behind it. So I did.
Turns out the people behind it are a couple of lovebirds themselves. Alex and Emily went to high school together but didn't start dating until they met again in their twenties. "I was a shy skateboarder in high school," says Alex and "I was an extrovert," says Emily. But when they met later in life, they hit it off and the rest is Lovebird history. Fast forward a few years and they now have three little kiddos, who are all in two as we meet up for a chat. And it's actually through their kids that, Kyle, the third member of the team was introduced.
Advertisement
"I met Alex at my son Lachlan's Halloween-themed birthday party in Oct. 2021…when restrictions in the province eased and we were able to have small gatherings," says Kyle, who runs the marketing and communications.
Together, they form a three-person team with each member bringing key skills to the table. Alex is the brewmaster, who has a Masters of Analytical Chemistry (not exactly a lightweight) and cut his teeth at Collective Arts, Nickelbrook, and Black Bellows prior to starting Lovebird.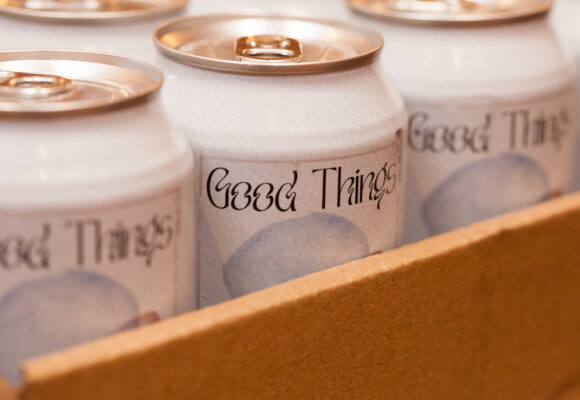 Emily is the creative element behind the branding. "I was always interested in art growing up" she says, but laments not getting accepted to art school. "And then we started getting a little bit of attention online from these stupid drawings I was doing." These 'stupid drawings' as she calls them, are actually really cool and were the impetus to start designing their own labels. The name Lovebird came from a period when Alex was listening to some classic oldies. "I'd have a dad joint and listen to a lot of 60s music and was thinking about love," recalls Alex. "There's that 60s and 70s feel of calling someone your lovebird." They liked the way the name looked, sounded, and felt. And it reflected that this new venture was, in fact, a labour of love.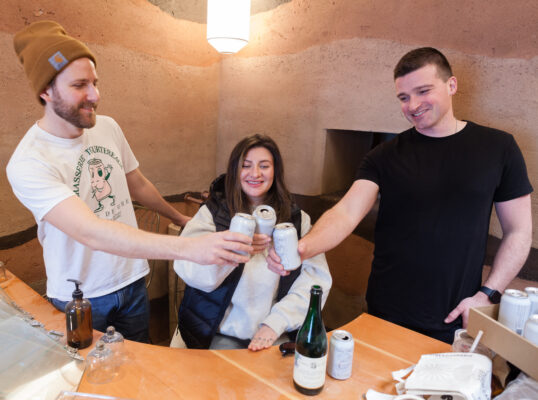 When Kyle came into the picture in 2021, it was all falling into place and happening in a way that they felt comfortable with. "In my view, Lovebird's origin and evolving narrative really set it apart from other breweries or brewing companies," says Kyle. "We're taking an incremental approach to growth that doesn't jeopardize our values, or the quality/style of beer we produce. Being a husband-and-wife-led business adds an element of charm that's becoming rare in the craft scene. Ultimately, our mission is to produce quality beer that is approachable to both the seasoned craft drinker and new-to-craft drinker alike."
They had the know-how, the vision, the branding, and the team. And the niche was there, too. They realized there weren't any breweries in Grey Highlands and they wanted to seize that opportunity. The two had moved to this area from the city and purchased a home in Durham, something they could fix up while living at Emily's mother's place in Kimberley. Having spent much of her youth in the Beaver Valley, Emily feels connected to the area and the two are embracing a more rustic lifestyle after leaving the city.
They're realistic about their goals and are taking small, smart steps to get there. "I want us to start small enough where we could be sustainable and grow organically as the brand grows," says Alex. They are self-admittedly not big risk takers and would rather make steady moves. "There's a high financial barrier to entrance in the alcohol industry," admits Alex. "You need to put all your money up front and then get your licencing. It's kind of backwards."
As with any business, there have been lots of ups and downs along the way. They were rejected at the LCBO, but getting into some local spots like Casero and Savvy Co. has been a mark of confidence for the team. During our chat, they actually receive a reassuring message from a friend in the industry, and acknowledge how great it is to have some mentorship right now.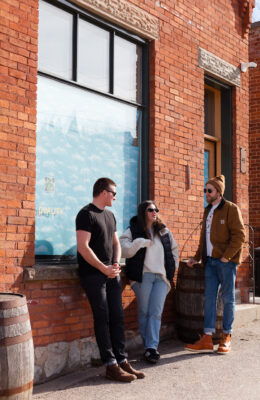 They know they have a long way to go, but have fallen in love with their new community in Grey County and are here to stay. "The plan with the building in Thornbury was to open a bottle shop, carry our own product, and [Alex] can still brew out of other facilities," says Emily. "And then eventually we'll move on to an actual brewery."
Emily is looking forward to putting her hospitality skills to work in the bottle shop to connect with their patrons and provide a comfortable experience. After many years working in restaurants in Toronto, she brings a wealth of knowledge. The shy skateboarder in Alex will likely be happy to let Emily handle the front-of-house while he brews the beer.
The next on the docket is a Grodziskie-inspired brew to reflect Alex's Polish heritage. It's called Nina, after his grandmother, and is made from oak-smoked wheat malt with low ABV and high carbonation. It's like a champagne of beers and is aligned with their vision to enhance the bonding experience brought about by food and drink. They have an affinity for the European culture of sipping a low ABV beer for a long period of time while chatting with friends, as opposed to drinking to get sloshed. It's a classier approach to consuming alcohol that is more about community and less about overdoing it. "Having our own physical venue where we can explore that vision…is ideal," says Emily. They'll also bring in other local beers to the Snack Club to reinforce that camaraderie they've felt since moving here.
They're jazzed about this next adventure in their lives and couldn't be happier that it's taking place in Grey County, a place where they've already made a lot of friends in a short time. Emily is quick to state it plainly: "I've never felt so at home."
Written by Jesse Wilkinson
Photos by John Fearnall of Good Noise