In the summer months in Owen Sound, it's not uncommon to seek out a local watering hole and take in some live music. Of course, there's The Harb with local rock or metal acts, Heartwood Hall doing weekly shows and open mics, or Jazzmyn's hosting a few acoustic acts.
These are all fantastic options to catch a show if you're of legal age to partake in the drink, but for some, that's not an option.
On one particularly humid July night, Owen Sound's 9th Street was flooded with eager music fans but the usual sounds were not in the air! There was no Neil, Bob, Stevie, or any of the usual cover songs you're used to hearing. Instead, the sounds of bands like Paramore, Hole, Deftones, and Title Fight came crashing through the doors of my shop, Sour Cat Records – these were the sounds of Banditfest, a new youth movement!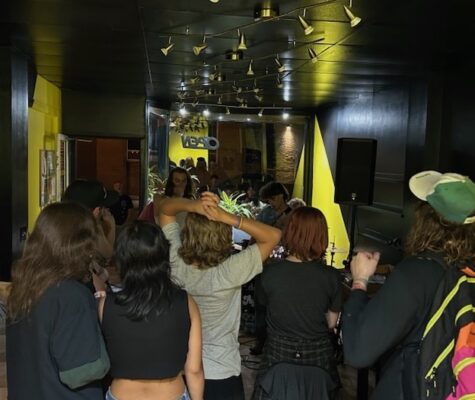 Banditfest is the brainchild of 10th-grade student Olive Borowski that is supported with the help of some friends and volunteers. "We started doing coffee houses at school and events at the library and really wanted to keep things going into the summer and do a big fest at Kelso," she says. Unfortunately, things didn't go as planned. "We had some trouble securing sponsorship and funding and some potential collaborators backed out."
Advertisement
Olive grew up in a musical family and moved from Hamilton a couple of years ago. "My parents are musicians and my aunt plays in a touring band. My grandfather actually played in a touring bluegrass band and I have a lot of fond memories growing up watching him play events. So when we moved here, there were a lot less music events going on, especially for the youth," she continues. "I just noticed a lot of friends and classmates desperate for something to do!"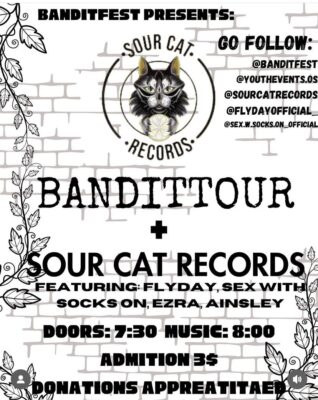 The attendees are almost all high-school kids who are almost as excited to watch as their friends are to play. On this particular July evening, most folks have made their way over from the Roxy Theatre after watching their friends or younger siblings perform in the production of Winnie The Pooh. Most parents, on the other hand, have made their way to Jazzmyn's or Sizzlin' so their teen children won't literally die of embarrassment.
The place filled up quickly and the temperature rose, so we kept the door open, and kids came and went as they please watching from inside or listening from outside. The night started with a couple of solo performers, Aeil and Bree, both singing along to instrumental tracks. Aeil has a great selection of covers picked out with her performance of Ain't It Fun by Paramore being a highlight and a real crowd-pleaser. Bree is admirably doing double duty having starred as the titular character in the aforementioned play at the Roxy and the crowd is very supportive.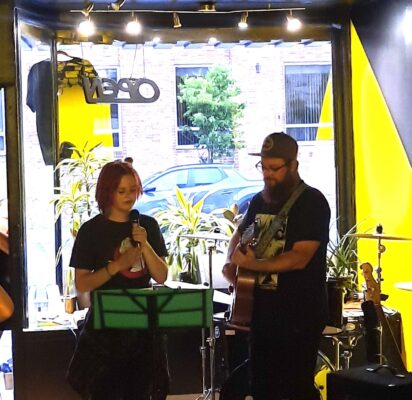 Ezra Koop, accompanied by their dad Jaret on acoustic guitar, plays covers by artists I'm much less familiar with like mxmtoon and Chloe Moriondo. "Ez is way into indie rock, some punk, and I guess emo-pop? I don't know where they find these artists but they're better known in the younger queer community," Jaret tells me.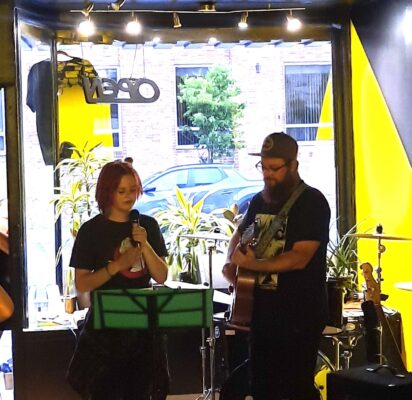 Sex With Socks On, co-fronted by Olive, plays the only original tunes of the night, a blend of grunge and dare I say it…Riot Grrrl, and get off to a great start with some friends even singing along. After a brief hiccup, they play a triumphant cover of Celebrity Skin by Hole!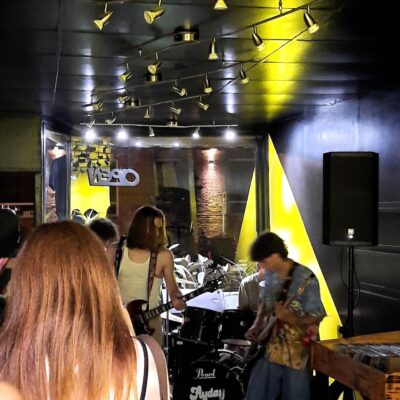 Flyday closes out the night and are shockingly tight for a high-school band. They confidently blast through some Deftones and Title Fight tunes. "I'm kind of the old man of the band," their singer tells me after the show," I'm pretty much an adult. I'm not sure I would have started a band with this dude if I knew he (the guitarist) was in 9th grade!"
As I waited for the last of the kids to get picked up by their parents I chatted with Jaret. We worked together at a local guitar shop and noticed that none of the lesson students would talk to each other and try to start a band. We both agree how awesome it is to see kids putting on shows again, especially in that age group and had feared maybe the youth weren't starting bands or that they were only interested in posting on Bandcamp and Soundcloud. It may sound cliche, but the kids are alright!
In the time it's taken me to type this article Banditfest has already put on three more backyard events including one on August 28th and Sourcat has been putting on shows as well. Be sure to follow Banditfest on social media.
Words by Russ Walsh
Photos by Russ Walsh and Jaret Koop