This small-town region boasts some big theatre talent, not only in the top-notch casts and crews that bring productions to life, but also in home-grown scripts selected for the playbills. The current seasons of Bruce County Playhouse and Owen Sound Little Theatre shine a light on the writing of three playwrights living in the community.
With the support of these companies, original works from local women, Sandi Holland, Samantha Colwell-Castles, and Sheilah Spurr are moving from page to stage, with Holland's Love & Luna debuting at Bruce County Playhouse in Southampton this week.  Colwell-Castles's You, Me, and a Bit of Driftwood will debut in February and Spurr's Gorgeous Galavanting Goddesses in June, both at the Roxy Theatre.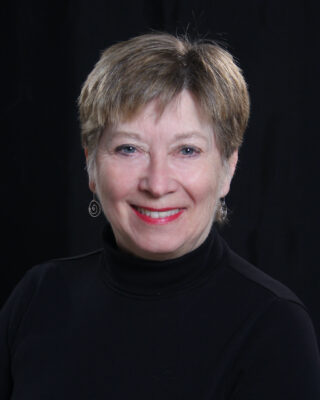 I'm looking forward to speaking with the writers about their plays and bringing you the details throughout the season. Witty dialogue and heartfelt stories from each production reflect the individual and unique voice of their creator. These are shows you won't want to miss.
Premiering on November 3rd is Sandi Holland's Love & Luna, a comedy about pursuing old dreams, finding new passions, and creating happiness. It follows two couples (played by Samantha Colwell-Castles, Kevin Haxell, Trish Gray, and Gary Powell) as they search for fulfilment after retirement. I won't give too much away, but you can bet there will be laughter, twists and turns, and even some clowning around – literally!
Advertisement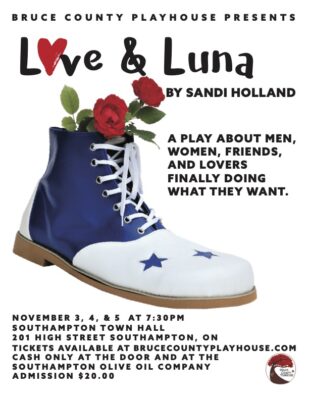 Love & Luna stands out as both the first play Holland has written and the first community theatre production for Bruce County Playhouse. Holland, whose main craft is short stories, initially wrote the play's opening scene as a skit two years ago, when Bruce County Playhouse put out a call for community submissions for a holiday showcase. Half a pandemic later, with the encouragement of Haxell – her partner and the director of Love & Luna – and Colwell-Castles, Holland stepped outside her comfort zone and developed the skit into a full-length play. "I love writing short stories, but they're narrative and descriptive, and not much dialogue. It was a real learning experience."
The momentum didn't stop there. Once she had a script, the next step was to workshop the play – a process which allows the director, actors, and writer to work through the play on stage, and provides time to address and revise any spots that may need more work. It's a dynamic process that allows for deep character and story exploration.
Natalie Robitaille, artistic director of Bruce County Playhouse, agreed to support Love & Luna in this journey. The professional theatre company had been looking to increase community involvement, and as Holland explains, she and Robitaille decided that having a workshop project would be perfect for local writers, actors, and directors to get something on the stage and be supported by the community.
"Being able to workshop through the rehearsal process has been amazing. [The play has] grown in so many ways," says Holland. "This first production is really important in that I am able to get [the actors and director] to understand what my vision was and then recapture that in my script, so that the next people that put it on without me present can still see the character development."
She notes that having Haxell and Colwell-Castles on board has been valuable, both of them accomplished actors and Haxell a seasoned director. Add in Holland's experience in stage managing and her talent for writing, and it's no wonder that Love & Luna has become the inaugural community theatre production for Bruce County Playhouse. Besides, a light-hearted, uplifting story is always refreshing to see.
"It's a great date night. Go for dinner and go out and laugh!" Holland suggests. "I think we've had enough sadness and angst of not knowing [throughout the pandemic] … There's been so much uncertainty. I think being able to enjoy laughter and enjoy friendship with people has been the whole reason for doing this."
Love & Luna runs on November 3rd, 4th, and 5th at 7:30pm at the Southampton Town Hall. Tickets can be purchased with cash at the Southampton Olive Oil Company and at the door, or on the Bruce County Playhouse website.
Go with a friend or two (or more!), take your sweetheart, or treat yourself to an evening out. Just make sure you don't miss this production!
Written by Sarah Goldman