Mark Bethune doesn't make films for the faint of heart.
I loved his recent Finders Keepers in the same way I love a Cormac McCarthy novel: it's dark, honest and macabre, yet comedic at times.
Shot locally during the winter of 2020, it certainly captures the juxtaposition of Grey Bruce's beauty and isolation. "Trying to show a post-apocalyptic world, you want it to be as desolate as possible," Bethune says. And parts of Grey Bruce sure can feel desolate in the winter. Every local knows that.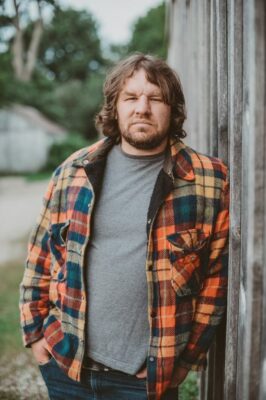 The stark setting is matched by the dark plot. You think you know where the story's heading in the first two acts, but there is a twist at the end that will catch you off guard and keep you thinking about this film for a long time to come.
Advertisement
In twenty minutes, Finders Keepers had me feeling both pity and fear, two key elements in good storytelling. I'm not here to give any spoilers, but I'll let Bethune explain it in his own words: "It's about a pregnant woman trying to find a place to give birth in the middle of winter landscape, the dystopian aspects are secondary to the primal urge this woman has to give birth in the worst conditions possible." Said pregnant woman is CBC's Dani Kind of Workin Moms, who steps away from comedy to engage viewers dramatically. She came to the film through a mutual friend of hers and Bethune and brings a little bit of Canadian star-power to the project, which always helps a new filmmaker.



Bethune currently resides on an 85 acre plot of land on the Saugeen River just south of Paisley, a piece of land purchased by his dad in the 80s. He's been living there during the pandemic and it's where Finders Keepers was shot. In the last ten years, he's lived at the cabin near Paisley three times – a place he's used as a retreat. And judging by the life he's led the last ten years, it's understandable for him to seek out a haven from time to time.
Originally from Brantford, he's lived all over the world and worked jobs in all the cities you want to live in. Here's a quick summary: he attended film school in Toronto, lived in England for 5 years, made commercials in Bollywood India, took his master's degree in the States, then lived in San Francisco and Beijing, and then New York for three years.
You could say that Bethune has gathered enough world experience to write an endless number of scripts. And he's certainly coming close. He's been busy writing since graduating film school fifteen years ago, and while he's got a lot of film scripts finished, the trick is navigating what can be made on limited budgets. While also maintaining professionalism, mind you.
His goal: to make Finders Keepers into series for CBC or perhaps a feature film. The twist at the end is the impetus for said feature. And what a twist it is! But that project would be an expensive one so it's on the shelf for right now until he's ready and has the funding in place. But he's got his sights set on a feature film this spring he's tentatively named Dystopian Summer. His budget is $500 000 and that's what's considered a micro-budget. Damn, I guess half a million doesn't get you too far in the world of film. He cites The Lobster and Being John Malkovich as movies that lit a fire in his belly, and I'm guessing those weren't shot on a micro-budget.
Another script he'd like to write is about his father, who was a principal at the W. Ross MacDonald School for the blind in Brantford, and ended up getting cancer on his optic nerve eventually going blind himself. "It's an ironic story of the teacher becoming the student," he says. "That's a tough story to tell and I wouldn't want to do it until I had more of a career behind me." He wants the right budget to tell it properly and getting a budget can be a very tricky thing. Remember that micro-budget thing we just addressed? Well, he'd need a macro-budget for some of the features on his list.
Securing Dani Kind has given him some leverage in making his next project, though. Bethune is realizing that in this industry, knowing the right person is just as important as having a great script. "You really get to see how the industry works, you can apply blindly for grants a thousand times, reach out to agents that never respond but all of a sudden if you have a friend who knows [famous actors] all of a sudden they're in your movie and all the wheels are spinning."
It turns out the adage is true: it's as much who you know as what you know.
"It's taught me a lot in the last year. Every step of the way, you're trying to gather what you have around you," he says. For Finders Keepers, he started with a script, a cabin in the woods and a friend with some connections. But he also brought some serious filmmaking talent and envious vision, and that's what will lead him into his next project this spring.
But until then, catch his short film Finders Keepers airing on CBC November 18 at 11:30pm and on CBC Gem after that. And don't forget – I warned you about the ending.
Written by Jesse Wilkinson
Feature image by Ranna Asha Photography. @rannaashaphotography