This is the kind of band you want to host at your backyard concert. 
Can you picture it? Great summer laidback indie rock while people mingle and dance and soak in the rays. I think we're all daydreaming of warm days with friends and great music right now.
I had the pleasure of chatting with Moondoggy a couple of weeks ago, via Zoom from our various locations across Canada. The band consists of four gentlemen who met while attending CCI here in Collingwood; Jakob Matanowitsch (Lead Vocals/Rhythm Guitar), Jonathan Contini (Lead Guitar), Nick Wyant (Bass), and Jack Courtemanche (Drums).
Though they're all off to different parts of the country now to pursue music and other aspects of their careers, they stay closely connected through their music. Nick joins the call from Hamilton, Jake and Johnny from Toronto, and Jack (with an obvious ski goggle tan) from BC.
Advertisement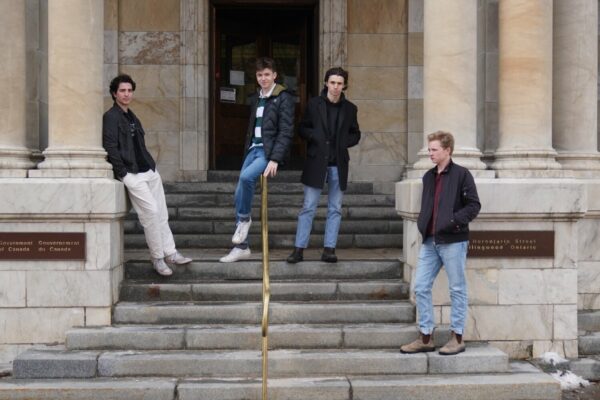 In making their newly released self-titled EP Moondoggy, the four worked together from wherever they were. When they could connect back in Collingwood, they would songwrite and record together, but more often than not they were sharing ideas online and tracking ideas at home. Naturally, the process can take twice as long when you're not all together, but the passion and drive between all of these individuals is clear. They're eager to produce new material, writing and recording when they can, and hopefully get together within the next month or two to jam together and nail down some shows.
So, about the music.
Moondoggy released a few singles in 2019 and 2020 before releasing their EP this year. "Sweet to Me", "Better on Your Own", and "Loose Tooth" are fantastic standalone tracks.
From the very first single, "Sweet to Me", they nailed the aesthetic and sound of Moondoggy. It's got the laidback indie garage rock sound of contemporaries like Mac DeMarco, but also incorporates classic rock influences like Pink Floyd-esque guitar solos and George Martin-esque recording techniques. Awesome bass and drum grooves, rich guitar solos, and edgy forward vocals that stand out against the more reverb-laden instrumentation.
Moondoggy is a true indie rock band: they write, record, and release music on their own. I think that DIY element lends itself to a garage/punk aesthetic that you can hear in the tunes; it's got a relaxed, "we're gonna do this in our own time, in our own way" sort of sound to it, like you're joining the band in the garage and listening on their terms. In other words, it's not the cleaned up, pop-friendly radio stuff; it's got a roughness around the edges that you would only catch on independent college radio stations (which, in my opinion, are the absolute best stations).
Plus, the guys in Moondoggy know how difficult it is to make it all happen yourself, and I think that true grit adds a lot of passion to every tune. You're not going to work so hard for something just to half-ass it. "It takes a lot more for a band to do it themselves," says Jake.
Nick Wyant does all the mixing himself, and he tells me about the mixing process: "When everything was analog, it was more what you heard than what you saw, [so I'm] trying to replicate that with digital." You can hear it throughout the tunes—a reverse loop to emulate an old tape trick from analog days, or double vocals like you would've heard on something like "Strawberry Fields Forever".
The guys of Moondoggy know their stuff, and I highly recommend closing your eyes and listening with good headphones to catch all the subtleties in the tracks.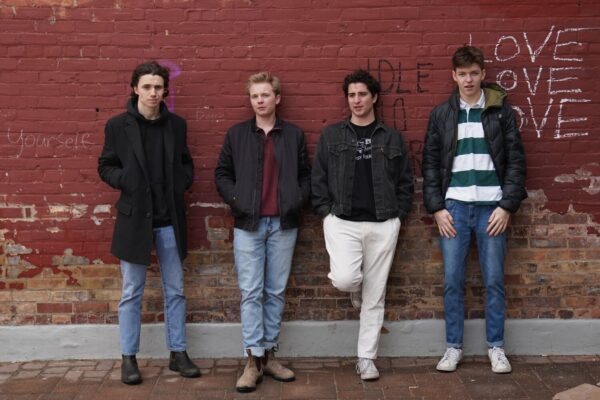 "Sweet to Me" is currently sitting at around 46,500 streams on Spotify. Soon after it was released, it gained a lot of attention through the Spotify algorithm. "If there's a trick to [that algorithm], we don't know it," laughs Nick. "I think "Sweet to Me" was a big motivator for us," he explains. Seeing that the song got a lot of response has been encouraging that the music is resonating with people, and has been motivation for writing and recording more.
Jake notes, "We all have different writing styles," which come together to make up the sound of Moondoggy. Neil Young, Khruangbin, Mac DeMarco, Cream, and Hendrix are a few of the influences they name, and I think you can hear those elements in the music.
"We all have different influences across different genres," explains Jack. The access to everything that has ever been recorded is huge for modern songwriting. A band like Moondoggy can be just as influenced by stuff that was written last year as by stuff that was released in the '60s or '70s. It makes for this great hybrid form of genre that cherry picks elements from the best of rock history.
Let's take "Are We Dogs", the last track on Moondoggy, for example. It's got this beautiful spacious atmosphere, a laidback, not rushed vibe. The vocals and guitar weave through melodies against the groove of the bass and drums. It's sort of a jam song, but with structure and thoughtfulness. I've been obsessing over Johnny's solo at the end, which seems to me part David Gilmour on Pink Floyd's "Comfortably Numb" and part Eddie Hazel on Funkadelic's "Maggotbrain", two guitarists that grab my attention every single time. That blend of ethereal melody with a crispy tone is *chef kiss*.
As for the next additions to your playlists, it's gotta be "Tongue Tied" (off the EP), and "Loose Tooth" (a single from 2020). "Tongue Tied" is the driving garage rock song that you'll be boogieing to at your backyard party, and "Loose Tooth" is the heartbreaking love song that you want to hear on repeat at the end of the night. The band is great at playing with catchy pop song structure mixed with groovy psych rock looseness.
Moondoggy is comprised of four guys who are young, talented, knowledgeable, and ambitious. I can't wait to hear them in person this summer, one way or another. Keep in touch with what Moondoggy is up to on their instagram @moondoggytheband, and support them by grabbing some merch (while it's still available)!
Words by Laura Conning
Photos supplied by Route 26