Black Bellows is buzzing with excitement as I walk in the front doors, camera in hand. The place is packed and full of a relaxed enthusiasm, all signs pointing towards the kind of evening that only Ross Docherty can bring. He's got a signature way of delivering a trivia night, one that doesn't take itself too seriously but keeps the competition at a healthy level and the jokes even healthier.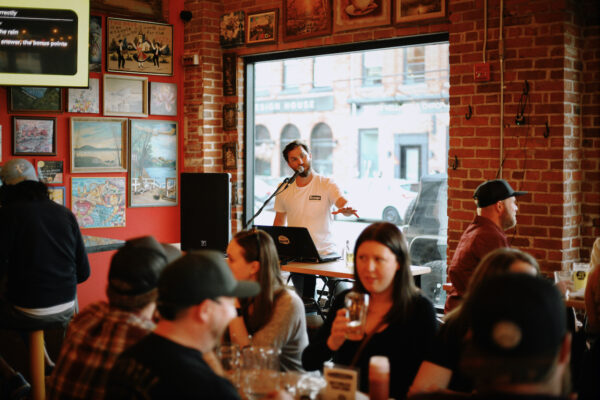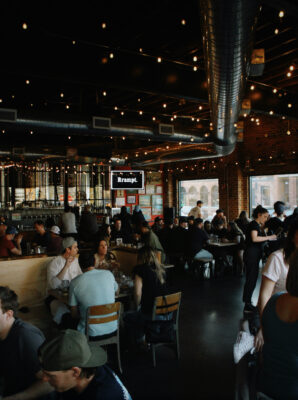 Ross scans the room before engaging with each group personally. His connection with the crowd, combined with his undeniable British wit, makes for a signature Trivia By Ross event at Black Bellows, a series that's been selling out consistently since it started a couple years ago. With the help of an app and some tech gear that Ross sets up prior to each event, groups compete to be trivia champions with a smooth, user-friendly experience.

This particular Trivia is Spring Themed, and as he's setting up, Ross tells me that everything he does for hosting Trivia is in the name of fun. He doesn't take himself too seriously and wants everyone else to do the same.
As the place fills up, I watch people of all ages unwinding, while allowing their competitive side to run loose. It only takes one look around to feel it – Black Bellows is the right place to be on nights like this.
The Brewery, purchased in 2018, occupies one of the oldest commercial buildings in Collingwood and the owners have kept some of the history, while adding a modern twist and some spunk to create a uniquely charming atmosphere in downtown Collingwood. It rotates a selection of brewskis, serving 12 beers at any given time, including the most beloved- L9Y Helles Lager.
Ross began hosting trivia in this area after his family urged him into it while visiting from the UK a decade ago, claiming he would be a real pub quiz guru. He received tons of positive feedback on his first events and began generating serious traction from there. Ross says it's both a creative outlet for him, as well as an enjoyable way to connect.
He partnered with Rrampt soon after to continue Trivia By Ross nights and Live Music Trivia, which combines trivia with a live band for all the music trivia nuts out there. The partnership just made sense after pairing on a few successful events. During the pandemic, he hosted a lot of online trivia for both private and corporate events and was a popular choice for holiday parties when people were connecting online.
The trivia with Black Bellows began on their patio during COVID, and Ross immediately knew it would land well- as he states, Black Bellows brings great crowds that warm up easily and connect with his sense of humour.
The framework itself is quirky and laid back – the pairing with the dining experience at Black Bellows felt effortless, he says. Ross ultimately made the transition to using an app for all trivia related content after noticing the tedious nature of traditional trivia using pen and paper. The app gives audiences a sense of instant gratification and allows for a seamless delivery of scoring. It also plays each team's favourite song nice and loud when they buzz in first.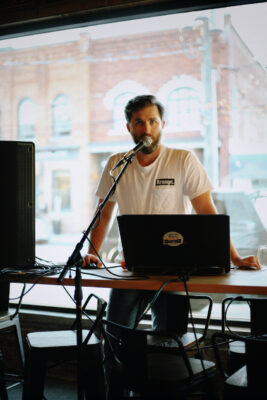 He's happy to be back in person this last year, and happy his trivia night is resonating with the patrons of Black Bellows. General Manager Ryan Murphy is on board the Trivia By Ross train and appreciates the engagement it brings – the consistent turn-out proves it's an incredible addition in their programming. Black Bellows has a mission to make sure everyone feels welcome at the brewery and the Trivia nights are no exception to inclusivity.
You can find Trivia by Ross in the future at both Black Bellows in Collingwood and at Heartwood Hall in Owen Sound. Now all you have to do is come up with a clever team name.
Words and photos by Erin Coholan