Habit's latest effort wastes no time getting started, and in that spirit, neither will I!
After a brief excerpt from W.H. Auden's poem Funeral Blues, Warplane comes in sounding like its namesake with the thundering drums of Dana Bellamy, whose work behind the kit is on full display for this track! She smashes and crashes her way through the mix of brothers Brock and Bryndyn Boonstra's jangling, overdriven guitar, and fuzzy bass and then puts on a clinic during the chorus.
"We have tried to live with it/ I got a ringing in my ears again/ post pavilion dogs are coming/ where the neon lights are humming/ turn 'em off again/ you turn 'em off again" Boonstra (Brock that is) sings over a biting chord progression, giving us all the best kind of ringing in our ears as well.
In the vein of such bands like Fucked Up, Titus Andronicus, and maybe even some early Modest Mouse, the Guelph-by-way-of-Owen Sound trio keeps their blend of artistic punk-rock going with Drivel, a tune that's sure to bring the living room mosh (or maybe pogoing for some of our more experienced readers).
Advertisement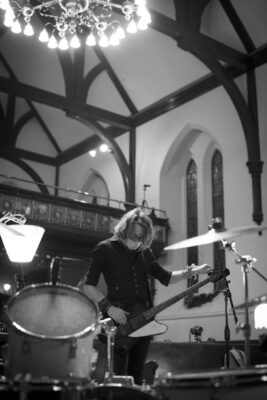 The high-energy track doesn't let up until Habit gives us a breath for a well-placed bridge. It's nice until the other shoe drops and the band goes absolutely haywire! The tune ends with a keyboard part over another passage of poetry: W.B. Yeats' Easter 1916 that flows flawlessly into the next track.
If the band's poetic influences aren't evident by now then Verse III will surely solve that issue. The music serves as a backdrop for witty lyricism, the steady flow of the rhythm section patiently building and building letting the guitar ring through and allowing the vocals to take center stage.
"Laugh until your lung's content/ and body is an empty den/ ya I'm afraid of going in/ and blowing out your instruments/ for they are built of excrement/ and baby you're a deadly sin/ of tongue, dry tongue" Boonstra croons during one of the song's many engaging stanzas.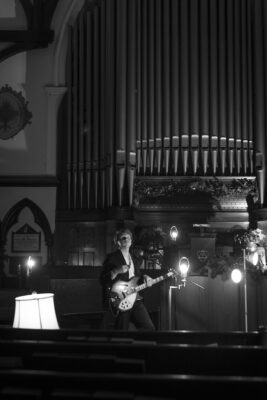 The EP ends with The Shakes, an edgy indie-rock sounding tunes that fans of The Hives will be adding to every one of their playlists for the foreseeable future. "I'm steppin' out, I'm on the prowl/ I'm shakin' hands to shake you out/ I need you here, I need you now/ don't even care. I got the shakes", Boonstra sings reminding you of Friday nights where you used to make plans. The song wraps up with a ripping guitar and saxophone solo trade-off courtesy of guest musician Kieran Kane…if saxophone is good enough for The Stooges it's good enough for you!
The 4 song EP was produced by Em Damashin (who has produced other Guelph bands Bonnie Trash and I Feel Sorry) and mastered by Jack Shirley (Gouge Away, Deafheaven, Jeff Rosenstock). The Last Testament is now streaming on all platforms but you can support the band through bandcamp where you can also purchase the album on cassette as well as some other merch!
Written by Russ Walsh