"Nobody is unhappy with an ice cream in their hand," says Tim Dwyer, one of the new owners of Owen Sound's latest ice cream parlour, Sundays. He, along with his partner, Vitana (Vita) Ovcharenko, certainly aren't wrong on that front.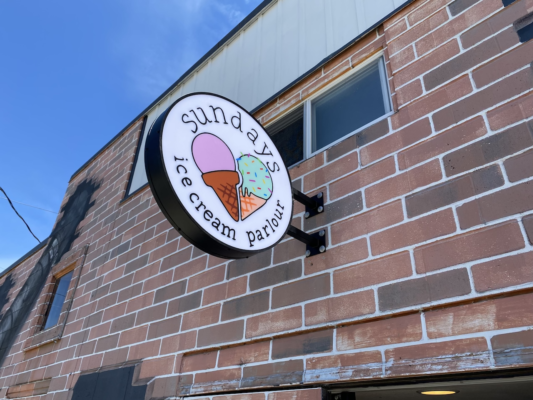 The shop, located in the River District, on 1st Avenue East by the Farmers' Market, serves up scoops of Ontario's famed Kawartha Dairy ice cream, seven days a week. (Yes, you read that right). "We know that many people don't think to come downtown on a Sunday – that's how we chose our name!" continues Dwyer. "We figure your sugar craving doesn't take a day off, so why should we?"
The owners note that Sundays is in the perfect location to take a walk along the river all the way out into the harbour (where they just opened their new location at The Launch), or one of their favourite walks – along the water up towards the Mill Dam. "We wanted people to associate Sundays with being outside, being with family and friends and enjoying downtown Owen Sound."
The owners are newly minted residents in town, although they've been exploring the area over the last two years. Ovcharenko was born in Russia and came to Canada at age 18, while Dwyer grew up in Orillia. The pair met in Toronto in 2015 while they both had very corporate jobs, which they liked, but felt that it wasn't the way they wanted to spend the rest of their lives.
Advertisement
"We wanted to experience the polar opposite of what we had been doing for years, so we bought a small camper trailer and lived full time from May – November cooking outdoors and just slowing our lives down. I worked on another business that I've been creating and Vita focused on side projects of her own. But most of all, we just focused on our overall happiness," explains Dwyer.
So how exactly did the duo settle on opening an ice cream store? "It was multiple roads converging at once and pointing us in a really clear direction. We found in our new lives that we weren't getting the level of person-to-person contact that we are used to and crave. That, combined with an urge to really create something that we can see come to life in front of us. On top of all that – Vita's unrelenting love of ice cream made it a pretty clear choice," he continues.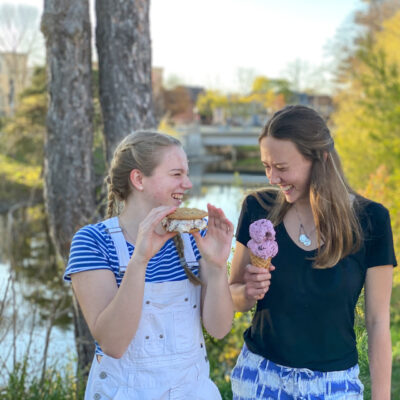 Both of them have worked in food service in the past in various roles, from quick-serve restaurants to bartending. "However, for Sundays, it wasn't the food service aspect that attracted us as much as the other factors. We just wanted to serve up smiles," he adds.
Their menu is straightforward by design. They'll offer a variety of Kawartha Dairy flavours in one, two or three scoop options, served in a cup, waffle cone or sugar cone. The specialty item, however will be their freshly made Ice Cream Sandwich, featuring two large chocolate chip cookies with a generous amount of ice cream of your choice sandwiched in between. Plus, they've kept things super local and have partnered with Sugar Dust Baking to bring in fresh chocolate chip cookies regularly. They'll also offer vegan and nut-free options to make sure all ice cream lovers are included.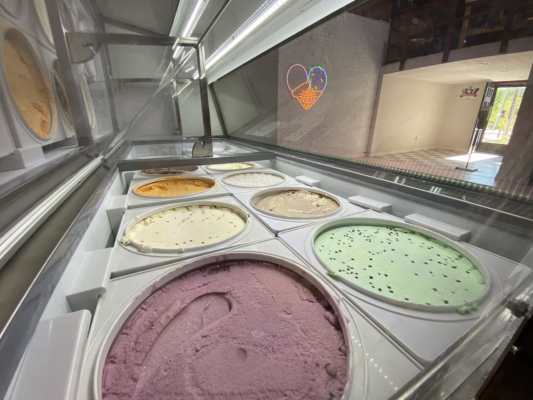 Like their menu, the owners kept the store's design simple, but chose fun colours (think bright pink floors and neon lights throughout). "When we took over the space, it really was just an empty shell, so it's been very fun having full creative control over how the space comes together," says Dwyer. Upon opening, they'll offer take-away service. There are also plenty of picnic tables surrounding the river, and they plan to add their own outdoor seating in the future.
Because of the pandemic, the owners found that sourcing the supplies to build the shop were a challenge on their own. At one point, realizing that they were short on ice cream freezers, they dropped everything and raced to Toronto to buy the first one that was in stock. Other equipment that they sought out was selling before they could get it in their hands. It's been a challenge, they say, but it's all been a part of the experience.
Most of all, they're looking forward to getting the opportunity to interact with people who are enjoying high quality ice cream in a beautiful setting. "It's just fun," they say, "and at the end of the day, that is the most important thing to us. We are hoping that ice cream will be a draw to bring more people downtown to support local. We just can't wait to make memories here."
Written by Emma Sweeney
Photos by Jesse Wilkinson