When Lindsay Darling was working as a DJ in Toronto, she didn't necessarily predict that she'd one day start her own bagel company in Southampton, Ontario. Lindsay, who is the founder and one-woman show behind Southampton Bagel Co. got her start in the music industry and is the creator of Bangs & Blush, a collective of female DJs. (The group ran Shake, Rattle & Roll, a soul party that took place every Saturday for nearly a decade.) But, the path from spinning records to kneading bagels took a little bit of time.
"In 2015, after spending time in the area for years, my husband and I decided that we wanted a break from the fast pace of Toronto and wanted to root in Southampton. We had spent about a year in a rental when we found our house. Two years later, we had our son here. We were both self-employed, running businesses out of Toronto, so we spent a lot of time between Toronto and Southampton, which all stopped for me when COVID hit," Lindsay explains.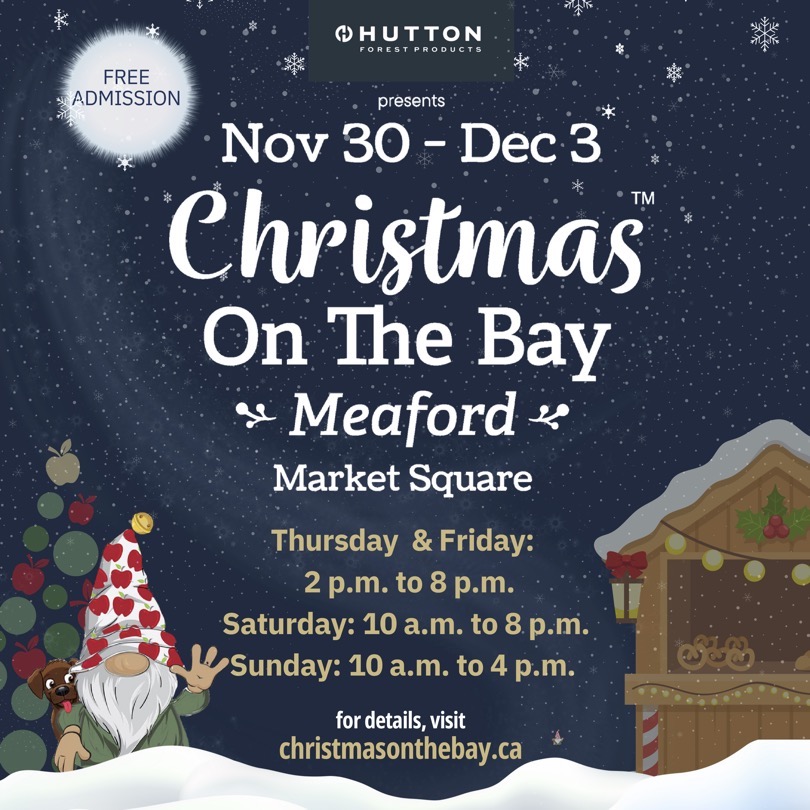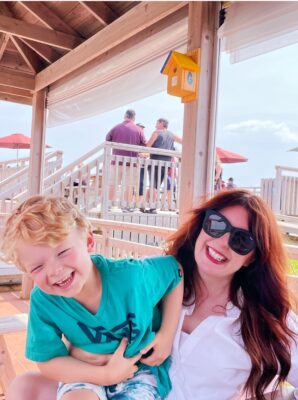 "Bangs & Blush had been thriving," she continues, "but with the abrupt closure of key venues, the necessary lockdowns and restrictions that followed crushed many venues, and my business fell apart. As the pandemic continued to unfold, it became increasingly clear that events and nightlife coming back would be a long way off, and I was getting bored."
"I had spent quite a bit of time over the years in New York and would often smuggle bagels home in my luggage," she says. "I had never been able to find a bagel quite as tasty, so I Googled the ingredients, saw that there was way more to it than I thought, and welcomed the challenge. I threw myself into the art of bagel-making and perfected my recipe. We had so many bagels laying around that I had to start freezing them! I thought maybe I'd create an Instagram account and see if anyone wanted to take some bagels off my hands. And then, within 72 hours, I had 500 followers, so I figured I might be on to something!"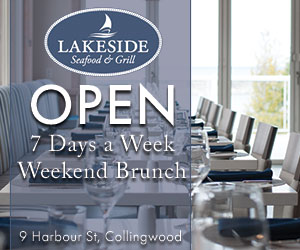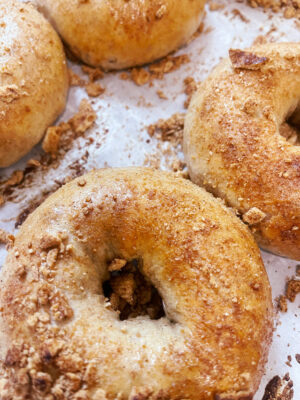 Southampton Bagel Co. bagels are available exclusively at Rabbit Dash Coffee House in Port Elgin and Dizzy Bird Coffee in Southampton. Customers can order single-serve bagels toasted with butter or cream cheese, or as the base of a tasty breakfast sandwich. If you want to take your bagels home, takeaway bags of six are available 'first come, first served' Tuesday – Saturday at Dizzy Bird. Lindsay doesn't currently take pre-orders, but she says, "never say never!"
To date, Southampton Bagel Co. offers a variety of flavours which are: plain, everything, sesame, poppyseed, cinnamon raisin, blueberry, cinnamon toast crunch, cheese and jalapeno cheddar. Lindsay rotates what's available on any given day and usually offers two to three flavours per day, except for Everything bagels, which are available daily. She tells me that the cheese and everything varieties are tied for bestsellers, but people also really like cinnamon toast crunch, one of the new additions.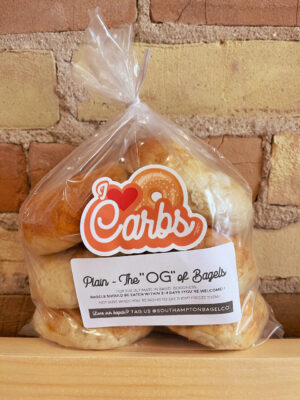 Her bagels are New York style, which means that they're a bigger, chewier, and more hearty contrast to the smaller, denser, sweeter, wood-fired Montreal style (which she also loves). Lindsay notes many places tend to steam their bagels to save time, but she boils hers, which adds to the overall texture.
Lindsay is always keeping herself busy with creating new products. This past spring, she launched her own Everything bagel seasoning and has recently started making flavoured cream cheeses. So far, she has plain, jalapeno, strawberry and birthday cake (made with sprinkles) which, she explains, is like a grown-up version of Dunkaroos dip.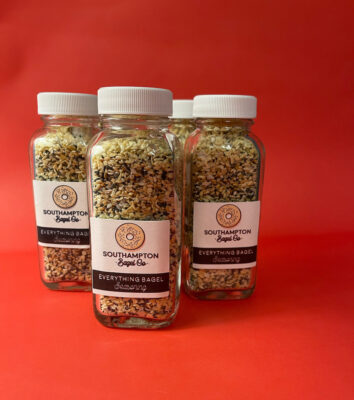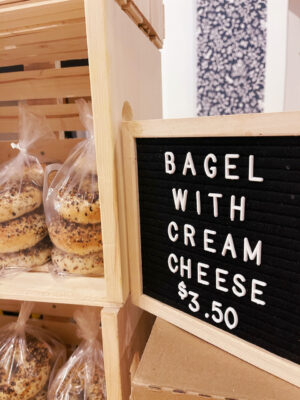 When she first launched her company, she wasn't making as many bagels, so they sold out quickly. "I had to ramp up production quickly to meet the incredible demand. Things are much smoother and more manageable now with some tweaks and the fact I now bake out of Dizzy Bird. But since the beginning, Lindsay says that the response from customers has been incredible. "I'm very grateful to live in such a supportive, enthusiastic community. It always makes my day when people reach out to tell me how much they're enjoying their bagels!"
Lindsay says that he best part about it all has been building a business again. "And the second-best part is having the support of the Rabbit Dash / Dizzy Bird team. Jon (the owner of the two cafes) has been an incredible pal; he's connected me with great vendors and lets me bounce ideas off him." In the meantime, Lindsay continues to make hundreds of bagels on her own every week. She'd love to grow a team eventually, most likely before next summer.
From DJ to bagel-maker, this area is happy she made the leap!
Words by Emma Sweeney
Photos provided by Lindsay Darling