When you get invited to a 9 course dinner by Chef Zach Keeshig, you go. You drop whatever you had planned, and you go. I'll be honest, I had nothing else planned for this past Saturday because my social calendar is pretty lame these days, but if I had, it would have been rain-checked unashamedly. I don't make apologies for what my taste buds want.
Keeshig is offering a few of us lucky ducks a sneak peek into his new initiative at the Owen Sound Farmers' Market: a Progressive Indigenous Cuisine 9 Course Tasting Menu happening every weekend this winter (early reservations available at naagandining@gmail.com). Every Saturday and Sunday from 6:30 to 9pm he'll invite 13 guests to dine, as well as offer a take out lunch menu every Thursday and Friday from 12-5.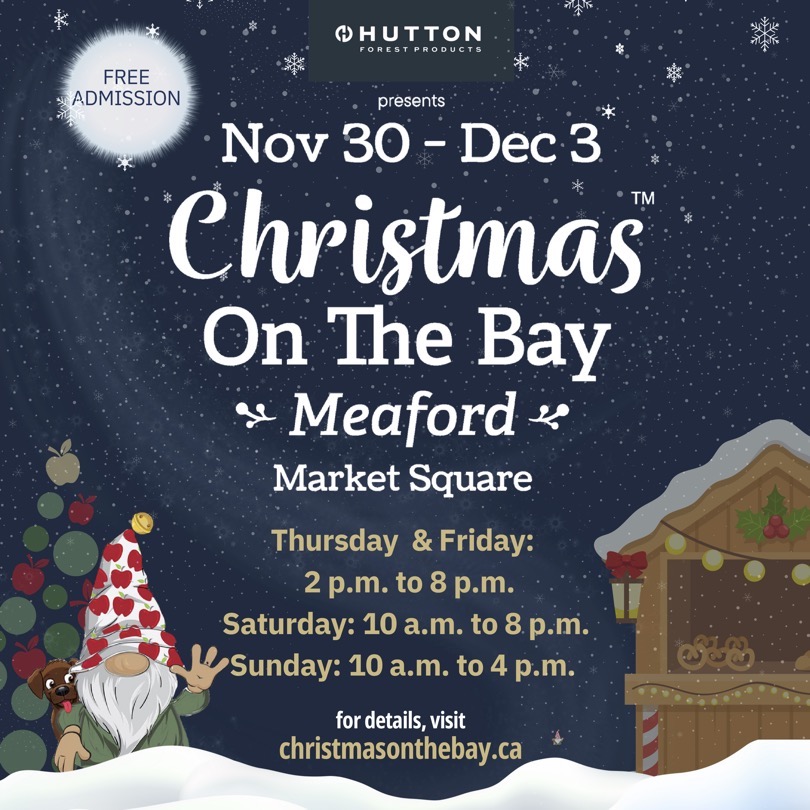 It's simple. You reserve your spot with an email and then show up and have a dinner like the one I'm about to explain to you. It's a pretty exceptional experience, so I brought someone special to join me: my mom.
We arrive to a small seating of just five tables and a film crew that's busy getting footage for the Youtube series Fook Fast Food by Sean Castelino, which will feature Keeshig in Episode #2 (keep your eyeballs peeled to Rrampt's social media feeds and newsletter for the link airing in January 2022).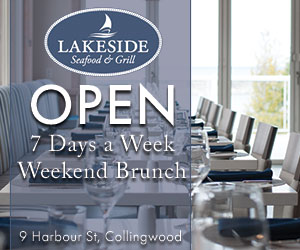 Keeshig has earned a reputation as a chef who places foraged and locally sourced ingredients at the forefront of his culinary experience. He calls his tasting menu Naagan, which is the Ojibway word for dish, and he stays true to his Indigenous roots, allowing for a few modern twists on his cherished meals. For example, the very first dish he serves us is the one that is closest to his heart. The Ojibway bannock is a bread his grandmother made him when he was young, and while she would have fried it in lard, he's modernized it a little by frying it in sunflower oil. On top of that is a lightly cured pickerel caught just two days prior. It's one you eat with your fingers, he tells us. We abide and dive right in.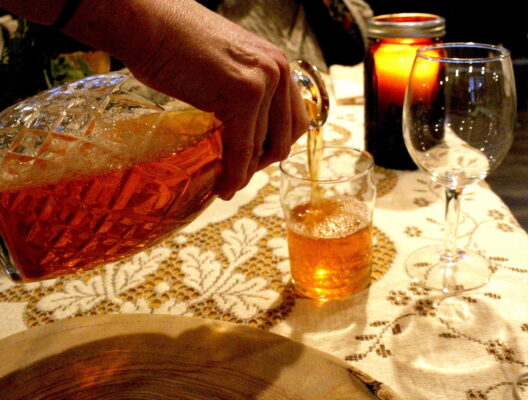 Front-Of-House Manager extraordinaire Lisa Lobsinger makes sure that we have everything we need including some top ups on our Collingwood Kombucha and cedar tea.
Keeshig follows up the bannock and pickerel with a dish he admits he's been trying to perfect for a while, and I think he's achieved his goal here. It's a wild rice cracker with shaved, cured wild duck smoked with cherry for two weeks and topped with wild elderberry powder and fried wild rice. I think you get the theme here: this dish is wild!
In light of the recent sourdough bread phenomenon, he's Indigenized his loaves by adding ground wild rice, sage and pumpkin seeds. Instead of traditional butter on the side, he's created a sunflower seed butter that is closer to an Indigenous style. But, my favourite naagan is the whitefish topped in a tasty sauce made from the boiled down bones of the fish to create a savoury topping with some pickled fiddleheads and dusted with dried sumac and chive blossoms dehydrated this past spring.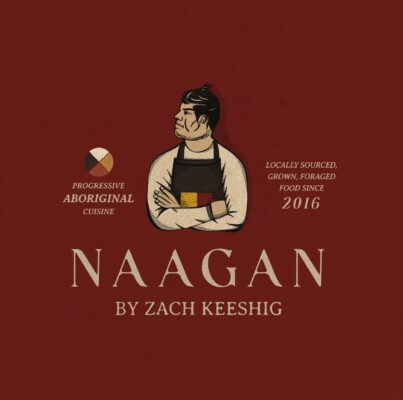 To close out the first half of the menu, we are offered a palette cleanser made from agar agar, wild rowan berries and sea-buckthorn from Stewart's produce in Owen Sound. When Keeshig comes around to chat with us after this dish, he is surprised to find out my mom has grown sea-buckthorn and rowan berries herself and they exchange experiences growing these tasty things I've never heard of. My mom certainly knows her stuff, and Keeshig, a true chef, seeks to expand his knowledge at every opportunity.
We take a little break to walk the market and process the first four courses. With five more dishes to go, we want to make sure we get moving to keep our appetites sharp. We plan to finish every bite. And the great thing about a tasting menu is that you never feel uncomfortably full. Satiated is the right word for this kind of experience. Everything is spaced out nicely and portioned perfectly. And let's not forget how beautifully everything is plated – there is serious attention given to how everything is presented, which adds to this memorable experience.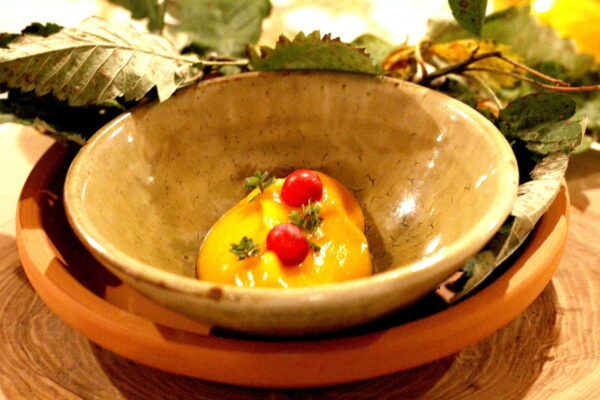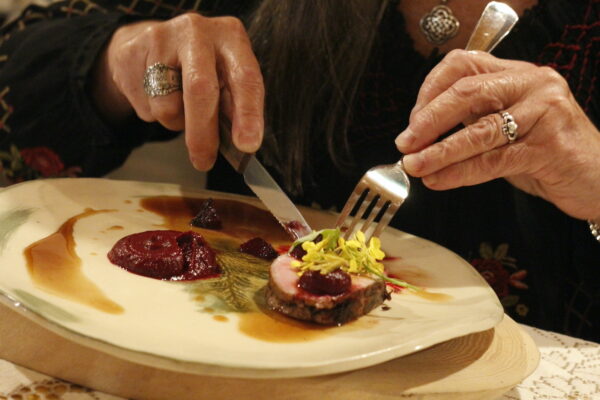 The main course would be the pork loin from DeJong Acres rolled in dehydrated oyster mushrooms that were foraged in the spring and turned into a powder. On the side is a roasted beet puree and a roasted beet. Also, a jus made from roasted pork bones and Turkey Tail mushrooms. When we praise Keeshig for this naagan, he deflects to the skills and practices of Anita DeJong.
There are three courses for dessert, the first being a duck-egg-filled ice cream infused with chaga. It's mounted on a stick, demonstrating the power in simplicity. The main dessert is called Foraging for Mushrooms and is a creative spin on sweets: wild grapes, pine short bread, sponge cake and pastry cream flavoured with sweet woodruff all garnished with mint and edible flowers. A final finger dessert is placed on our table made with ground cherries from the Owen sound Farmers' Market that have been pureed, dehydrated and rolled to make an authentic 'fruit roll up.'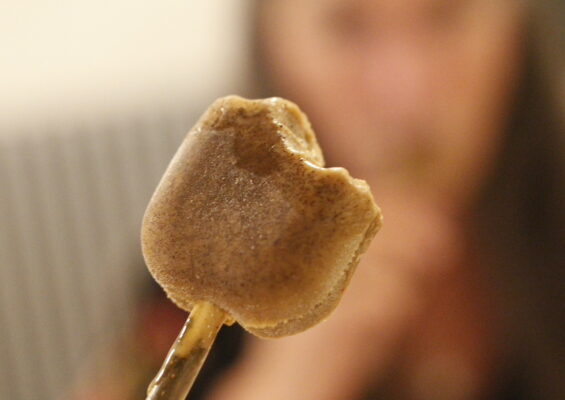 Overall, what stands out in this experience is the care that Keeshig puts into each plate. Choosing local ingredients and foraging his own food is one thing that sets dinners like this apart. We're so used to going out for a meal and having everything at once. It's usually more than we can eat, and so send the plate back with food left uneaten. At Nagaan, each course is small, packed with flavour and given hours, even days, of prep time.
You never feel like you're being rushed (no one is waiting for your table) and both Keeshig and Lobsinger are there every step of the way making sure your experience is a memorable one. Between the service and food, it's easy to understand why these dinners have been so successful for Keeshig. This may be a new venue for him, but the experience travels with him wherever he goes.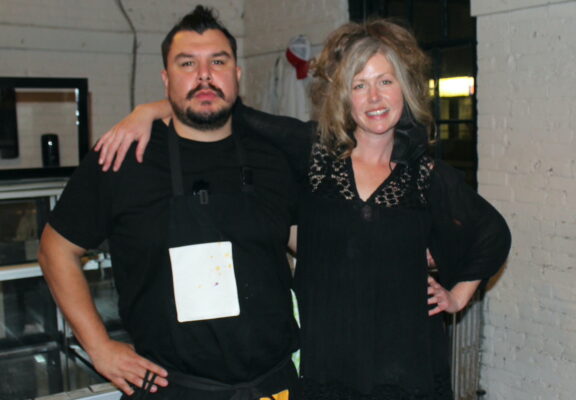 Filmmaker, Sean Castilo puts it best in our post-dinner conversation. He says his time with Keeshig has covered the three F's: "Foraging, fishing, and farms."
If you want to see how all three are rolled into one delicious experience, you can book an early reservation now at naagandining@gmail.com
Words and photos by Jesse Wilkinson