"It was a gut feeling," says Tyler Wilson, manager of Kimberley's new Heart's Tavern, when I ask what drew him to the unlikely property in this out-of-the-way little ski village. "I was riding my bike by, saw the 'for sale' sign, stopped to check it out, and thought 'wow'."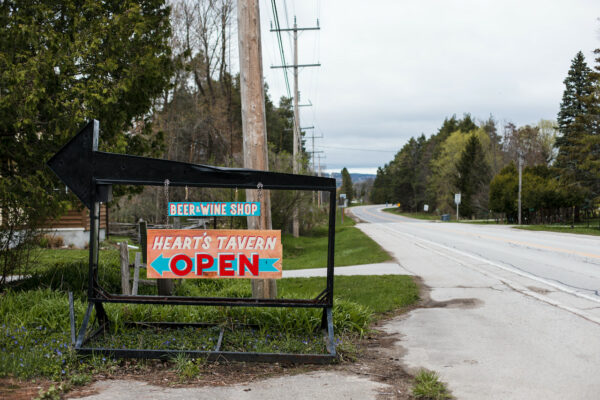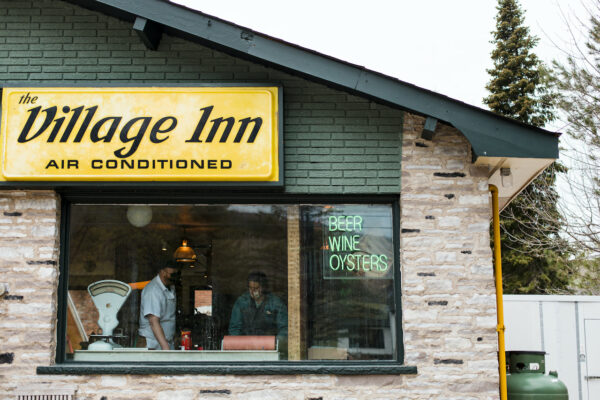 The building that caught his eye was the old Village Inn, a retro time capsule of an Alpen-styled diner nestled between the slopes of Talisman Mountain and the Beaver Valley Ski Club. After Talisman Ski Resort's unfortunate demise in 2014, the old restaurant suffered a similar fate, and the century farmhouse it inhabited fell into disrepair. But Tyler, along with his friend and collaborating restaurateur Teo Paul (owner of Toronto's Union and Cote de Boeuf), had a vision of revitalizing it all and bringing a unique kind of culinary experience to the Beaver Valley.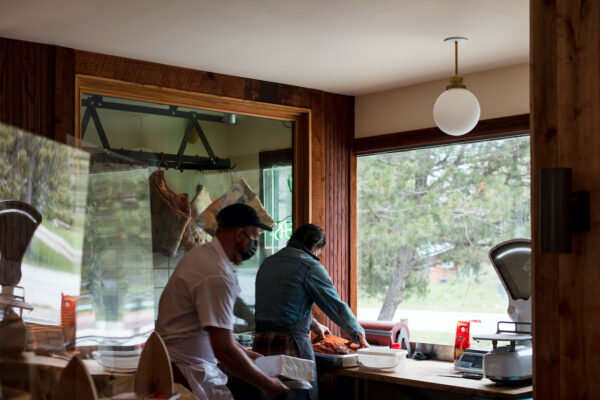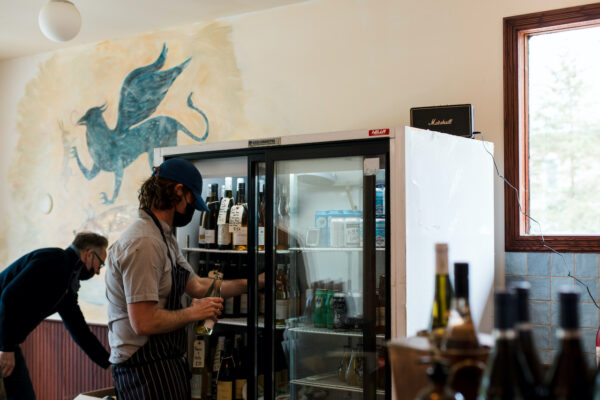 Tyler didn't expect to find himself in the service industry. After studying urban development in Sweden he came back to Canada prepared to jump into the corporate world, "but it wasn't for me," he admits. Instead, he found himself serving tables at one of Teo's downtown Toronto restaurants, the popular Paris bistro inspired Union on Ossington. That restaurant takes its name from the location of Teo's family farmstead, only a few kilometres north of Kimberley. With deep familial ties to the area, Teo wanted to bring his years of successful big city restaurant ownership, coupled with a culinary experience from France and northern Italy, home to Grey County.
"Teo has a desire to be able to ride a horse to work," Tyler says with a laugh. "This is somewhere he can do that."
Advertisement
When you first approach, a cheerful hand painted sign beams "cold beer", and a chalkboard menu tells you what's on offer each day. The duo's commitment to rustic but sophisticated cuisine is on display immediately when you walk through Heart's impressive wooden front doors – the first thing you notice is a well-worn butcher block and a striking glass meat locker with curing coils of sausages and huge dry aging sides of beef.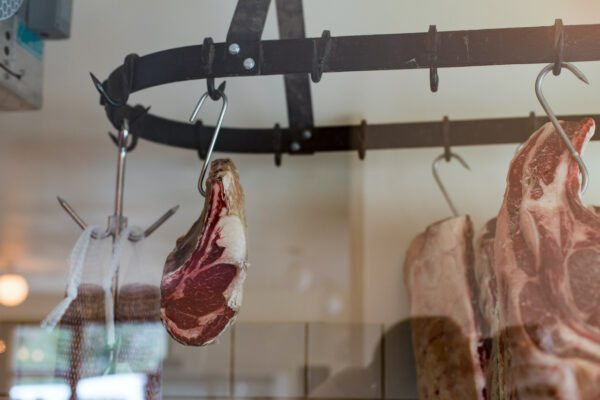 Across the handsome reclaimed hardwood floors is a whimsical mural by acclaimed Grey County artist Barbara Klunder, a Paul family friend. Stashed everywhere around the restaurant are specially imported bottles of wine, with a focus on natural vineyards from across France. The cold beer promised? Unique microbrews from around Ontario, and a few imports including a bottle fermented saison from the Loire Valley. In the back, a fieldstone cellar space has been opened up to showcase their impressive wine collection – the room has a soaring ceiling and harvest table waiting to host private parties.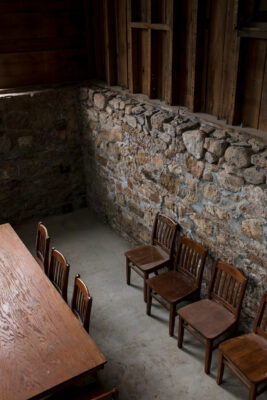 Menu items speak to Teo Paul's French and Italian predilections. A charcuterie board featuring local cheeses and housemade preserves is ever present, and a perfectly cooked medium rare burger comes served with frites and truffle aioli. A 'Paris Ham & Swiss' sandwich is topped off with grainy dijon and housemade pickles in a fresh baguette. Steak tartare features local grass fed beef and farm fresh eggs with a deep yellow yolk.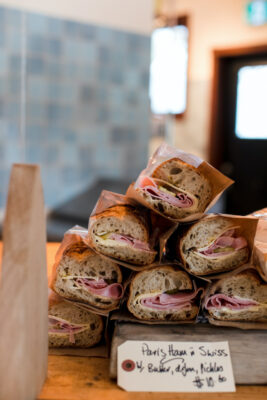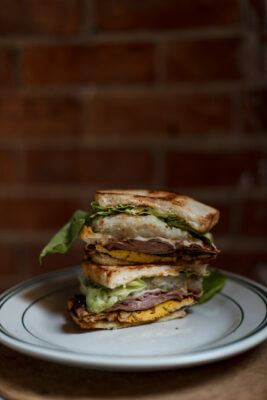 If you sit on the spacious patio, with a postcard-worthy view of the Niagara Escarpment's Old Baldy cliff face, expect to be awash with rich aromas of applewood smoke as heritage chicken and pork back ribs finish on the hand-built barbecues.
At nearly two acres, the restaurant has ample green space for something so central. "We have plans to do an outdoor lunch, roasting a whole animal over an open fire," Tyler says. "Show up at 1 or 2pm, it goes on until 6 or so… very European." And the place certainly does have a rural European ambiance, with its rolling pastoral surrounding hills and relaxed al fresco feel. "We hope to have a full time gardener one day," he says, gesturing to their large chef's garden lying in the open field behind the restaurant. Its neat rows sport herbs, flowers and all manners of different lettuces.
That the faded vintage Village Inn sign is still in place next to the modern neon Heart's says a lot about what they're doing – a playful nod to tradition and keeping in touch with the local historic aesthetic, but also clearly contemporary and with urbane sensibilities.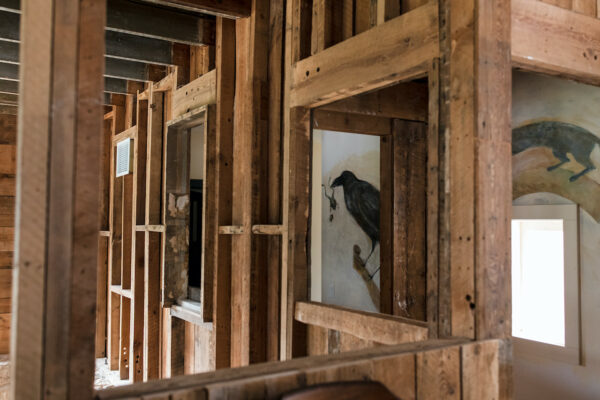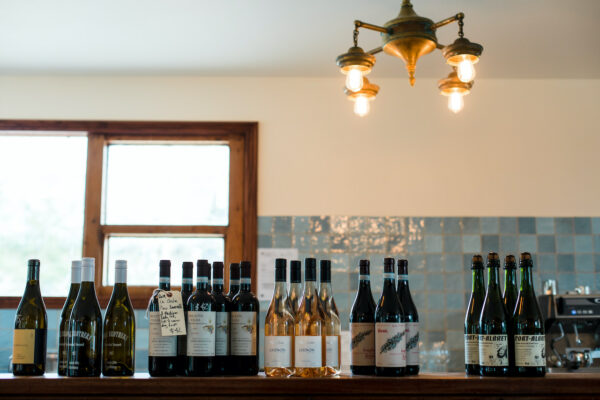 On top of this, the "inn" will no longer be in name only, as they have designs to turn the top floor of the red brick farmhouse into a three room boutique hotel. "Somewhere for diners from the city to spend a night after a dinner – or a week if they're looking for a change in workplace scenery." And Kimberley's certainly a nice place to take in scenery, with no shortage of trails to hike, rivers to paddle, or places to explore in the surrounding valley and beyond.
And possibly a horse-back ride if Teo has his way.
Whether you're trekking to Kimberley for some rugged outdoor activity or just visiting for a leisurely stroll through a historic town, a meal at this new buzz-worthy spot should be a priority.
When I ask Tyler the simple question "why Heart's Tavern?" pressing him to describe his vision, he doesn't hesitate.
"We really wanted that welcoming, tavernesque vibe. Somewhere a thirsty traveller would feel comfortable stopping in, as well as being a destination spot."
Heart's is certainly poised to become both. And judging by their bustling patio this summer, they already have.
Written by Joel Lougheed
Photos by Frances Beatty