What if your photographer was more than just a photographer? What if they challenged you to see yourself in the best possible way?
These are the questions that keep Kirsten Schollig up at night.
They are also the questions that drive her. The Collingwood-based photographer is the owner of both Captured by Kirsten and Studio Seventy Four, a creative studio space Downtown Collingwood. Schollig is unique in her ability to see the way you shine — and she uses her camera to capture that magic, so you can see it, too.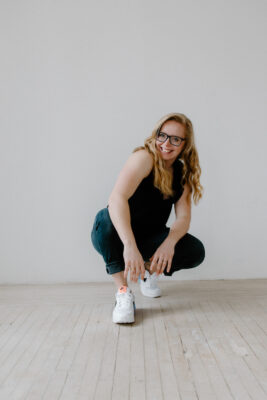 "My goal is to challenge you to change your definition of awkward. What if you could let go of that awkward feeling, settle into the uncomfortable and see what happens," she said. "That is where the magic really happens."
Advertisement
Schollig stumbled upon photography at a time she didn't know she needed it. The then 16-year-old from Minden, Ontario had just moved to Toronto with her family and desperately needed a creative outlet. It was the quintessential story: a teenage girl doesn't want to be in front of the camera, so she ends up behind it.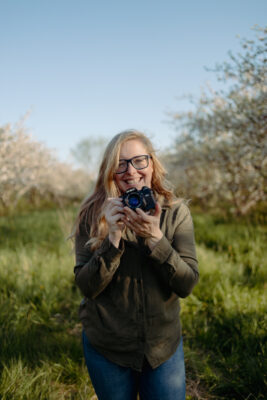 "It was one of those literal life changing moments where I could either do great things or curl up into a ball and become nothing," said Schollig. "So I jumped."
Toronto quickly pulled her out of her shell and opened her up to a world of creativity and connection, and she has been taking photos under the name Captured by Kirsten for a decade since. But for Schollig, it was never about the photos, they were simply the vehicle she was using to have an impact, always looking for the "bigger picture" — literally. 
Whether it was through sports photography, branding shoots or weddings, Schollig became adept at reading people and situations. She was able to understand their struggles, and started to see the impact she could have on their businesses and their lives by capturing that sense of connection in her photos.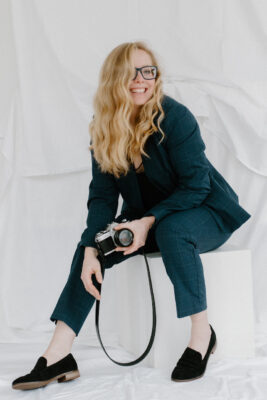 So she hustled harder.
Following graduation from the Media and Communications program at Guelph Humber, Schollig began working full time, creating content for a gym in the city while growing Captured by Kirsten on the side. But the competition ran high, and this community she was creating in her photography was lacking in real life.
And then Collingwood came on her radar.
Schollig's boyfriend grew up in the area and was longing to leave the city and move back home. After a few visits — and a few conversations with local clubs and business owners — Schollig was hooked.
"This is the spot," she said. "Especially for a creative, for someone who is trying to build a community — someone who is trying to become a part of something so much bigger. And I think we all should be striving for that."
"Here, it's not about competition, it's collaboration," Schollig added.
This concept of community is what drove her to open Studio Seventy Four in the first place. Schollig had always dreamed of opening a studio one day, and shortly after arriving in town she connected with another creative business owner and began their hunt for the perfect location. When they stepped into the space on the top floor of the Trott Building, it was nothing more than exposed brick and boarded up windows. But they saw something special, and quickly transformed the room into a beautiful studio the whole community could create in.
"It was never going to be just mine," said Schollig. "I always talked about it as YOUR creative space. What if I could create a community where I can create in, but also encourage others to do the same. That inspires me, seeing what other people can do in the same space but have a totally different idea of what art is or what creation is."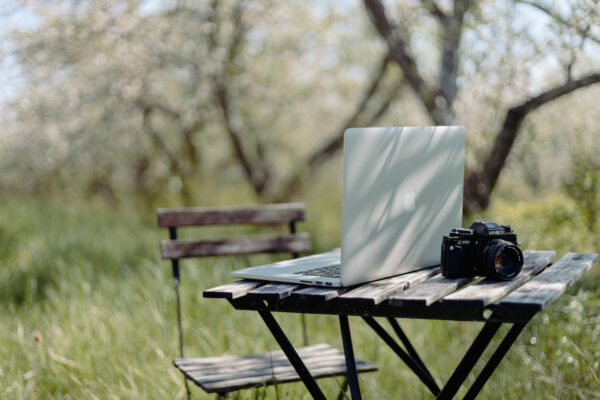 The studio celebrated its grand opening on February 29, 2020 — approximately two weeks before the pandemic shut everything down. For any entrepreneur, this past year has not been easy. But for Schollig, there was no option but to keep going.
"The reason I held onto it and the reason I didn't walk away was because I knew it could be more. It was already serving the community as well as it was, so how could I walk away from it. It wasn't just about me anymore," Schollig said.
A few months later, her business partner left to pursue other endeavors, but by now Schollig was determined.
"The studio had to survive. It had to survive so other people's magic could survive," she said.
Along with famed imposter syndrome, Schollig said she suffers from "evolution syndrome," always trying to improve the studio, collaborate with other entrepreneurs, and keep building the creative community in Collingwood. Because, according to Schollig, if she isn't growing personally, then her businesses can't either.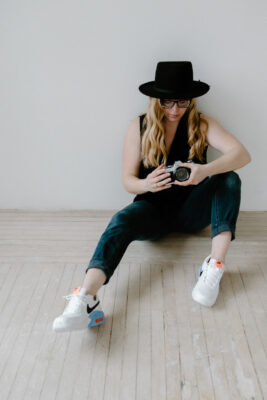 Having the studio space encouraged her to get creative with her own photography, and force herself in front of the camera more often. Schollig has come a long way from the days of hiding behind the lens in high school and has since learned how much more empowering and encouraging she can be as both a friend and business owner if she puts herself in the spotlight sometimes as well.
"If I can learn to embrace the uncomfortable and awkward and see my best self through the lens, then it just makes me that much more equipped to help my clients do the same," she said.
Schollig continues to juggle both businesses, and has started educating other creative entrepreneurs in the community as well. She dreams of growing both her photography business and the studio itself to serve the community in whole new ways, but is also humbled to see how far she's come.
"There are a lot of late nights and a lot of early mornings, but I wouldn't have it any other way," laughed Schollig. "This community has given me so much, I just want to be able to give back."
Written by Maddie Johnson