Just when you think you know this area fairly well, a place pops up on your radar, and totally surprises you. I hadn't heard of Lady Bank before, so it stands to reason I hadn't heard of Ladybank Farm either. And following that logic, the Schoolhouse was unknown to me, of course. But this stunning accommodation nestled deep in the Grey Highlands is one I wish I'd known about long ago. It's such a relaxing getaway for locals, and launching point to Southern Georgian Bay/Beaver Valley for visitors.
I took advantage of both approaches in my recent staycation.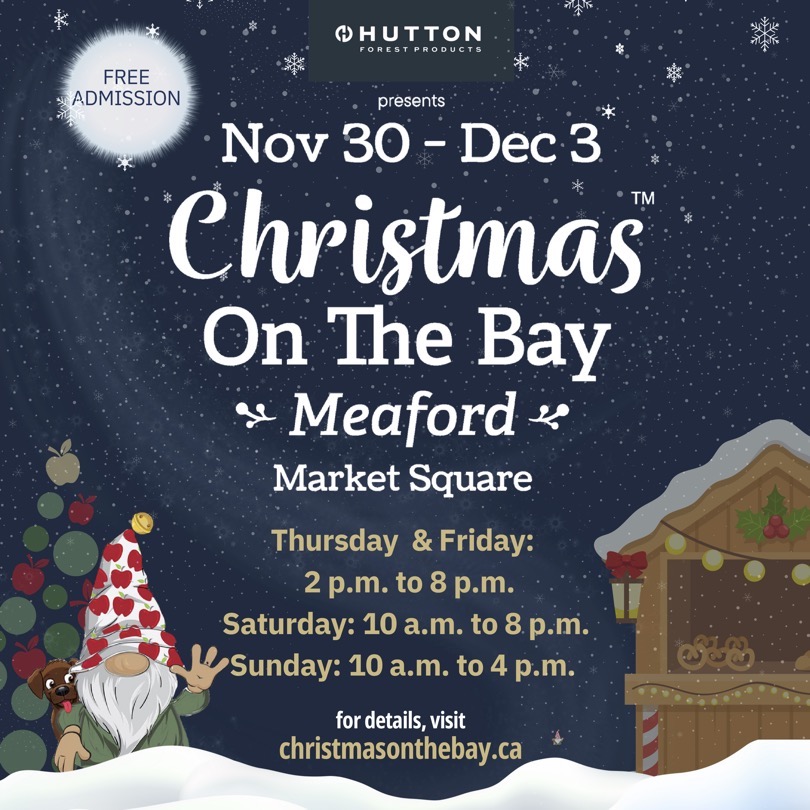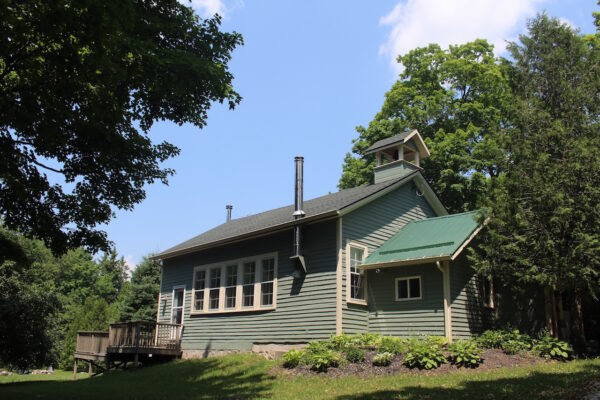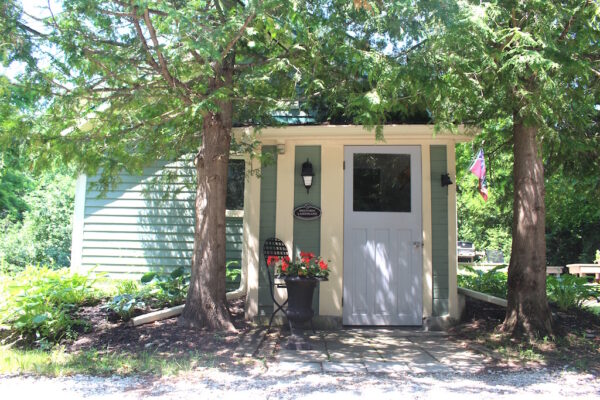 This century old Schoolhouse has been turned into a sweet little accommodation for couples looking to retreat into Grey County's natural beauty. The farm produces organic fruits, vegetables, wild honey, and foraged edibles while friends at the Wild Meadows Farm raise organic beef and pork, but I'll get to all that soon.
As soon as we pull into the laneway, we understand this is a pretty special spot. It really speaks to us. A high-five or two are shared as we eye up the fire pit, outdoor BBQ area and back deck with views of the acreage.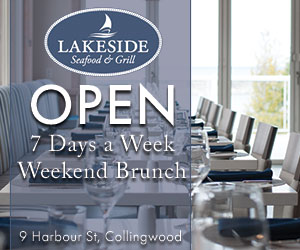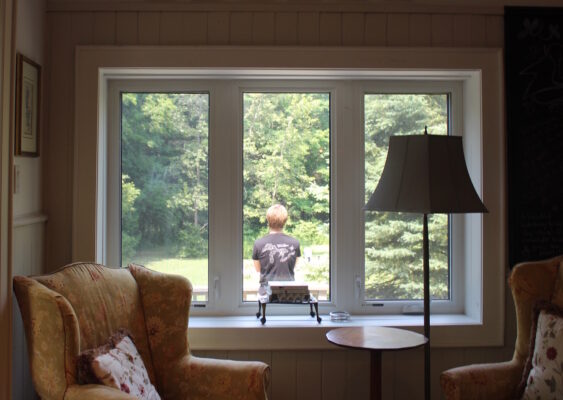 We step into the restored schoolhouse with wide eyes at the open concept design. It's rustic to the max with cool little ouches such as a wood fireplace and chalkboard for messages. My girlfriend is banned from saying 'Cute as a button' around me, but I know she's thinking it.
This designated Historic Landmark has as much charm as it does history. We're surrounded by the aura of curious minds that once inhabited this place of learning, the ideas being shared and hands being raised. Maybe even a stern warning from the teacher to pay attention!
The natural light pouring in from the windows takes me back to my own childhood when I spent hours staring out to the world beyond the classroom walls. There must have been some serious daydreaming going on in this place. We can't help but do the same as we put our books down from time to time to get lost in the view.
The fire pit in the backyard allows you to abandon your screens and embrace the primal ritual for an evening while the trails around the property fuel your sense of adventure and prompt you to retreat to the wilderness.
You really don't want to leave this place, but when you realize all the cool experiences that are only a short drive away, you'll convince yourself to head out for a little while.
But before any adventures begin, we set our priorities straight – we crack the bottle of Windswept Cider that's been placed in the fridge for us and cheers to our Grey County staycation experience. We sit back and breathe it in. Or drink it in, depending on which metaphor you prefer. We sit, breathe, and drink. And then we leave.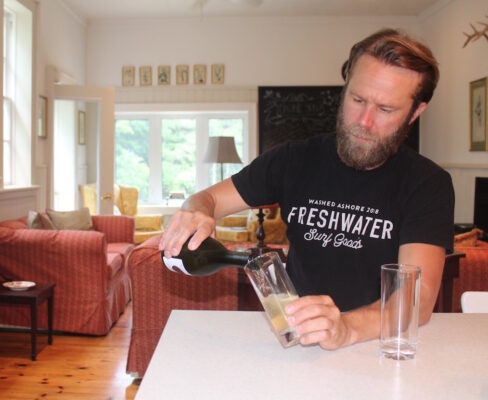 First on our agenda is Eugenia Falls. My gal has never seen these falls, so I insist we take in the view. The Flying Chestnut Kitchen is close by for those who want to order ahead, but we fuel up on some tasty lunch at Top O' The Rock including butter tarts for later. The heat is enough to put a swim on our to-do list and Peasemarsh Beach is a must for that.
With some fresh tans and sandy skin, it's time for a cold drink. There are many cideries in the area such as Spy, Grey & Gold and Thornbury Craft Cider & Beer, but we stop into Georgian Hills Winery for some rosé which I'm finally admitting my penchant for after years of denying its pink-hewed goodness. I first tried it with oysters at Heart's Tavern in Kimberley, which is quite close to this retreat as well, and since then have had to admit to my girlfriend that I'm a fan. Even though it's pink, it's still wine, and it is kind of fun to say 'Rosé all day' (though I've learned recently that the Gen Z'ers will call me 'cheugy' for that).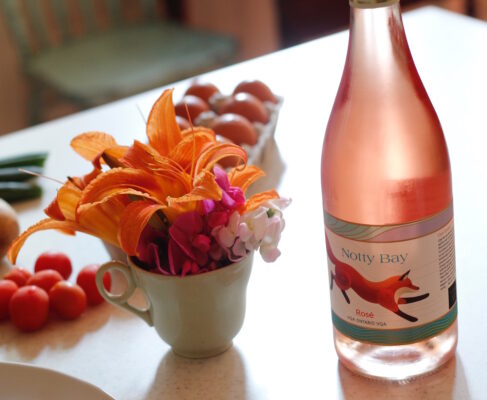 We arrive back at the Schoolhouse with a hunger on, so it's nice to have everything we need stocked for us in the fridge including T-bone steaks from Wild Meadows Farm. So, it's BBQ time.
We hang up our beach stuff to dry in the sun and wander the property while the Q hits optimal grilling temp. It is the philosophy of Lady Bank to stay in the present moment and try to avoid social media if possible. We do pretty well in that regard – I only check my email a few times and don't even post a single thing to Insta. I'm proud of myself, and Cal Newport, author of Digital Minimalism, would be too.
As we're heating the grill up, Mike from Wild Meadows stops by to deliver bacon for the morning. Dinner isn't even on the flame yet, and we're already looking forward to breakfast.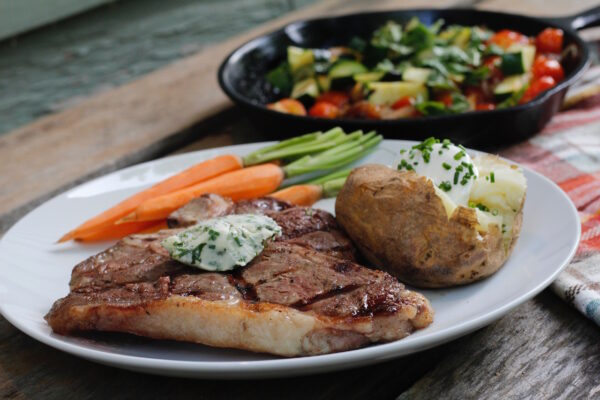 And after a great night's rest, breakfast does arrive. And so does the rain. We curl up on the couch with coffee and books and do something important: relax all morning.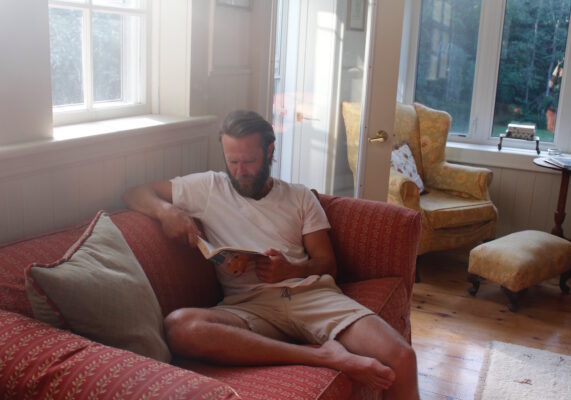 But the rain doesn't stop us from getting out for a hike to Old Baldy, one of my favourite treks along the Bruce Trail. The view is even better than Eugenia Falls, and if you choose the ascent from Grey Road 13, you get views the whole way up.
But as all adventures must come to a close, sadly this one does too. We think about evoking Squatter's Rights on this place and just staying forever, but we both have jobs to get back to, gardens to tend, and people who'd miss us if we never came home. We make sure to write a message on the chalkboard to mark our stay in Lady Bank lore, and just as the school kids did a century ago, pack up our bags and close the door behind us.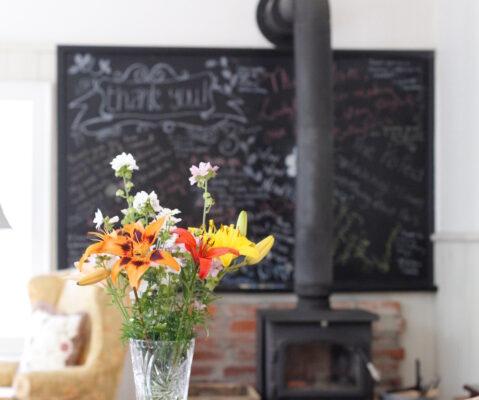 The lesson learned here: there are some really cool retreats to rave about in Grey Bruce Simcoe. This is certainly one of them.
We'll be sure to recommend this spot to anyone looking for a holiday, an anniversary stay, or just a little getaway. Book yours at ladybankfarm.com or by emailing Peter at ladybankschoolhouse@gmail.com
Words: Jesse Wilkinson
Photos: Jesse Wilkinson and Shannon Bingeman