Sometimes, it takes a pandemic lockdown to bring a great idea to life. Machaella Burnett, a sommelier and hospitality industry veteran, had been stuck at home during the first COVID-19 lockdown in 2020 and tried out something new in her kitchen.
At the time, she couldn't find any yeast in her grocery store, so she began experimenting with making sourdough pizza. Immediately, she loved the flavour and the health benefits of naturally fermented dough. So, she brought a sample of the pizza in to her work at The Flying Chestnut Kitchen in Eugenia, the restaurant where she had been running the front-of-house for a decade and curated the wine and beverage list. Her boss, chef Shawn Adler, encouraged her to sell her product at a little weekly market he was running that summer, and before long, Cutie Pies Pizza was born.
Burnett currently lives in Markdale, and first came to the area 12 years ago after travelling around Canada. "I really love Grey County and thought if I were going to reside in Ontario, it would be here," she says.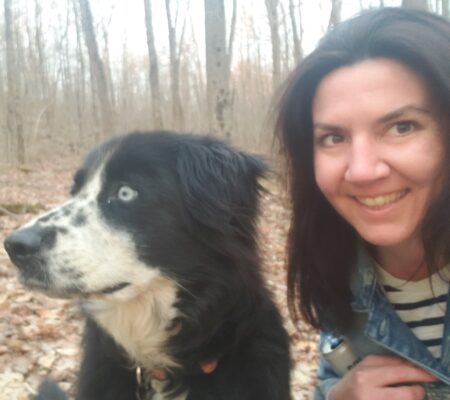 She has always worked in the food industry, mainly in front-of-house roles as a server and sommelier. Since the pandemic, she now fills her time as a full-time pizza maker and wine rep for beverage agency Drink Better Wine + Spirits.
Advertisement
Wine and food have always been a natural pairing for Burnett. "Cutie Pies has been percolating in my brain for a long time while studying wine in Toronto," she explains. Killing time before her wine classes, she would check out local restaurants and was always drawn to places that had interesting wine and beverage lists with an approachable atmosphere and great food.
In coming up with her unique pizza creations, she says her menu is inspired the most by high-quality ingredients. "I gravitate towards local and/or organic. I live on an organic farm with my husband who grows a lot of what we eat, and during the summer, most of the veggies for the pizza will come from our garden. The tomatoes in the sauce are organic. I use a blend of local and organic flours and I try to source the other ingredients locally when I can. However, sometimes you must give people what they want, like olives or pineapple!"
Although her menu changes regularly, some recent offerings have included a pizza with lemon roasted organic chicken, pesto and feta. Another has garlic roasted mushrooms, caramelized onions and goat cheese. She's also been known make a pie topped with smoked brisket from Casero Kitchen in Owen Sound. Hungry yet?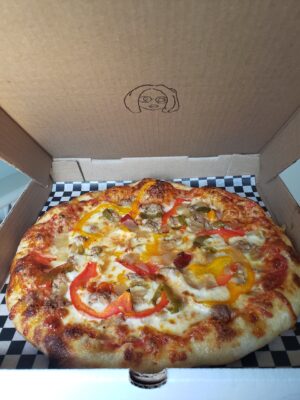 While she doesn't currently have a physical location to welcome the public yet, she works out of a certified kitchen. She posts her weekly menus on Instagram cutiepiespizza and customers can buy her pizzas at The Flying Chestnut Kitchen on Thursdays, receive delivery in Collingwood on Fridays, or purchase frozen pies from Owen Sound Farmers' Market on Saturdays.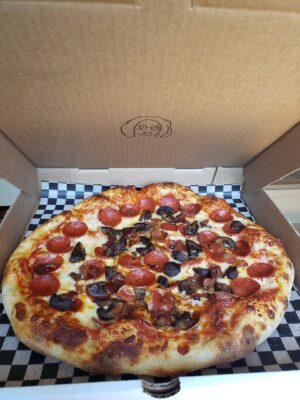 Building up her business has come with a number of hurdles for Burnett. "Having to transition from sommelier to pizza maker over this last year has definitely been a steep learning curve," she explains. "Luckily, having been in the restaurant industry for a while, I have worked with some great chefs. They have been amazing at steering me in the right direction and answering my endless questions. Learning to promote myself and put myself out there on social media was foreign to me at the beginning. Sourdough is also a weekly challenge – I am not a baker, so learning the nuances of sourdough has been challenging but really fascinating. The littlest differences in time, temperature, and humidity can greatly impact how the dough turns out, which after all, is the foundation of my product."
For Burnett, the most rewarding part of her new venture has been the genuine support and encouragement she has received. She acknowledges that this last year has changed the way everyone orders food and dines out, but it has also given people like her an opportunity to be creative and make a living while not in a traditional restaurant or take-out setting.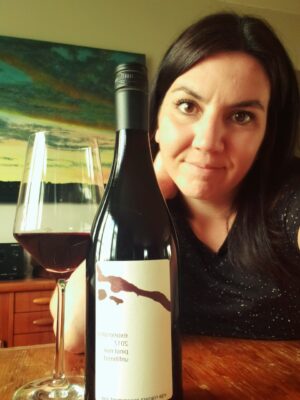 Looking forward, what Burnett would like to see for Cutie Pies is a pizza and wine shop. "I love pizza," she says, "but wine is my passion. A lot of people are intimidated by wine, but I love taking the opportunity to find out what someone likes and introducing them to different regions and styles of wine.
Seeing someone new to the wine world get excited about something different or getting them out of their comfort zone is really fulfilling for me. I would love to have a place where people can feel comfortable coming in to find new, fun things and getting some delicious pizza at the same time – and preferably in Grey County. I also would like to hold educational tastings and other fun events. Not just with wine but all things fun in the food and beverage world."
There's lots of fun to be had in the food and beverage world. Many of us have maybe had too much fun while in lockdown this past year. But if you haven't experienced a Cutie Pie yet, you should probably add it to your list of fun things to do this summer!
Written by Emma Sweeney