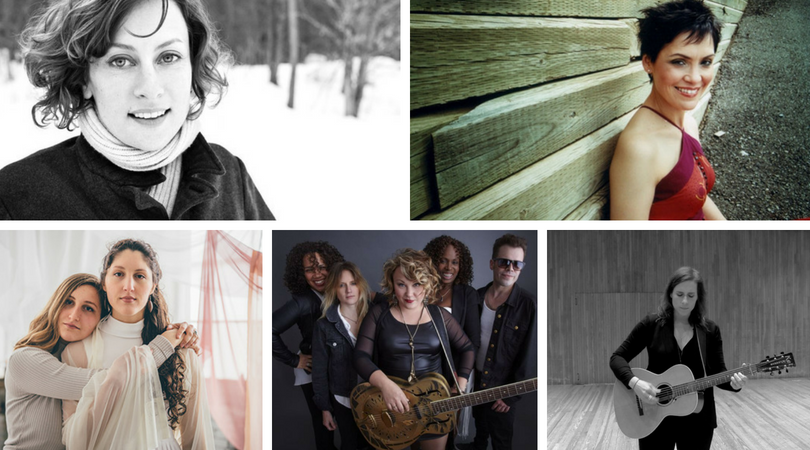 Last month, after seeing Broken Social Scene featuring Feist (but really Feist featuring Broken Social Scene… see my last Rrampt article for details), I was reminded of the powerful, captivating presence that a woman on stage can have. Through this lens, I browsed the 2018 Summerfolk lineup with growing excitement and anticipation as I scrolled the list and saw all these rockin' babes who I know can rock the stage! Let me introduce a few…
First up, I'll start close to home, with Samantha Martin, who, like me, grew up in Lion's Head. Over the past decade, I've seen Sam play many a hometown shows, including the magical Lion's Head Street Dance and the historic Rotary Hall, and it each keeps getting better and better! With her band Delta Sugar, she gets the crowd shakin' all over with her crystal-shattering voice and bluesy, country-esque sound. She's got a new album fresh out the door called Run to Me, and it certainly showcases her serious songwriting skills. And her sister gives a pretty darn good haircut if you need one (check out Sweetwater Salon in Wiarton).
Advertisement
Next up, we go from close to home, to the woman who might just be from farthest away. Susan Aglukark is Nunavut's first Juno award winning Inuk singer/songwriter, and has three Junos to her name, as well as the Order of Canada and the Governor General's Lifetime Artistic Achievement Award. But aside from all the bling, she also has a stunning voice that blends Inuit folk music, country and pop. As her awards suggest, her work goes far beyond the stage – Susan is also a spokesperson for a wide range of aboriginal and northern issues, such as food security and sexual abuse – clearly real girl power to tackle such challenging problems!
Now, for the band on this list who I've seen play more recently than the rest – The (oh-so-lovely) Lifers. I saw this sister duo, Liv and Anita, at the beginning of June at the Simcoe Street Theatre in Collingwood, and have been listening to Honey Suite, their new album, in my car pretty much ever since. I was truly blown away by their intimate show, complete with their very dynamic band (including violin and stand-up bass!). Their clever, thoughtful lyrics and harmonious vocals are something that only two people who shared the same womb could pull off. It will surely stop you in your tracks at Summerfolk, so be sure to be you have a drink in your hand and have gone to the porta-pottie before their set. And if you can't get enough like me, come see Liv play with Tragedy Ann (her other band) on Sept. 7 at The Fitz Hostel for a cozy, backyard show. Oh, and be sure to snag some of Anita's cool, handmade merch!
Like many of my other favourite folkies, the soft, sweet voice of Rose Cousins can be heard via the steadfast CBC soundwaves. Originally a PE Islander, but now a Haligonian, she truly adopts a conscious and collaborative approach to creating music and other art, as her website bio highlights. These collaborations have involved folks like Luke Doucet, Joel Plaskett, Kathleen Edwards, Melissa McClelland, David Myles, Jenn Grant, Tom Wilson and now-Owen Sounder Matt Epp. In describing her process for Natural Conclusions, which she released last year, she explains, "My goal was to be wide open emotionally…this is a record of performances, the moment, raw, vulnerable and real…" I really appreciate when musicians are willing to share so much with their audiences, and can't wait for her performance.
And last but certainly not least…. Sarah Harmer, the ultimate feminine folkie in the Canadian music scene who likely needs no introduction. Despite being 18 years old and being in my 6-disc CD changer for almost as long (yes, I have one of those and it's awesome because it can also hold The Lifers' Honey Suite, Three by Joel Plaskett, and still have one to spare), You Were Here proves to be timeless. I never get tired of singing along and sometimes even making new discoveries. Her whimsical, acoustic sound pairs perfectly with her catchy and thought-provoking lyrics, and a glass of chardonnay.
As a fellow forest lover, Niagara Escarpment dweller and environmental activist, I have a deep appreciation for her work, on and off stage, to protect our treasured ecosystems. In 2005, she co-founded PERL (Protecting Escarpment Rural Land) and to support the cause, she hiked the Bruce Trail and performed in community theatres and halls along the way, including Bruce Peninsula National Park. More recently, this past March, she joined the protest against the expansion of the Trans Mountain pipeline in Burnaby. I've played "Escarpment Blues" many times on the ukulele or guitar (mostly because my song repertoire is limited), and each time, the lyrics continue to resonate and remain relevant. It's so great to have Sarah return to the Summerfolk stage! (keep an eye out for my upcoming interview with Sarah).
So there you have it! Five, very compelling reasons to get a Summerfolk weekend pass, and I know there are at least five more if I were to introduce the guys (Bahamas anyone?!). So, there's nothing more to say than see you at Summerfolk!
Written by Megan Myles