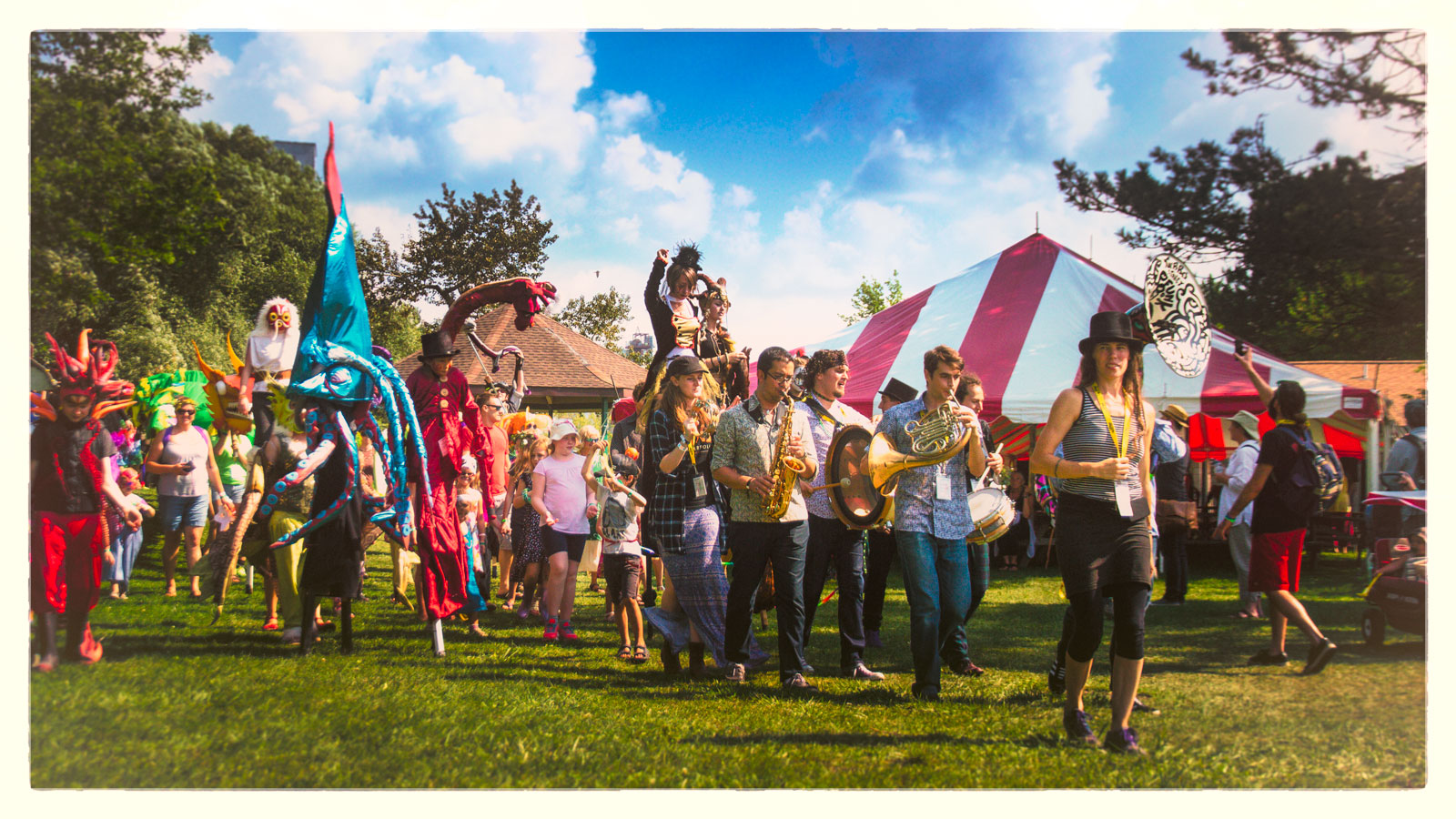 All my best Summerfolk memories are from my youth. I grew up at the festival, back in the era of the infamous "Mad Dash" (ask your parents). I spent many an afternoon clambering dangerously around the old playground, before it was safened up, laughing and singing along to Trout Fishing and Dickie Bird. I recall a particularly hot festival in the nineties at which a performer sweatily climbed atop the amphitheatre, hose in hand, and sprayed cool relief down upon the front rows. UPDATE: I unleashed Rrampt's crack(ed) team of fact checkers and they confirm the identity of said performer as Magoo.
I volunteered. In the kids tent I painted poor hapless faces poorly and haphazardly. While working on the construction crew, I glanced up from unspooling an endless bale of orange fencing to see a slowpoke thief riding away on my bike. I gamely trotted up to him and asked that he dismount and relinquish, he did so. I worked staging once – Stan Rogers' long haired brother asked me where to find an AC source. I gawped at him and mumbled that we didn't having air conditioning on stage. Turns out he meant an "Alternating Current power supply". Why not just ask for an outlet Garnet? As I said, I worked staging once.

My brain files the festival in the same nostalgia laden memory bank as Nintendo 64 and Gilmour era Leafs. That is to say that Summerfolk, for me anyway, is inextricably bound to youth. I can't bring the festival to mind without thinking of a simpler, sweeter, and more hormonal time. While my own youth now exists only in the dusty and shameful corners of my failing memory, Summerfolk has thankfully kept a spotlight firmly pointed at the younger generation. This remains one of the most vital facets of the festival (could this 43 year old juggernaut sustain itself without young folkies?), and the most striking example of this youth-centric approach has to be the Youth Discoveries program.
Youth Discoveries is something of a protracted battle of the bands. Beginning in early spring, performers between the ages of 14 and 22 played short sets at a series of showcases across Ontario. The best of each showcase convened at the Roxy in Owen Sound for a final performance from which the top 5 acts received an invitation to perform at Summerfolk 2018. While I missed attending this year's finale, I've since been catching up on the 5 winners and I gotta say – I'm super keen to catch these acts during the festival – there's a ton of talent and drive in this lineup.
Take Emily Gilbart. This singer songwriter has a dynamic voice which belies her age. Her vocal range lends a depth to her artfully crafted lyrics and it has garnered her attention on the national stage – 4 of her songs have made it to the semi-finalist stage in the Under 18 category of the Canadian Songwriting Competition. Expect great things from Emily!
Advertisement
Basset is an innovative trad folk outfit forged in the creative crucible of U of T. The group is composed of 2 brothers and 2 others, all of whom are capable multi-instrumentalists, don't be surprised to see a fiddle cast aside in favour of a mandolin mid-song. They put me in mind of one of my favourite bluegrass groups – Crooked Still.
The enigmatic Willem James Cowan has been playing music actively from the age of 10 and has clearly not taken much time off since picking up his first recorder. Performing with his supporting trio – the "Friends of the Cove", Willem delivers a high concept take on indie rock with practiced ease.
Perhaps the quirkiest of our lineup is the sweater clad quartet of Esther's Family. Find the quirk in their unusual characterization of their act as the "musical embodiment of ugly sweaters [and] awkward photos", find a TON of heart and a thoughtful lyrical turn or two in their debut single "Genial Rays". I strongly suggest you give it a spin and impress your friends with your hipster cred by singing along at Summerfolk.
For sizzling stage chemistry paired with finger melting banjo shredding look to the impressive duo of Fork n' Harp. These two multi-instrumentalists are capital t Tight. In their tune "Train to Nowhere" effective vocal harmonies lead seamlessly into a ripping banjo solo which itself is but a precursor to a wild, wailing harmonica outro. Bring two pairs of socks, you'll find that first pair quickly knocked off.
By scouring the province for acts such as these talented youngsters, then by inviting them to perform at one of Canada's premier folk festivals, the brains behind Summerfolk 43 prove their dedication to keeping the festival young, vibrant, and relevant. This in turn will inspire upcoming generations to forge their own lasting memories at the Summerfolks of the future. Who knows, maybe at Summerfolk 83 a grizzled Willem James Cowan will ascend the amphitheater to spray down an electrolyte starved crowd with Water™ by Gatorade™.
Written by Zak Erb
Image credit:
Emily Gilbart – summerfolk.org
Basset – summerfolk.org
Willem James Cowan – willemjamescowan.bandcamp.com
Esther's Family – esthersfamilyband.com
Fork n' Harp – facebook.com/forknharp