Life comes with its fair share of embarrassment.
Whether you're navigating the ups and downs of adulthood, taking a chance on a new career, or trying to find love in a small town, you are bound to encounter some moments so cringe- worthy that I bet you've thought about crawling into a hole and never coming out. I know I have. But the funny thing about life is that even our most embarrassing moments can become sources of laughter and connection.
No one knows that better than Franny Wisp, who has taken these lows and turned them into the comedic roots for her musical musings — all of which she accompanies with a washboard no less.
Franny Wisp is the alter ego of Fran Bouwman, an accomplished sculptor whose work has been displayed in shows and studios across Ontario. But when she steps on stage as Franny Wisp, her charactertakes over.
Advertisement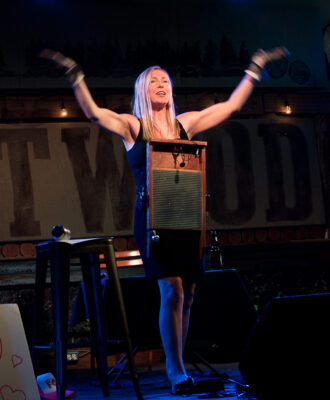 Bouwman captivates audiences with her infectious energy, unique blend of music and storytelling and trademark washboard. With a deep love for blues, roots, and folk music, her performances are a celebration of art, steeped in history and tradition, but with her own
playful, modern twist. A Franny Wisp & Her Washboard show is a self-deprecating, hilarious take on a society that is preoccupied with youth, beauty, success and of course, romantic relationships.
"The more sort of 'out of the box' the better for me. I love being challenged," says Bouwman. "I love being pushed to the edge. And that's why I do what I do."
But she's more than just a musician. Franny Wisp is a master storyteller, weaving tales that are at once enchanting, hilarious, and deeply personal. Her satire and wit are expressed through song, spoken word, and wicked washboard rhythms, drawing audiences into her world and leaving them in stitches.
As a single woman in her 50s, Bouwman paints an honest and hilarious picture of the insecurities and trepidations she experiences in a demanding, relationship-oriented world and it's struck a chord with audiences as well.
"I don't think what I do is obscene, but I do push the envelope," she says. "I have shocked people, but it's not my intention. Comedy is different from music. Comedians push the envelope. It's trying to lighten up serious issues."
As a performer, Bouwman said she has no problem making people uncomfortable. But off stage, she is quite the opposite. "My real life is actually super conservative… Or at least more so. Not as many F-Bombs," she laughs.
She immigrated to Canada on a boat from the Netherlands when she was just three years old, and her family landed in Meaford, Ontario, craving the expansiveness that a life in Canada promised.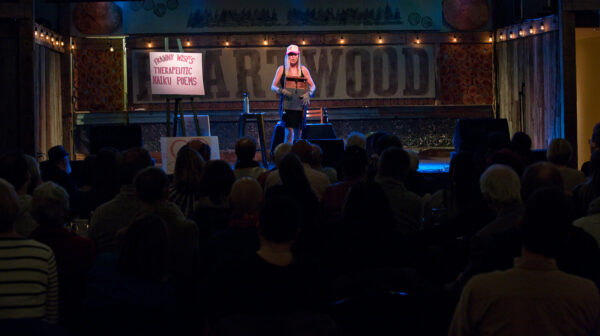 The small farming town wasn't that welcoming of an immigrant family in the 70s, and the reality was scary and new. As the youngest of four, life became about survival. "I became the person I am today because of it," she says.
A silent child, Bouwman became an observer. And in turn, her creativity emerged. Art became a large part of her life, so she moved to the city for university and immersed herself in it even further.
From music to theatre to owning a puppetry company with her two sisters, Bouwman dove in headfirst and dabbled in it all. It was a vibrant and eclectic time in her life, and she loved every minute of it. "We had a really incredible community of creative people in our lives in Toronto," she says.
"[Women] grow up with all of these unwritten rules about who you should be. Beautiful, kind, empathetic, supportive, nurturing. But then you're also supposed to be this animal in bed. That's the dream…The messaging is actually a bit fucked…"
Eventually, she got tired of the city and moved north, back to where it all started, performing in a jazz trio with her partner at the time and playing shows in smaller venues around South Georgian Bay. As a sculptor, her creativity was running wild in the country, but she missed the city's live music scene like crazy.
So when Bouwman and her partner decided to part ways, it left a big gap in her life musically.
One day while having dinner at her parents' house about six years ago, a washboard in the corner of the room caught her eye. Wondering if she could find a way to make it sound beautiful, she made herself a pair of gloves and started writing charming little ditties about her own personal experiences. She had never performed solo before, but she decided to try an open mic night at Bruce Wine Bar one evening. And the audience went wild.
"People were paying a lot more attention to this than they ever did to the jazz," Bouwman laughs. So she decided to progress. And for some reason, she progressed towards laughter.
Bouwman never thought of herself as a funny person, but she's always loved the vibrancy of humour. "I am not funny, but if anybody is laughing the loudest in a room it will be me," she says.
So, she leaned in.
Franny reflects on her views of the human condition and her experience as a child with the uncertainties of the world around her. To laugh at her misgivings and insecurities allows us to be kinder and gentler with ourselves and she creates an experience that connects us in a celebratory and often poignant way. She had expected that her show would appeal primarily to women like herself in similar situations, but found it has a cross-generational appeal.
"I tackle a lot of subject matter that touches on that universal embarrassment that people feel," she says. "It's quite self-deprecating."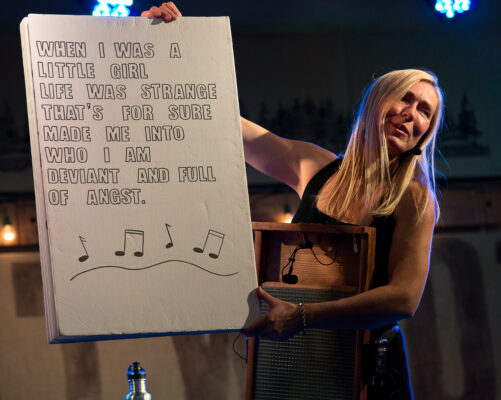 Six years now as Franny Wisp and Bouwman certainly has had her fair share of funny experiences. She says she's gotten some backlash, but a lot less than she expected, and is often humbled by the feedback she gets from people of all walks of life. "Something is resonating with people in terms of what I'm doing… It motivates me to keep sharing."
And on the odd case there is a heckler in the crowd, she says the trick is to not take yourself too seriously. "I used to take myself terribly seriously. And there is an absurdity to that."
"As if anybody actually gives a shit."
She says if you want to be on stage, you have to let it go. Instead, it motivates her to create more space for the female to exist in all realms.
"We grow up with all of these unwritten rules about who you should be. Beautiful, kind, empathetic, supportive, nurturing. But then you're also supposed to be this animal in bed. That's the dream." She finds it wildly restrictive. "The messaging is actually a bit fucked," she says.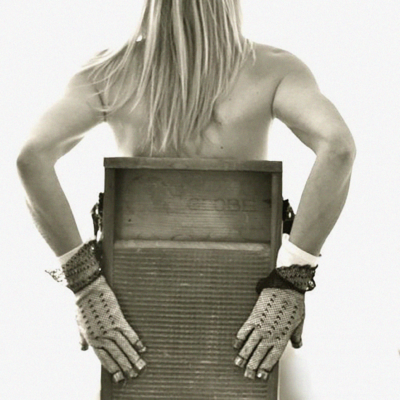 At the end of the day, Franny Wisp is really Bouwman's attempt at authenticity — for herself and for others. To be real and to generate a safe enough place for women is what drives her.
Bouwman respects her alter ego, and she doesn't take any of this lightly. She believes she has a responsibility to serve her audience so she rehearses endlessly and runs through her ritual every time before she steps on stage.
But when the lights go down and the curtain comes up, everything changes.
"I believe in something called a muse," says Bouwman. "I have direct conversations with my creative muse before I go on stage. I hand it over. 'You're in charge now, let's go.'"
And then it happens, she says. The show takes a life of its own.
And boy, is it ever fun.
---
Words by Maddie Johnson
Photos by Michael McLuhan