Downtown Owen Sound is evolving. What was once a withdrawn sector of town only a few years ago appears to be embracing its disheveled post-millennium roots. It's beginning to rebuild and adapt to its new surroundings. While the brick and mortar lining the streets hasn't changed, it's the folks occupying these spaces that are doing the adapting.

If you've taken a stroll down the central block of 2nd Avenue in the past few months, you've probably noticed the Kokoro sign adorning the windows that neighbour the Artists Coop. No, it's not a Japanese restaurant, and no, it's not exactly a spa – it's way more than that. And it's changed my perception of what Owen Sound is, and what it can be.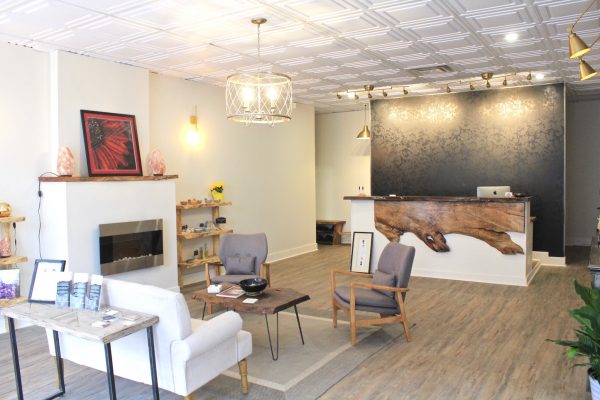 My wife and I are being led on the grand tour by Kokoro Salt Cave proprietors, Paige Kaufman and Linda Vallee, who met through unconventional means that perfectly sum up the energy of this space. We round the corner behind the front desk and are met by a deceptively elongated hallway lined with blank doorways. I immediately start thinking about TV game shows where contestants take a chance on Lady Luck and are awarded prizes behind their chosen doorway – but this isn't TV, and I get to go behind all the doors.

"I was going through some times where I could feel there was something more I had to do," says Paige. "I could literally feel it in my solar plexus just hanging there. I was searching, and even saw mediums who would say 'it'll come to you, don't worry' – but the inpatient physical me is like 'C'mon!' Then one day I was in Guelph and ran into one of these places and it just hit me – this is it – this is what you have to bring."

Advertisement
An ECE by day, Paige got started by inking a business plan in her spare time for 10 months. She met Linda via an online wellness chat group.

"Someone posted 'where my Canadian girls at?' and I don't know which one of us posted first, but we found we were 15 minutes from each other… So we met for coffee and didn't know it would actually be our first business meeting… I talked about [the salt cave] and she talked about how she wanted to bring meditation and retreats into the community. We didn't sit on it for long," says Paige.

The two met in June, went to the bank in September, signed a lease in December of 2018, and started renovations in the new year.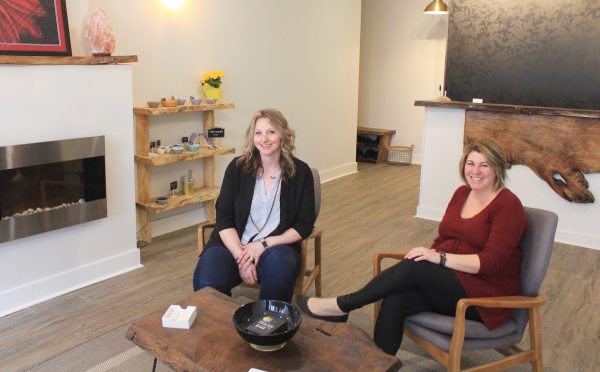 The space feels a little different than your standard new business build – there's something in here. We walk down the corridor and are shown what's behind door #1 – a modest open workshop space for groups. As we walk to door #2, we pass a door on our left. I stare at it as we walk by, wondering why we haven't been granted access. The next door swings open to reveal a massive Canadian-made sensory deprivation tank, or isolation tank – one of two on the premises, and the only ones in Grey Bruce. If you're unfamiliar with the concept, sensory deprivation tanks were first developed in the mid-1950s by American neuropsychiatrist, John Lilly, to test the effects of sensory deprivation. While beneficial health effects are largely challenged and technically 'unproven,' the sensation has legions of loyal followers – most notably, offbeat funnyman, podcaster and serial fitness guru, Joe Rogan, and two-time NBA All-Star and 3-point bucket drainer, Stephen Curry.

The idea is, your body is temporarily shut off from all outside sensory stimulators, like light, sound, and gravity – with the hopes of luring the brain into a deeply relaxed state to produce varying effects on the brain itself – like hallucinations, enhanced creativity, and vivid visualizations that some individuals use for motivation and clarity exercises – like 9-time Olympic gold medal winner Carl Lewis, who reportedly used in-tank visualization techniques to prep his psyche for his eventual gold medal-winning long jump at the 1988 Olympics in Seoul.

Next up is door #3, where we're shown a compact infrared sauna, which instead of heating the air like a traditional steam sauna, radiates heat which is absorbed by the body, contributing to a deeper burn – but we've got our eyes on that door we skipped. We take our shoes off and the knob turns. What we're greeted by isn't easily articulated. The room is glowing, warm, dark, and emits wicked energy that's almost palpable.

The floor is covered in hundreds of pounds of coarse chunks of salt, and the walls are lined in massive Himalayan aalt blocks, illuminated from behind and oozing a rich orange light throughout the room. The roof is curved and plastered to mimic stalactite formations descending from the ceiling of a cave, littered in tiny LED lights. There are two babbling fountains at either end of the room, providing a tranquil white noise for patrons who sit in zero gravity chairs to absorb the salt in the air.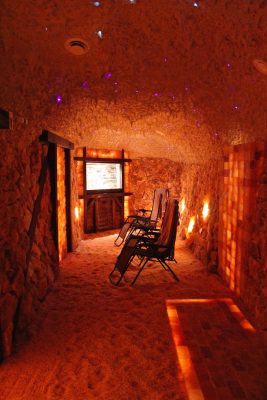 "You have active salt therapy and passive salt therapy," says Linda. "Passive salt therapy puts salt in the air via the water cascades. They add humidity to the air which is grabbing the salt. Those branches were bare when we put them in here, and now there's salt all over them, and eventually, the salt will form and go everywhere. You breathe that in."

Active salt therapy is driven by a Halo machine that will powderise pure sodium chloride and pump it into the room, furthering the respiratory health benefits of salt caves and salt spas. Known as halotherapy, the health benefits of salt caves include the reduction of inflammation and mucus in the lungs, reducing the symptoms of asthma, allergies, sinus congestion, Chronic Obstructive Pulmonary Disease, and bronchitis – thanks, in part, to salts' ability to affect us at the cellular level. Salt can affect our energy levels, our blood sugar, and our cell activity – and also acts as a disinfectant which is both antimicrobial and antibacterial.

"There's at least 5 tonnes [of salt] in here, laughs Paige. "There's a lot of reinforcements in the basements… We've had a couple of worker guys walk by and just stop – because they can feel the energy in here. For those guys who don't know anything about this kind of stuff to just be walking by and feel very in touch with the energy in here is very powerful."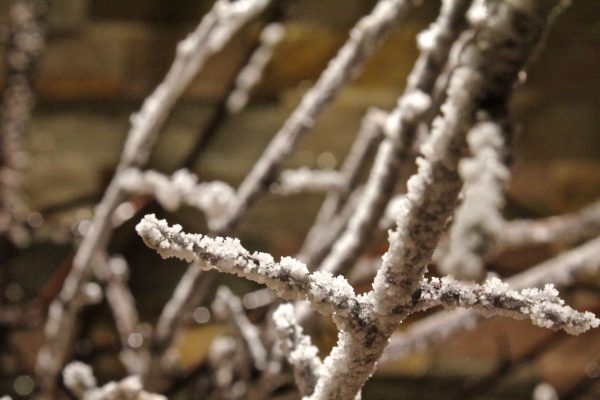 I had been recovering from a gnarly 24-hour head cold when we visited. We're in there chatting while prepping for a few photos and within minutes the Pakistani imported salt has my sinuses mildly burning and totally clear. I feel pretty good, and the nervousness I typically feel from photographing someone's hard work is totally gone.

There was a time when downtown was a less inspiring locale with many empty storefronts. These days, we've got a slew of art galleries, boutique interior design stores, upscale tattoo barbershops, concert halls, coffee shops, and restaurants – and now this monumentally impactful salt cave and two sensory deprivation tanks. I'm liking what's happening to this place – and the icing on the proverbial cake is – if you're open to it – the negativity of change-fearing naysayers is so effortlessly melted away by the weekly meditation sessions held at Kokoro. Namaste, y'all.

"We melded our dreams together and this was born. We followed our energy the whole way… When something's not going our way, we know there's something we need to release. We're doing this for us, but we're also doing this for our community."

—–

You can find Kokoro Salt Cave online at kokorosaltcave.com and via Facebook and Instagram.
---
Words and photos by Nelson Phillips