When you grow up in a small town, the search for 'something to do' can often lead to two things: music and alcohol.
The reason I'm sitting across from Matty Myatt at a coffee shop in Roncesvalles is to discuss the role that both have played in his life. He's recently given up one of them to focus on the other. He had to. And the result will be an album released in 2019 that is both assured in its folk-punk sound, and reflective in its lyrics. But it's also just a starting point.
You see, Matty had a typical experience growing up in a small town – played in a band with friends, went to house parties on the weekends and drank a shit-ton of beer from the age of fifteen on. His experience growing up in a small town is very similar to mine, except his band was good (mine never made it out of my basement).
On the cusp of high school, he and his two friends formed Wallowing in Ignorance, a ska-punk outfit, and like all musicians his age in Owen Sound, they were modeling themselves after one band.
Advertisement
"Like every other musician, we idolized Clock Strikes," he says and laughs.
Starting a band seemed like a natural thing to do for a creative kid in a small town. Many of his friends were doing the same – they'd play in basements and small venues for other teens who were also looking for something to do on a Friday night.
"It was really sloppy, and real punk rock and hilarious," he says.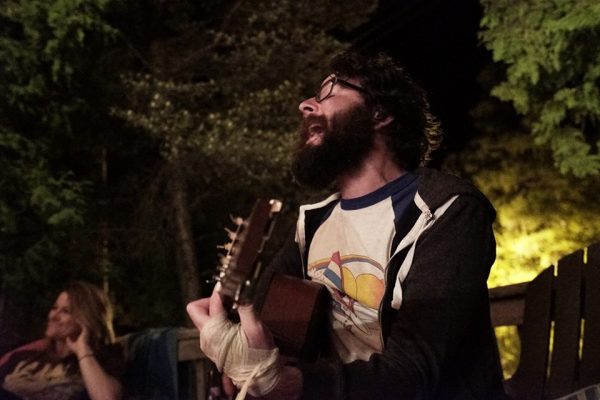 When Wallowing in Ignorance eventually called it quits, Myatt joined Four Letter Favourite, his friend Jesse Gibbons' band. Gibbons, a long time friend, would later go on to direct Myatt's video, Salty Kisses, the first single from the EP due out this Fall.
But Jesse Gibbons would also be the emergency contact name that Myatt would fill out during a rough detox that landed him in the hospital and nearly claimed his life. It all came to a head in Toronto while working on the album. Myatt had taken up residency in Toronto as many small town kids do in search of a remedy to that adolescent dilemma of 'something to do.'
Toronto is certainly a cure for that, but can over-stimulate with its own incessant culture of bars, pubs, and patios on every corner. What's a Jays game without a beer bigger than your head? What's a sunny day without a patio cocktail? A cold, wintery Friday without an after-work pub stop? Or a Sunday afternoon in Trinity Bellwoods without a few coolers?
Myatt noticed that his social drinking soon crept into more aspects of his life until it became a "slow long build up" that started in the morning and lasted through work and into the evening. It was a slow progression that finally cost him his job.
Looking back Myatt realizes the habit was never something he could fully control.
"I think I've always been struggling with this drinking thing," he says. "One of the roots of me drinking was the social aspect of it…I drank because it made me not care what people think."
After high school ended, Myatt admits he felt a little rudderless. "All my friends had applied to university…and I was like 'what do I do now'?"
He started writing his own stuff and recorded an EP in 2011, but he always felt like his drinking was holding him back from realizing his full potential. "Living and working in Toronto…I was writing [the] whole time, just not really doing anything with it…there's so much I wanted to do but I [would] just sit there with regret for years on end."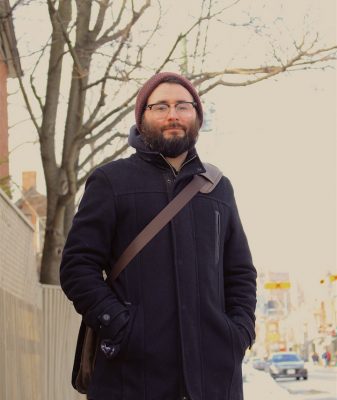 That's when he called up his friend Andrew Wiseman, sound engineer and producer, who has been instrumental in making the new album. "He is my entire backup band…[and] will be a music partner for life," Myatt says.
He also enlisted the help of friends Dave Widmeyer, Reid Armstrong, and Emily Raquel to make the EP. What resulted are a collection of tunes that follow in the tradition of bands like Hot Water Music, Face to Face, and Bouncing Souls. He seems to be carving out space on the metaphorical stage that Brian Fallon would occupy. While this is noticeable in numbers like Don't Fuck With My Ch'i, Bro, a song such as Salty Kisses maintains a Irish/East Coast vibe that pays homage to Dropkick Murphy's and Flogging Molly.
The album was taking shape, but while music seemed to be flowing through his veins, so was the alcohol. Wiseman knew that the record needed a sober Myatt, so he basically told him he wasn't going to finish it until he went into rehab.
"I thought that this music was going to save me," Myatt says. "That's why I went to Andrew in the first place. I was looking for that extra outlet, but it wasn't enough. I had to kick [the drink] completely."
And so he started his journey to get sober. He was in a bad place, but he had his Owen Sound friends, and those are invaluable during times of hardship. They didn't understand how serious his problem was at first. But once they knew what he was dealing with, they helped him get sober and 'cut the shit' that was killing him.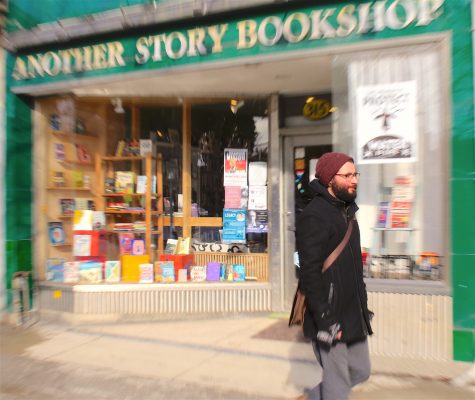 He explains this process like a true songwriter – through metaphor: "It's like me walking down a dark hallway blindfolded with my friends along the sides just gently pushing me to keep me moving forward, not knowing where the end result even was."
He tried a few rehab places in Toronto, but they didn't work. Symbolically, he had to return to the place his habit started seventeen years ago, the same small town where his relationship with both music and alcohol began. But he'd leave Owen Sound this time committed to only one of them.
And it wasn't easy. His friend, and former bandmate, Gibbons, would be a few blocks away if he needed help, and he did. It got pretty rocky at times.
"It's not TV rehab," he clarifies about the facility in Owen Sound. "It's government funded. It wasn't great but it did what it needed to do."
And since returning to Toronto sober in 2017, Myatt's finished the EP – titled Matty Myatt's Singy Songies About His Feely Dealies – released three of the five songs, and completed a video for Salty Kisses with collaborators Gibbons, Widmeyer, and Jory Lyons.
"We shot in Howdenvale at the Widmeyer's cottage where a lot of us have spent time out there as teenagers and through our twenties," Gibbons says. "I can't believe they still let us go out there," he jokes. The shooting took two and a half days, and while they had their fair share of disagreements, they were really happy with the result.
"We all looked at each other after it was over and said 'how did that work?' So many things could have gone wrong and they didn't," Gibbons says. "I feel like we got the look down, the boat didn't sink, the weather was great."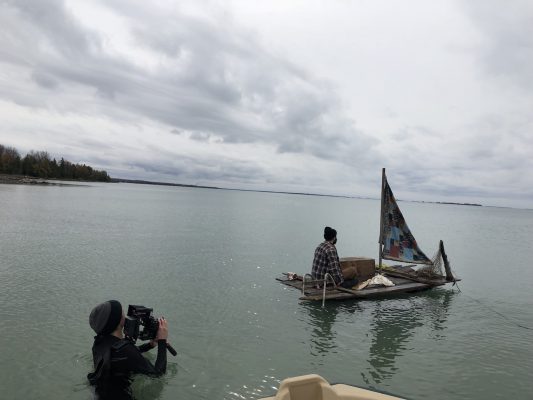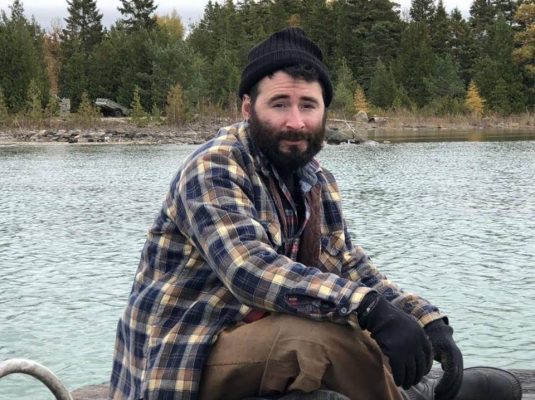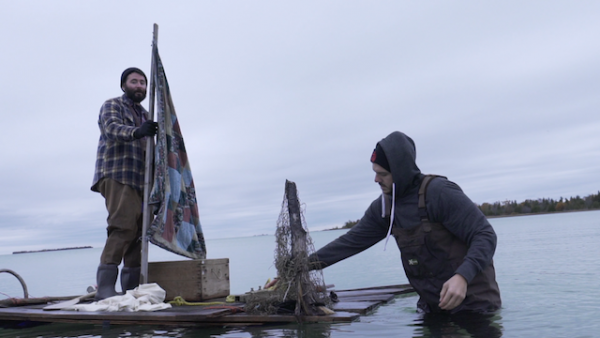 That the boat didn't sink seems symbolic of Matty's victory over alcoholism – the drink, and while there are many more symbolic elements to the video, including the sail that was used – a quilt that belonged to Myatt's father before he passed – it seems the most figurative element was his return to yet another place from his youth where alcohol played a prominent role. This is what he means when he says he's come full circle.
"For us, being able to do it for Matty was kind of a driving force," Gibbons says. "When somebody makes a big change in their life, it's really nice when there's support, you know…this was a way we could do something for a friend together."
While all the songs were written pre-sobriety, the lyrics are telling of his journey. "A lot of it comes out in my songs. But I don't even realize until I sit down and analyze the lyrics," he says. For example, Salty Kisses opens with the lines: "I will sink/ into that dirty drink", which I assumed to mean his descent into alcoholism when I first heard it.
"Nope, I just wrote that song about falling off a boat," he says and laughs. But he's clear that there is an arc to the album. So far, his masterful, Northcote-style songwriting has encapsulated themes of falling in love and enjoying life, but also feeling lost about it, like when he wails "I never knew what it meant" on Wobbly Pop Sock Hop, a great summer tune with a sweeping sound and punk sensibilities. Don't Fuck With My Ch'i Bro is the most cryptic lyrically; sonically it's in the vein of NOFX. Based off the three songs released so far, the EP is certain to gain Myatt a solid following among acoustic/folk fans.
Salty Kisses, wrapped in an Irish Sea Chantey sound, seems the most personal, and is actually more figurative than just an account of him falling off a boat he admits. "I wrote that about staring something in the face…me trying to write myself as the person I want to be."
And the person he wants to be now is very different than the person he wanted to be years ago. The way he views partying has changed. He sees it for what it is – waking up in the morning thinking you had a great time because you don't really remember anything.
As for the fear of missing out on these social events, "I look forward to missing out now," he laughs. He's got other things to focus on these days. He's already got his sights set on the next record.
"I have the mental state to pursue anything now…[and] I have no need to stop. There's been nothing else in my life that I've ever wanted to do this much"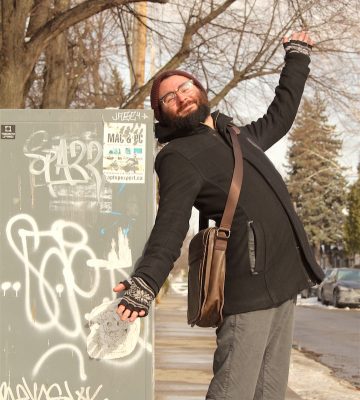 As for advice for others going through the same thing he battled:
"Don't listen to yourself when you're in that state of mind 'cause you're an idiot. We all want to be that creative drunk romantic writer – they all killed themselves."
He just celebrated his 500th day of sobriety and wants others to know that there were times he didn't think he could do it, yet he stayed positive.
"There was a point in my life where I thought, I don't see myself getting out of this," he says. But once he sought help, everyone jumped on board to assist. Each person with substance abuse has a path to sobriety that works for them. Matty's was through friends, family, and returning to his home town to where it all began.
As we leave the coffee shop and step out onto a sunny Roncesvalles afternoon, I ask him if he's excited to play some live shows. He knows that's a whole other beast, but he's already starting to plot his return to the stage. I suggest something that I know would be a dream come true: an opening slot at a Clock Strikes reunion show.
In one of his signature smiles through a thick black beard, he responds quickly.
"I'd love to."
---
You can find Matty Myatt's stuff at the following places, but he'd prefer you to buy it off Bandcamp.
Spotify
Soundcloud
Bandcamp
Youtube
---
Written by Jesse Wilkinson
Photos by Jesse Wilkinson and Jory Lyons
---
Final note: if you suspect someone you love may be struggling with substance abuse, don't be afraid to offer support. Ultimately, it's up to them to make the change, but you can let them know they're not alone and direct them to places such as CAMH.