Last April, deep in the midst of the COVID-19 lockdown, Stef Richardson found herself tap-dancing all over the Collingwood area for seven days straight. She recorded the videos, known as the "Clog Vlog," and uploaded them to Instagram for her several thousand followers to see. "I figured everyone was at home looking for entertainment," she said, "so why not dress up in costume and do a little dancing?"
Richardson is the founder and one half of Lokal Digs, a fun-loving and sometimes quirky blog that features local people, places and things in the Grey-Bruce-Simcoe region. The project first began as a creative outlet for Richardson in 2016, while she was working at Press Juice Co. in Collingwood.
She now runs the blog with her best friend, roommate, and business partner, Alyssa Joline Fleming. "We met slinging smoothies at Press," says Richardson.
"We had one shift together and I remember thinking, 'oh man, this girl is special.'"
Advertisement
Now, the two of them run Lokal Digs hand-in-hand, with Richardson on the writing, ideas, and administration side of things and Fleming as the photographer.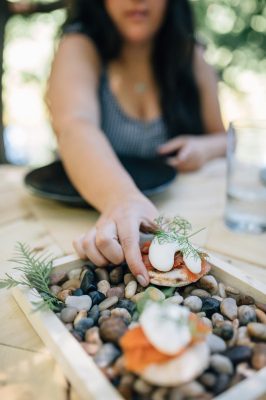 Richardson, a Meaford native and Fleming, who hails from Minesing, Ontario, both lived elsewhere for post secondary education and travelled before settling in Collingwood. "When I moved away I quickly realized how special it was to live in this area. I came back and haven't left," explains Richardson.
The blog originally started out as place for recipe development. "But," she says, "I soon realized that I would much rather taste my way through the region, eating food prepared by other chefs and makers. I do enjoy cooking and hosting dinner parties, but I've always been such a people-person and I was way more passionate about getting to know others and what makes them happy."
It's safe to say that Lokal Digs is now a fully-fledged lifestyle blog. "As the months rolled on and I started meeting new people, Lokal Digs evolved into this place where I could be so proud of the friends, neighbours and businesses who make up the Grey-Bruce-Simcoe area. My goal was always to use it as an outlet for myself, but my hope was also that people would be discovering cool places to eat and things to do, and the people behind the brands in the area," says Richardson.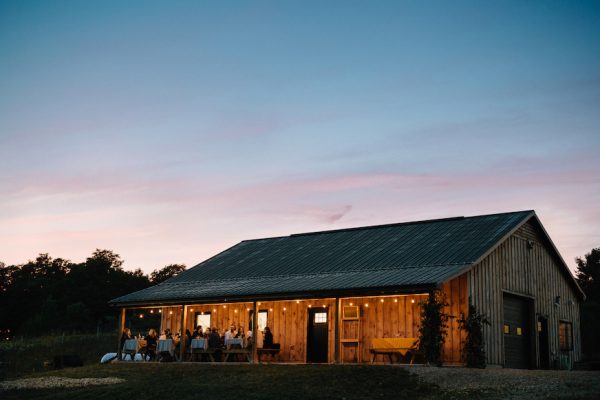 When Fleming joined the Lokal Digs scene a few years ago, she had been working as a freelance photographer on the side through her business, Alyssa Joline Photography. Their friendship snowballed into a business partnership when Richardson invited her to a dining event to do a feature for Lokal Digs. "It was an organic partnership, and a total win-win for us," says Fleming.
Richardson agrees. "Working together happened really naturally," she tells me. "Alyssa is an amazingly talented photographer. And sometimes, I wanted to be on the other end of the camera. We have this amazing connection, we work really well together and our strengths complement each other. People were starting to see us as a bit of a dynamic duo. It felt good to have my best friend come along for these adventures."
No day in the life of Lokal Digs is the same, and the bloggers like to let themselves be inspired.
"Because we're not pushed by money with this, it's a lot of passion. We have creative say on when we want to do articles and what we want to write about – it's out of pure interest on our end. We're always dreaming up new ideas and it's very spontaneous," says Richardson.
At the core of Lokal Digs is having an authentic perspective. "I am very adamant about not writing about people who I don't know or products I haven't tried," explains Richardson.
"There needs to be integrity and trust behind the blog. It's a reflection of my lifestyle and an extension of relationships I've formed," she continues.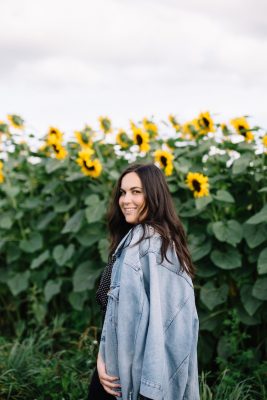 Maintaining the blog doesn't come without its challenges, the pair tells me – especially when they both have full-time jobs. "It's a labour of love," says Fleming. "People always say, 'You two have so much fun doing Lokal Digs!' And that's very true, but it's still work. It can be a struggle to find balance. You can't always be 'on'. Sometimes, we just need to go to dinner to catch up on friend time."
Richardson acknowledges that the social media side of things can be a challenge. "A lot of people think it's an easy task, but so many components go into maintaining the blog. It's always important to remind myself why I started this, and if I'm not enjoying some aspect of what I'm doing, I'll reel it in and try something new. Take a chance and clog! Keep it fresh. I don't post just for the sake of posting, I want it to be relevant and meaningful."
When I ask them about some of their favourite local spots, they groan, saying it's too hard to choose just a few. But Fleming acknowledges that Gibson & Company in Collingwood has a special place in her heart (she also worked there for two years). Richardson loves The Bicycle Café in Flesherton for its eclectic menu. The pair also agrees on donuts from Schultz Bakery in Hanover as well as Gio & Fran's Italian Eatery in Meaford. They both love The Hive in Collingwood for gift items, Blue Mountain Tea Company for matcha, and, for all of their paper needs, the stationary shop at The Creemore Echo's headquarters.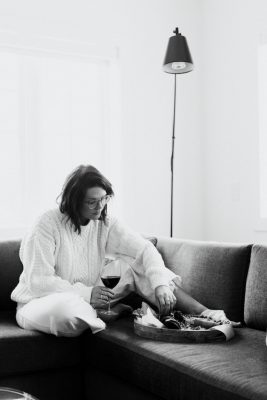 And what's coming up this season for the pair? Keep an eye out for Lokal Digs' Holiday Gift Guide with a focus – of course – on supporting local businesses.
They also plan to continue their new Lokal Babes series, a feature on the people behind some of the area's most popular small businesses. Ultimately, both Richardson and Fleming are grateful for the connections the blog has brought to their lives.
"For me, the relationship aspect of Lokal Digs is a really beautiful thing," says Fleming. "We've started online friendships that have grown into so much more. It's inspiring and it fuels me in what I'm doing in my life."
Richardson agrees. "We're so lucky to be living where we do. To be able to have one-on-ones with these artists, makers and chefs is pretty special. You really feel the community, and that's the most important thing to me."
---
Written by Emma Bell
Photos by Alyssa Joline Fleming & Stef Richardson