Let me set the table for you. It's Saturday in Owen Sound, it's unusually hot, and we're especially hungry. We've worked up an appetite from an afternoon spent swimming in Georgian Bay, visiting local galleries for the Artwalk, and strolling along the harbour for cocktails at The Launch.
We check our watches (I mean phones) as we cross the bridge back into the River District. It's 6:15. Perfect timing. We've got a table reserved at 6:30 for Chef Zach Keeshig's Naagan Dining experience at the Farmers' Market and this appetite of ours is about to be satiated in the best possible way: leisurely and locally.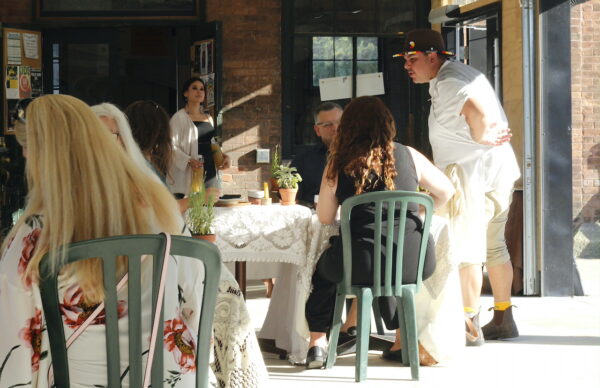 As we enter the market building, we're greeted by our server, who leads us to our table for two with views to the river through the open doors. The evening has cooled things down a little and the sun's dipped behind the trees casting long shadows across the market square. It's peaceful. And with the sounds of William Prince floating through the air, it's a tich romantic.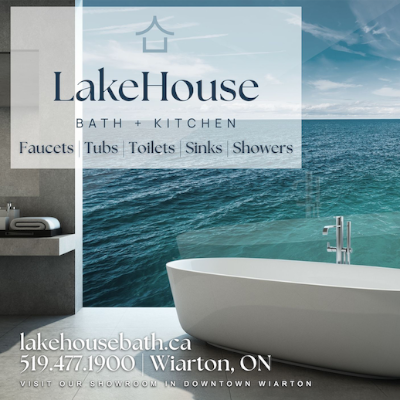 Now that I've set the table for you, it's time to present Chef Zach Keeshig's new summer menu. If you're not aware of the Naagan Dining experience, it is a Progressive Aboriginal Cuisine 9 Course Tasting Menu that uses local producers such as Dejong Acres, Howell's Fish, Greg Steward Produce, and Donald's Honey.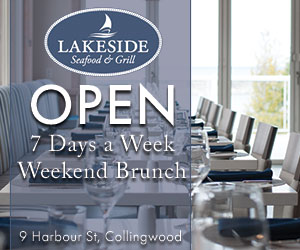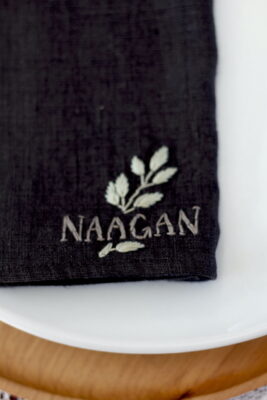 It's both cuisine and storytelling, with a reason behind each dish. It's both food and community, with close to 100% of his ingredients now sourced locally. He doesn't even use sugar, chocolate, or vanilla in his cooking because it's not local, opting instead for sweeteners like wildflower honey and maple. "It's taken a long time to get here," he says during one of his visits to our table. "I'm always trying to evolve." And each dinner I attend (this isn't my first Naagan Dinner – lucky guy, I know) is an evolution of the previous menu.
Keeshig has placed an outdoor oven and serving table in the market square to prepare the first few dishes. This is part of his effort to ensure all nine courses are perfect. And they are, right down to the aesthetics of the plating, the combination of ingredients, pairing of drinks, and the narrative that he builds with each dish. Aptly, the experience begins with a course titled 'A memory of my childhood' and ends with 'Something my mother would make' signaling that there is more to savour here than just the food. This is an experience that lets you travel through time to understand how Keeshig has turned the traditional Aboriginal cuisine of his youth into his own progressive, signature dishes. In his own words, the menu is about "Getting back to the land through food and storytelling."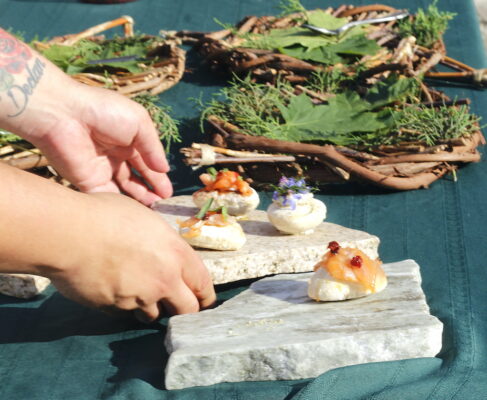 Even the drinks he's paired to each dish are hyper-local. The steeped cedar tea is steeped in family history as is the stinging nettle beer, which is paired with the Indigenized sour dough bread that comes next. In his visits to some of the top restaurants in Canada, he noticed that they all had a signature sourdough, so he created his own from wild rice, pumpkin seeds, sunflower seeds, and golden flax, then topped it with a pesto out of wild stinging nettle.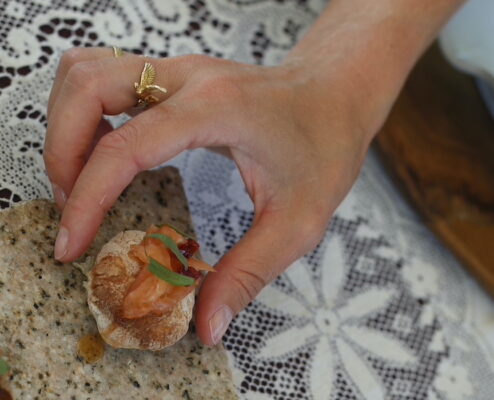 Everything Local is the third dish consisting of a blanched Swiss Chard filled with a chicken mousse from Dejong Acres. On the side is a mayonnaise that's been dusted with sumac with thinly shaved radish. The drink that's paired is a carrot juice flavoured with rabbit tobacco and sweetened with maple. The carrot pairs beautifully with the tarragon from the plate.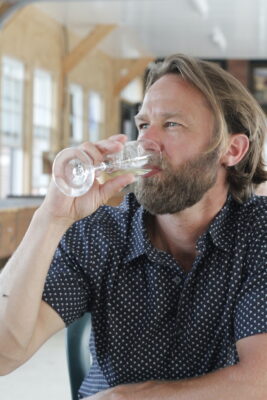 The first 'knife and fork dish' is a Layered Yukon Gold potato that's been pan fried to a crispy texture, with caramelized onion puree at the base and chive blossoms with a sauce that blends kefir with an oil made from charred garlic scapes. This is paired with beetroot juice flavoured with pineapple weed, pine shoot, and wildflower honey.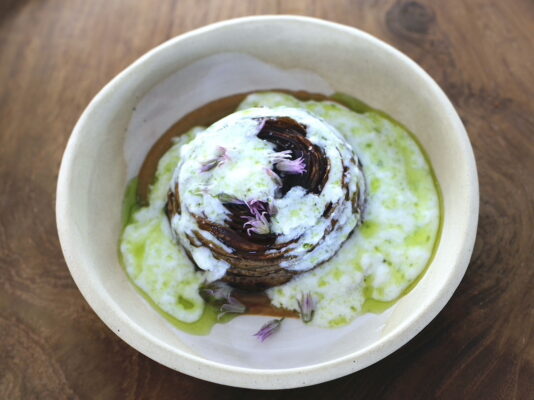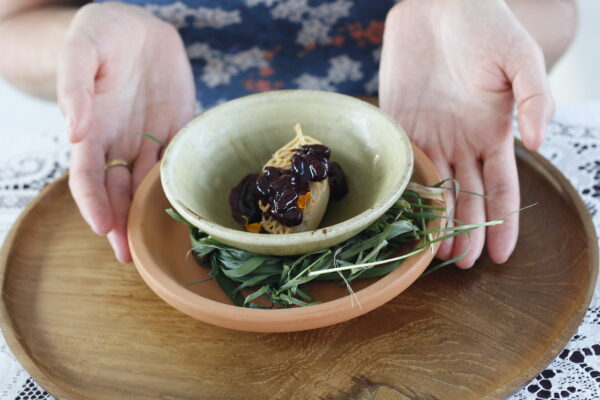 Before we take a break, Keeshig offers a palette cleanser, a rhubarb sorbet topped with haskap berry sauce from Donald's Honey. We're cooled down and content, knowing full well what comes next: the main course, which is a locally sourced Rainbow Trout cooked in the oven and rubbed with sumac and fennel. On the side is a risotto with barley and stinging nettle with hard goat cheese melted underneath. Overtop, Keeshig pours a creamy sauce consisting of ginger, lemongrass, and fennel. We notice a little pickled asparagus and discover he uses it for citrus flavours along with ingredients like sumac and lemongrass. Just like chocolate, lemons are not grown here, so he doesn't use them in his cooking. Our server pours a glass of wild ginger beer that's crisp and refreshing and matches perfectly with the Trout.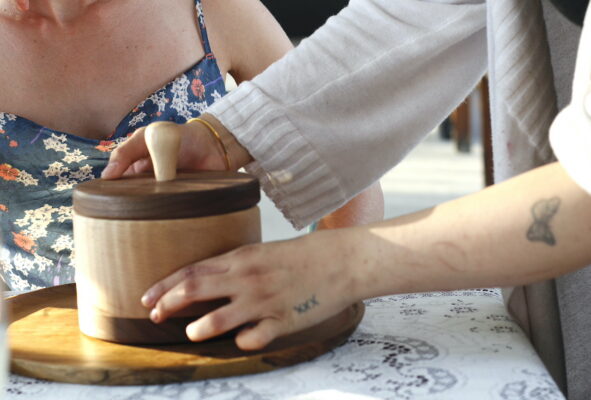 Our only complaint of the evening comes from the inability to enjoy the remaining sauce at the bottom of the dish. We search our pockets for a spoon but come up empty handed. It's a travesty to let any of it go to waste.
The final three courses consist of dessert, the first being an ice cream made from duck egg yolks flavoured with lemon, thyme, and sweetened with wildflower honey. The main dessert is frozen yoghurt with sweet woodruff and sweetgrass topped with meringue that's been flavoured with torched birch bark and topped with a strawberry compote.
The final dessert is a simple sponge toffee flavoured with maple syrup like his mother would make. He's surreptitiously plates it inside a cedar box that unveils a piece of his childhood and concludes the narrative of the evening with a personal touch.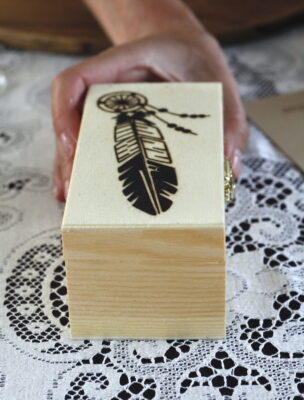 It's small and saccharine, paired with a lemon balm and wild mint cordial drink that balances the sweetness perfectly. Our taste buds want more, but our stomachs are full and require some time before we attempt another 9 courses. We'd like to come back for the next seating, but he tells me that he's already booked up into August (better get your reservation in soon at naagandining@gmail.com).
A walk through the River District is the final item on our menu where we'll pass by some of the businesses that supply to these dinners such as Lawson's and the late Stephen Hogbin's Intersections. But we're in no rush to leave the Farmers' Market Square, a place where just hours earlier many of the local producers were behind their stalls selling the very foods Keeshig uses to create his meals. Anita Dejong, Greg Stewart and Dayna Donald were all at the morning market when I was gathering my own food for the week and it's cool to see their names on the menu. It offers a real community vibe to this experience and is a testament to Keeshig's evolution to being completely local.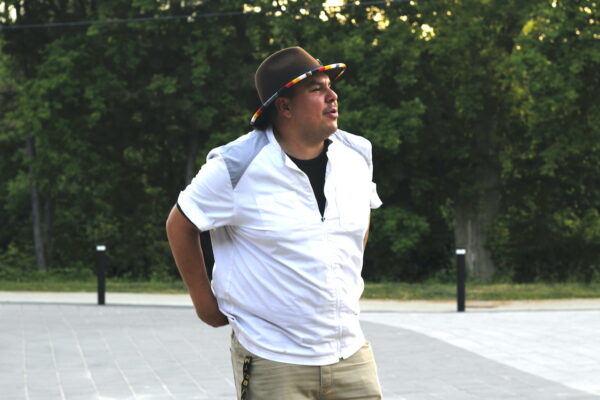 Come experience Naagan Dining for yourself by emailing naagandining@gmail.com or calling 647-504-3335 to book a table. Hurry up. The summer's filling up fast.
You can find Chef Zach Keeshig on Facebook at Naagan by Zach Keeshig and on Instagram at Chef Zach Keeshig.
Words and photos by Jesse Wilkinson