Tucked along the southeastern shore of Georgian Bay sits a small town with a big ol' heart — and even bigger stomach.
If you didn't already know, Midland is a sneaky paradise for locals and visitors alike. Not only is this hidden gem a hub for cottage-goers and the southern gateway to the Georgian Bay Islands, but it boasts fantastic sights, sounds, and scenery all within walking distance from downtown. Well-known for its famed Butter Tart Festival, the town is also home to a number of great restaurants, bakeries, and food shops, so there truly is something for everyone, regardless if your tooth is savoury or sweet.
Well at least Kelly Kurtz thought so, and she must have been onto something because her passion-turned-pandemic-project quickly became a full-blown business.
Midland Food Tours is an up-and-coming, locally-owned food tour company that provides guided walking tours and self-guided driving tours in Midland and the surrounding area.
Advertisement
"Food is a great unifier," says Kurtz, owner and operator of Midland Food Tours. "It's a really good vehicle for getting people to experience other things. Lot's of good conversations happen around food."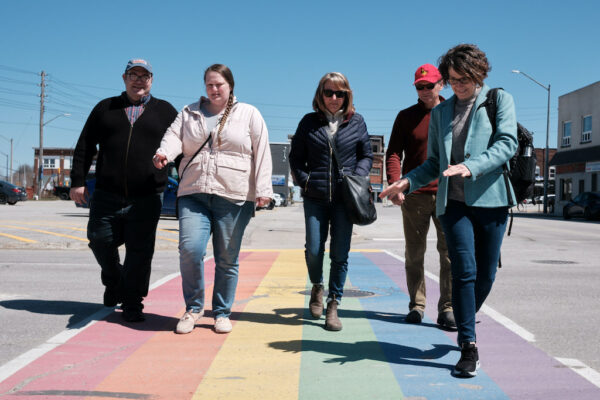 Kurtz got the idea while attending her first food tour in Kingston back in 2017. She had recently retired from a 20-year teaching career and with a background in the tourism and hospitality industry, she was looking for something fun to keep her busy.
"I thought, this could work in Midland," she says.
A self-proclaimed foodie and lover of good eats, Kurtz already had an idea of what the tour route would entail and restaurants she wanted to partner with. And while the roster changes from time to time, Kurtz prides herself on including good people who want to do good things with their establishments.
Take Grounded Coffee, for example. This cool café is a gem in the heart of downtown and is known for its love of "local, fair trade, organic and kindness." Enjoy delicious pastries baked fresh daily, like the vegan cinnamon rolls or maple-filled cookies, or snag a guilt-free coffee — all beans are organic and from fair trade plantations.
Next, pop over to Noble Hops Craft Sandwich and Bottle Shop, which is a new business that opened during the pandemic with a mission of introducing the Midland community to traditional artisanal Italian sandwiches as well as hard-to-find craft beers from across Ontario.
The first tour Kurtz offered was called the Day-Tripper Self-Guided Driving Food Tour which was designed to run safely during Covid-19, when indoor dining was not an option. Then, last September, she added the Downtown Midland Food Tour, which she guides herself.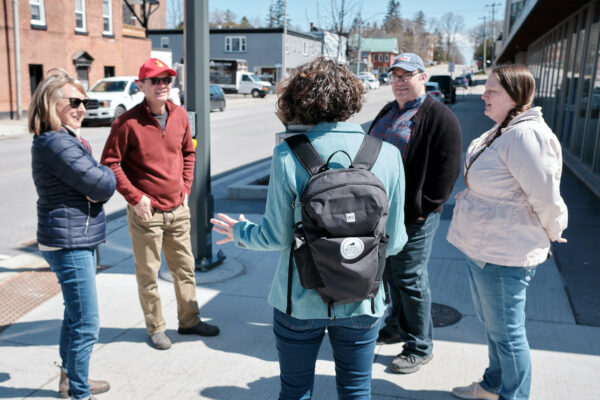 To date, Kurtz has partnered with 14 local restaurants and food shops in Midland, Penetanguishene, Lafontaine and Perkinsfield.
By the end of the day, not only will your belly be full, but you'll also have received a wealth of knowledge about the history of the area, as well as its thriving cultural and art scene.
"I knew a lot about the town but it's different when you have to give a tour," says Kurtz. "I connected with a bunch of people and started to learn what other bits of information I could share in between the stops."
For instance, did you know Midland is home to over 40 murals that tell the story of the town, the area, and its history and can be found throughout downtown?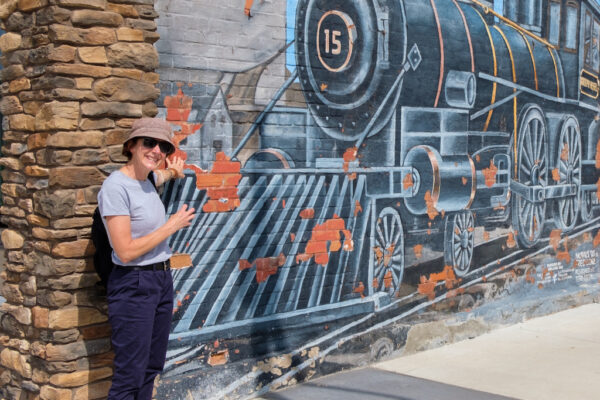 "There is a really strong community spirit in the downtown, and everyone is just really happy to be part of that," says Kurtz. "It's not a big place, but visitors are so impressed with how thriving the downtown is."
She said what really strikes them is getting to meet the owners and go behind the scenes of some of these establishments. Now entering her second summer in business, that's still Kurtz's favourite part: taking on a new restaurant partner and getting to learn their story.
"You feel like you kind of parachute into their life," she says. "They happily dig deep and share so much with you, so I really do love getting to know their stories."
The surrounding area also boasts no shortage of cultural and historical centres with stories of their own. While in the area, you can learn about the Huron-Wendat at Sainte-Marie among the Hurons, stroll along the boardwalk at the Wye Marsh Wildlife Centre or take an art class, head to an exhibition or enjoy a night of theatre at the Midland Cultural Centre.
And the best part? Midland Food Tours aren't just for visitors.
"Everytime a local does the tour, they either end up eating somewhere that they have never eaten before, or somewhere they didn't even know was downtown," she says.
"I love that locals fall in love with their own town even more than they already did, or that they just become aware of much more of what's there."
Tours can be booked on Kurtz's website at www.midlandfoodtours.ca.
People can also find Midland Food Tours on Facebook and Instagram @midlandfoodtours.
Written by Maddie Johnson
Photos provided by Kelly Kurtz