Deep down a winding concession road in Durham, tucked away so that you almost think you've missed it, lies the Riverstone Eco Retreat Centre. Spread out over 136 lush and vegetative acres, the property is owned by the Collingwood-based charity, Elephant Thoughts. The organization, which was founded in 2002 by a group of educators, develops local and international initiatives to support vulnerable students and also fellow teachers. In particular, partnerships with Indigenous communities across Canada have led to innovative educational programming, some of which takes place right at Riverstone.
Partitioned by the meandering Saugeen River, the retreat centre features beautiful hiking trails, diverse forests and wildlife, and intimate accommodation and event options. However, a chance meeting a few years ago between Elephant Thoughts' president, Lisa Farano, and local Indigenous Chef Zach Keeshig, generated a new and ambitious use for the property. The result was the creation of a hospitality-based internship program for Indigenous youth focused on growing, foraging, preserving and preparing local, organic food.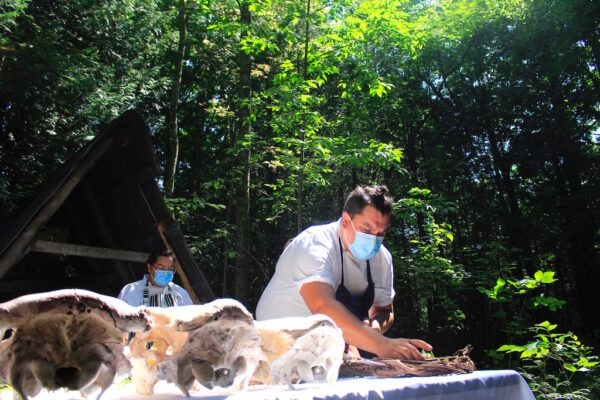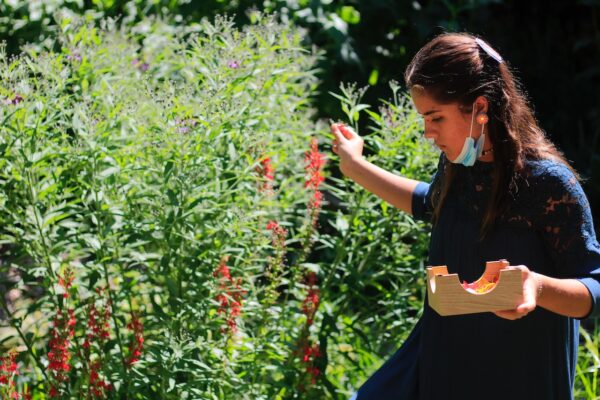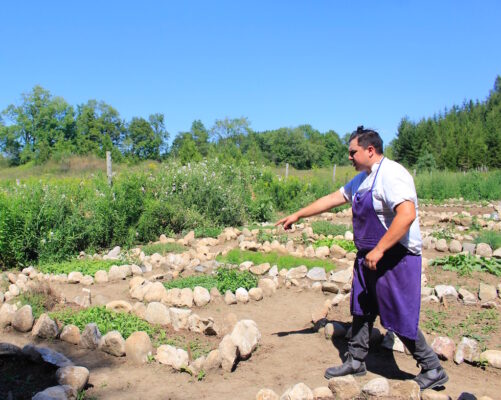 "Building good global citizens and environmental stewards is at the heart of Elephant Thought's work," says Farano. "Riverstone is the place where youth and adults from all walks of life gather to bring down barriers and learn from each other."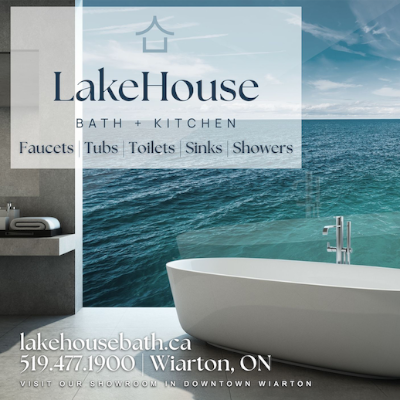 Born and raised in Owen Sound, Chef Keeshig, knew he wanted to be a chef at the age of 17 when he began working at a restaurant as a part-time job. Loving the artistic side of cooking and especially the creativity that comes with plating a meal, he soon enrolled at Georgian College's Culinary Arts program. He moved around Ontario, completing an apprenticeship under Chef Tim Johnston at Cobble Beach and continued to work his way up the culinary ladder at Michael Stadtländer's Eigensinn Farm in Singhampton as well as Langdon Hall Country House Hotel and Spa in Cambridge.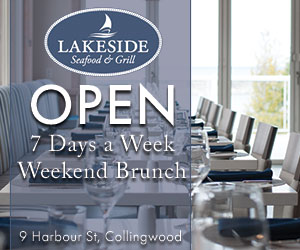 Since becoming involved with Elephant Thoughts, he's worked in other aspects of the group's programming, such as hosting cooking demonstrations at the Indigenous Life Festival and has also taught as part of the Indigenous Food Sovereignty class at St. Mary's High School in Owen Sound. Now, Keeshig has a full-time private dining gig at Riverstone while continuing to host and further develop the Indigenous internship program.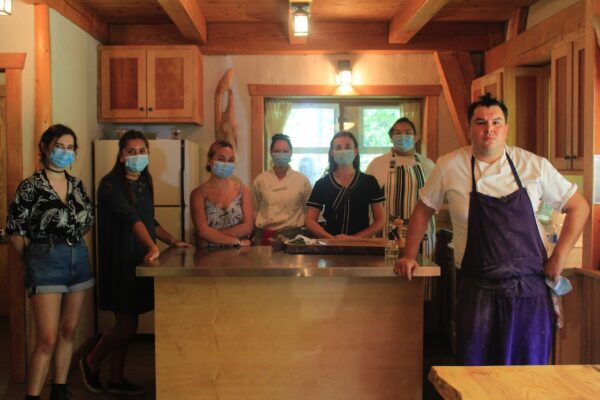 On a warm day in mid-August, I had the chance to attend one of Keeshig's nine-course meals at the retreat centre. He named the tasting menu Naagan, which is the Ojibwa word for dish. To prepare the elaborate feast, Keeshig worked alongside two Indigenous internship students (one from Northern Ontario and from Nunavut), who had been training with him on the property for weeks. The trio worked together with amazing fluidity as we watched them cook, plate, garnish and serve.
One of the most memorable dishes we had, served as a starter, was Ojibwa bannock cooked right before our eyes in a wood-fired oven, and topped with a wild-herb cured rainbow trout. As we ate our warm bannock overlooking the river (at socially-distanced picnic tables), it was hard to imagine a more comforting and wholesome lunch, so simple on the surface but with complexly layered flavours.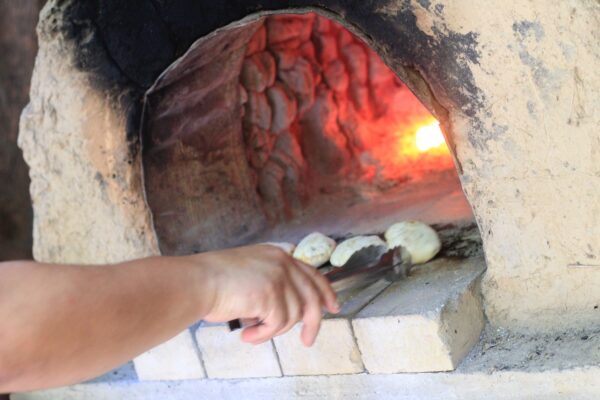 Bannock, in all its varieties, is a recipe that's especially close to Keeshig's heart. "It's a dish that will never leave my memory," he says. "I grew up eating bannock with all kinds of different toppings. Sometimes it was deep fried, other times we put hotdogs on top. But no matter the variation, it's still one of my favourite dishes to prepare."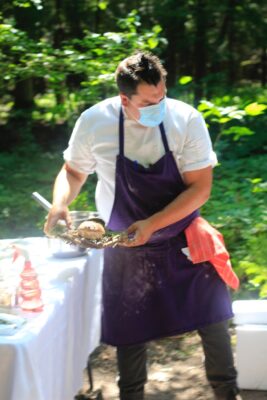 After enjoying our starters on the riverbank, we moved inside for the duration of our meal. We drank home-brewed cedar tea, which was perfectly refreshing on a hot day. Our main dishes included a whitefish cooked in birch bark and flavoured with foraged ingredients such as pickled cattail, lemon balm, wood sorrel and stinging nettle. A local berry sorbet cleansed our palates. Dessert featured a popsicle made with roasted chicory root, creating a slightly woody, nutty flavour that was amazingly reminiscent of coffee. A tart made with Riverstone-tapped maple syrup, as well as local duck eggs and blueberries made us swoon. And a chocolate truffle infused with wild mint grown just steps from where we ate it made for an impeccable end to our meal.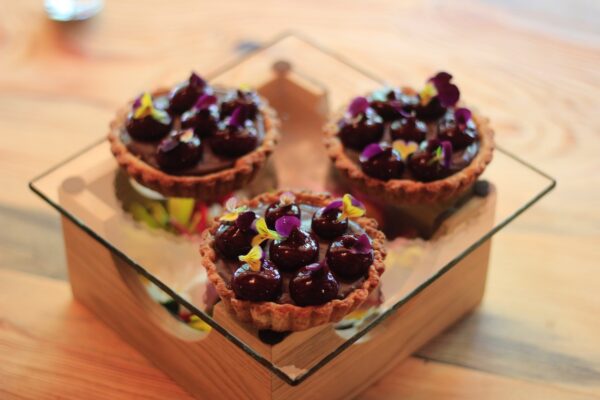 Slowly eating our lunch over the course of a few hours, each dish felt like a taste of Chef Keeshig's memory. As he served us, he shared stories from his childhood and explained the significance of each ingredient in his culture. The combination of thoughtfully prepared food, storytelling and taking our time to savour each dish made for one of the most intimate meals I've had in a long time.
Keeshig continues to delve into his Indigenous roots through food and recipes, reflective of the changing seasons. He describes his cuisine as 'Progressive Aboriginal Cooking,' an idea grounded in the three practices of foraging, preserving and growing his own food. "My cooking is really about getting back to basics," he explains. "And it's not 'Farm-to-Table'. Indigenous communities were doing this kind of cooking long before that whole concept came along."
In early autumn, I caught up with Keeshig again to discuss his life as a chef and some of his future goals for the Indigenous Internship Program and the private dining series. "My career has been filled with ups and downs, highs and lows," he says, describing the challenges of his industry. "But all of those experiences combined got me to where I am today. I wanted to give back to the youth in my community and share all the knowledge I've gained over the years. And we're really looking to do something great with the internship program," he explains. He's hoping to host more small-group dinners throughout the winter, offering an ever-changing menu with local ingredients.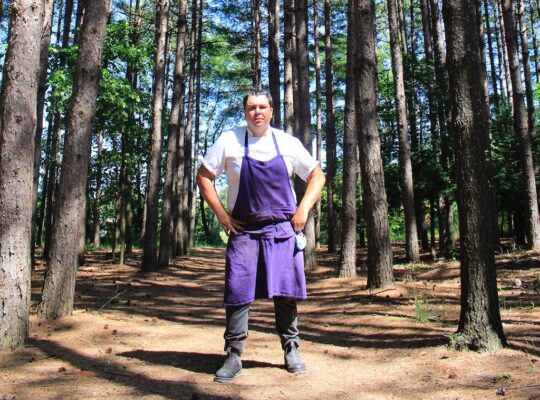 "It was always a huge dream of mine to have my own tasting menu," he continues, "and to make this area a true dining destination where people drive here just to eat. But the most important thing for people to know is that what we're creating here is not just a meal, it's an experience."
For more information about Chef Zach Keeshig, visit his Facebook page for information on upcoming private dining events and to see behind-the-scenes photos of his cooking and recipes.
For more information on Elephant Thoughts, visit elephantthoughts.com.
Words: Emma Sweeney
Photos: Jesse Wilkinson