Laura Mina Mitic and her bandmates from Carmanah are in real good company.

The 5-piece Vancouver Island-based group took to the studio for a solid six weeks to record their first nationally-released album, Speak in Rhythms. That album was recorded at Vancouver BCs Warehouse Studios and produced by Gus Van Go, the same chap responsible for producing albums and tracks for an all-Canadian superstar roster including The Arkells, Sam Roberts, Wintersleep, Fast Romantics, and Whitehorse. Back home on the island, Carmanah has opened for the likes of Ziggy Marley, KD Lang, Moby, and Shakey Graves.

That sort of company will set you up for success.

While recording the album, Gus coined Carmanah's sound as "West Coast Soul," and it's easy to see why. When I sit down to listen to the album prior to writing this piece, I was immediately grabbed by the vibrancy of their sound, stepped in a lushness and audible tightness only a laid-back BC group manage to string together. The effort begins with Roots, a sultry roots-rock jam that lays a solid foundation for rich harmonies, layered instrumentals, and boldness of character.

Advertisement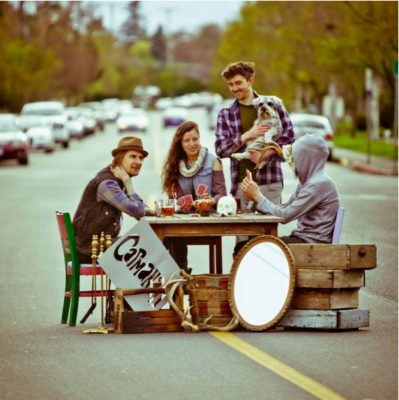 Crying is a bit of a time machine, reminiscent of a 1950s rebel radio hit with its staggered chorus melody, subtle horn section in the back, whimsical guitar solo, and a thick bass line. Candlesticks hits home with an upbeat acoustic heart coupled with brooding, intimate lyrics and a tight lead guitar to beautifully contrast its low and slow heartbeat.

You Deserve More is an honest and epic reverb-y lullaby and a deeply contemplative earth-based manifesto to the planet itself. Long Way from Home picks the album back up again with a jaunty story of exploring the great outdoors with someone you care about. It's fucking delightful; like a surprise piece of pie after dinner on a hot summer night kinda delightful – you don't turn that kind of thing away, and in that respect, you don't turn this album off until you've finished it. That's how I feel about the entire album; it's a pleasure to be in its company. It's like a river, complete with ebbs and flows, whitewater, meandering elbows, and cascading waterfalls – that's a river I'd want to paddle, and one that would make me look back over my shoulder at the final portage so I could give it the proverbial nod of respect it deserves.

Second to the warm, rich sounds and inspired lyricism of Carmanah, they're enviro sweethearts to boot – powering their tours off-island by procuring vegetable oil from restaurants to power their van. 

This Thursday August 15th, catch Carmanah in an intimate and oh-so-appropriate concert setting aboard the Chi Cheemaun as part of the ferry's impressive summer-long dinner cruise and concert series. There are still a few tickets available, so grab 'em while you can and travel in good spirits with a band who evidently have nothing to offer but good spirits.