It was three years ago that I sat down with Peter Braul at Bent Taco in Collingwood to taco-bout (sorry) beer – specifically Belgian witbier, the signature brew of Black Bellows Brewing Company.
Peter explained how he and long time friend Scott Brown, had come to open up a brewing company in Collingwood and more importantly, where they saw themselves in five years. He told me that he envisioned them having a space of their own (they were brewing their tasty beer out of another brewery at that time).
It's now three years later and that goal has come to fruition – not too shabby for two dudes who went on a canoe trip one summer and came home with the idea to quit their jobs and start a brewing company. We all love the stories where people quit their job and do something they love, but we tend to forget all the hard work that goes into making it successful.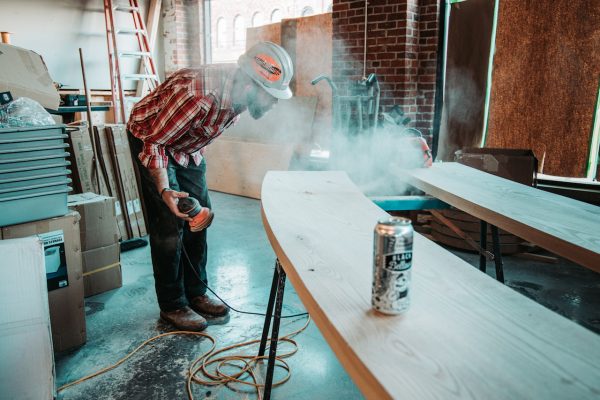 Scott and Peter have worked their asses off the past few years and just recently held a grand opening for their new brewpub in Collingwood. I was lucky enough to get a table on opening night before they went on a very long wait list. It seems that everyone in Collingwood was eagerly waiting their opening, as well.
Advertisement
---
"We've proven we can build a brew pub. Now we have to run it."
---
"It's an overwhelmingly positive reception," Braul says. "Seems like we're really resonating with the local crowd." They've done a lot of things their own way, and that seems to be the right way. They've gone with quirky, worldly, traditional and modern – think blacksmith shop meets art gallery with a Berlin-esque flair. Oh, and there's beer brewing around the clock. Lots and lots of tasty Black Bellows beer. They've moved beyond just the Belgian wit and are now producing IPAs, stouts, English ales, and pilsners.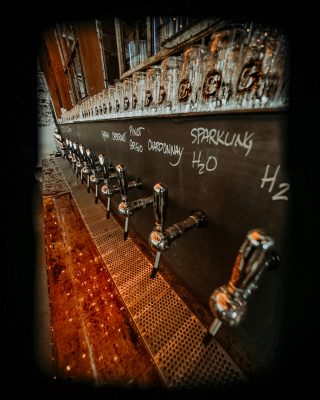 During my visit, I decided on a flight to wash down the Filipino Longonisa Corndogs from the Not Just For Kids Menu (I really wanted the Okonomiyaki, but was too embarrassed to try to pronounce it – next time I'll take a stab at it). I chose my beers carefully and opted for the Paradise Saison, Ball Peen Stout, Shinny Fuel APA, Bring The Roses Pilsner, and of course the classic witbier.
They want to challenge the palette and the brain, and under the direction of Chef Caesar, they devised a menu to do just that. "We wanted to create a place that is comfortable but that you could also be issued some kind of a challenge," says Braul. "You can find a burger, yes, but you're also going to find some other stuff that you might not know."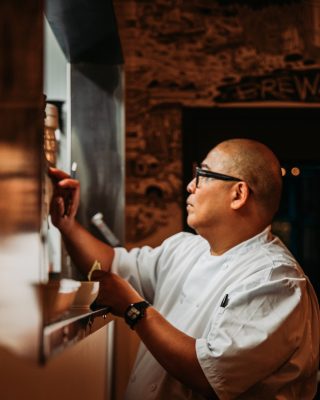 I caught up with Peter Braul recently on a non-brewing day, which meant he was dealing with the ten-thousand-and-five things that need to get done when one owns a business: "do we have enough hats, shirts, enough ingredients, did I pay taxes, how should the tips be divided, do people know how to pour beer properly?" he rhymes off without hesitation. The true sign of a entrepreneur.
I can tell that he prefers the days he's brewing. It's meditative, like writing is for me, or drinking good whisky. I guess for some people, it's actually meditating. To each their own.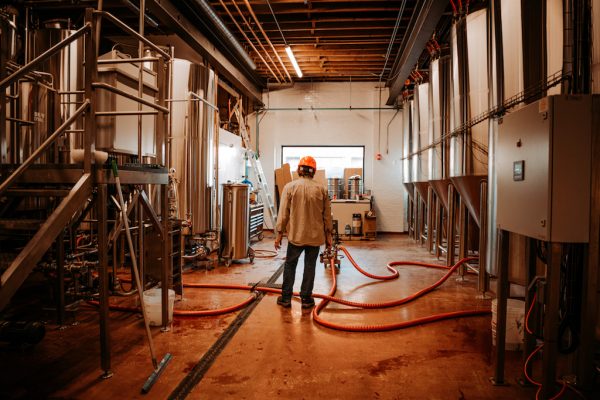 They say you learn something new everyday, and on this day I learned the origin of the name Black Bellows. I didn't know what it meant back when I interviewed them in 2017 – I didn't ask (rookie move), but now it all makes sense.
When I walked into the old Blacksmith shop (is shop the right word?), I noticed the massive bellow hanging above the bar and it suddenly clicked. Not only did they leverage the blacksmith nomenclature, but they gave their space a cool industrial feel to stay true to its origins. "It's such a quirky building," Peter acknowledges. "You'd never build that now….it makes it kind of funky and we want to play with that."
With the help of Electric Eclectics director and artistic coordinator Gordon Monahan and Laura Kikauka, they were able to add an authentic artistic touch, which is an homage to the district the building now belongs to. Nothing is more artistic and eccentric than the adjacent parlour that Peter lovingly refers to as the Black Lodge (any Twin Peaks fans?).
The Black Lodge was hosting private function the evening I was there, but I so wanted to go in and order a nice scotch and play party-crasher. I didn't, but just marvelled at the cool wallpaper and antique furniture instead. It has just opened this past weekend, so I'm looking forward to sipping some scotch (I mean beer) in it.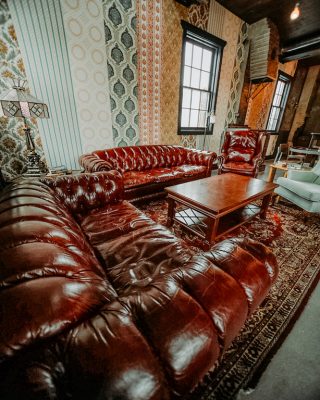 Peter and Scott wanted their place to feel like it could be situated in Berlin or Budapest, two places they've been and both appreciate for the complex cultural milieu the establishments there possess. They'd had had their eye on the building ever since they started brewing beer back in 2014. "We actually named our business after that old blacksmith shop, and then the deal didn't happen and then we were like okay, let's keep the name anyway," says Braul.
It wasn't until Bryn Davies purchased the old body shop and partnered with the pair that they finally had their space, the one they were destined to be in.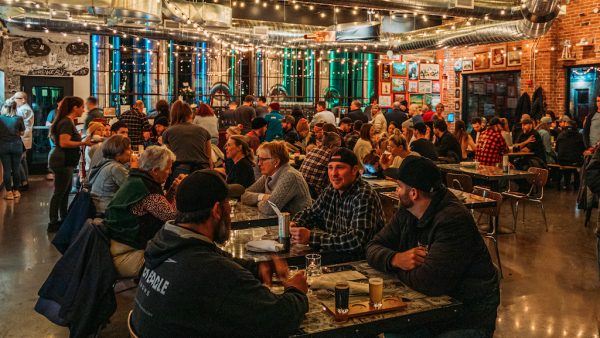 And then when Chef Caesar joined on, it was the final puzzle piece. Coming from years of experience at The Creemore Kitchen, he brought a menu inspired by global street food that is served 'Chinatown style' – brought right to your table as soon as it's ready.
And after a year of renovations and countless decisions, they're open to the public. "We've proven we can build a brew pub. Now we have to run it," Peter says jokingly.
I'd say they're doing a damn fine job of running it so far. I'm already looking forward to my next visit. I'm currently working on my pronunciation of Okonomiyaki.
---
Written by Jesse Wilkinson
Photos by Jenna and Joel Albany