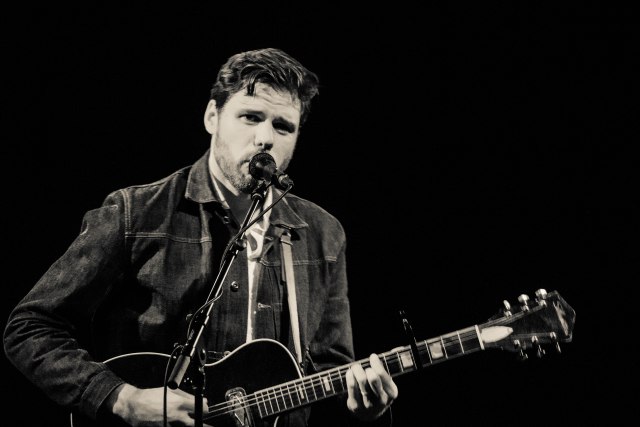 "I'm here to give you a semi-professional show' Afie Jurvanen, commonly known as Bahamas, told the audience at the Meaford Hall as he stepped to the mic dressed as though he was just popping out to pick up some milk from the corner store.
I recently saw him play at Wayhome Festival this summer where he was given an hour set on the Saturday afternoon. While I was lying supine on the grass, half asleep on a sun-drenched, Bahamas-esque afternoon, I couldn't stop thinking how nice his guitar sounded as it hovered across the grounds. But as chill as that experience was, festivals are never intimate (unless you're that couple making out on the grass in front of everyone….ya, that couple).
But the intimacy of the Concert Hall brought something that I wasn't expecting: non-stop jokes. He was half comedian, half musician. He was entertaining to say the least. Many of his songs are reflective, often exploring past relationships and where things went wrong. You would expect his on stage banter to be somewhat philosophical, as well, but instead he sloughed off his own talent and lyrical content for light-heartedness.
And he was funny. He was charming.
Advertisement
He pondered his fascination with country artist, Travis Tritt, right after his second song and returned to this captivation often. He joked that he had something in his nose a few times, that he wasn't looking cool enough for his mom, and that the concept of encores were silly.
There was only one moment of seriousness when he stopped and said there were many things wrong the world today and that he was glad he had music to retreat to and that he hoped we all had something, as well. But it was done rather sheepishly, as though it made him uncomfortable to talk this way. He even joked about his song dealing with depression.
What I took from his live show, an intimate one, is that Afie Jurvanen is a fun-loving guy who uses music to work through the painful aspects of his life. And his music is the only place where you're going to find that side of him. Once the song is over, his medium comes to a close, he is back to being his jolly self, for us at least. After all, he does tell us "[t]here's joy in feeling sad" on his song Overjoyed. Judging by his songs then, he has felt enough sadness to be ecstatic most of the time.
This seems to be the case for him as his musical laments seem to always be followed by jokes. But it can be a little jarring for us audience members, who get sucked into the sonically beautiful guitar picking on a song like Lost in the Light or Sunshine Blues; we are taken to transcendent place, often a relatable time in our own past and lulled into a trance by his melodic vocals and then shaken out of that spell quickly with a joke about a booger.
Regardless of his approach, he had the sold-out audience in the palm of his hand all night. I'm not surprised it was a packed house: he has built a strong following on his solid three albums, two of which have landed him on the Polaris list. And the two Polaris nominated albums got the most play last night; his newest, Bahamas is Afie, was strangely absent.
Like all great artists, he is constantly writing and it was great to hear some new songs, one that was just written the day before, and one with a chorus that proclaims that 'Many men are equal but we're not the same', which I liked. I've always found immediacy in his lyrics, a currency with words: he offers short lines that ring true.
He sat down at the piano in his encore and performed a touching ballad (not one of his own), singing "I must be in a good place now." I took it as a subtle message that he was happy to be playing in an intimate concert hall, one close to his hometown of Barrie, and one that allowed him to just be himself: a seemingly funny, light-hearted guy who writes beautiful, introspective, songs that take us to places in our own lives.
And that's why we all showed up. And that's why people will continue to show up for his shows: his talent has surpassed many of his contemporaries. As the opener, Jason Collett, attested to: it's amazing to see what this artist has become….a tropical country! Jokes aside, there's no denying his songs will warm your heart. Just in time too, as the weather in Ontario is starting to get colder.
Written by Jesse Wilkinson