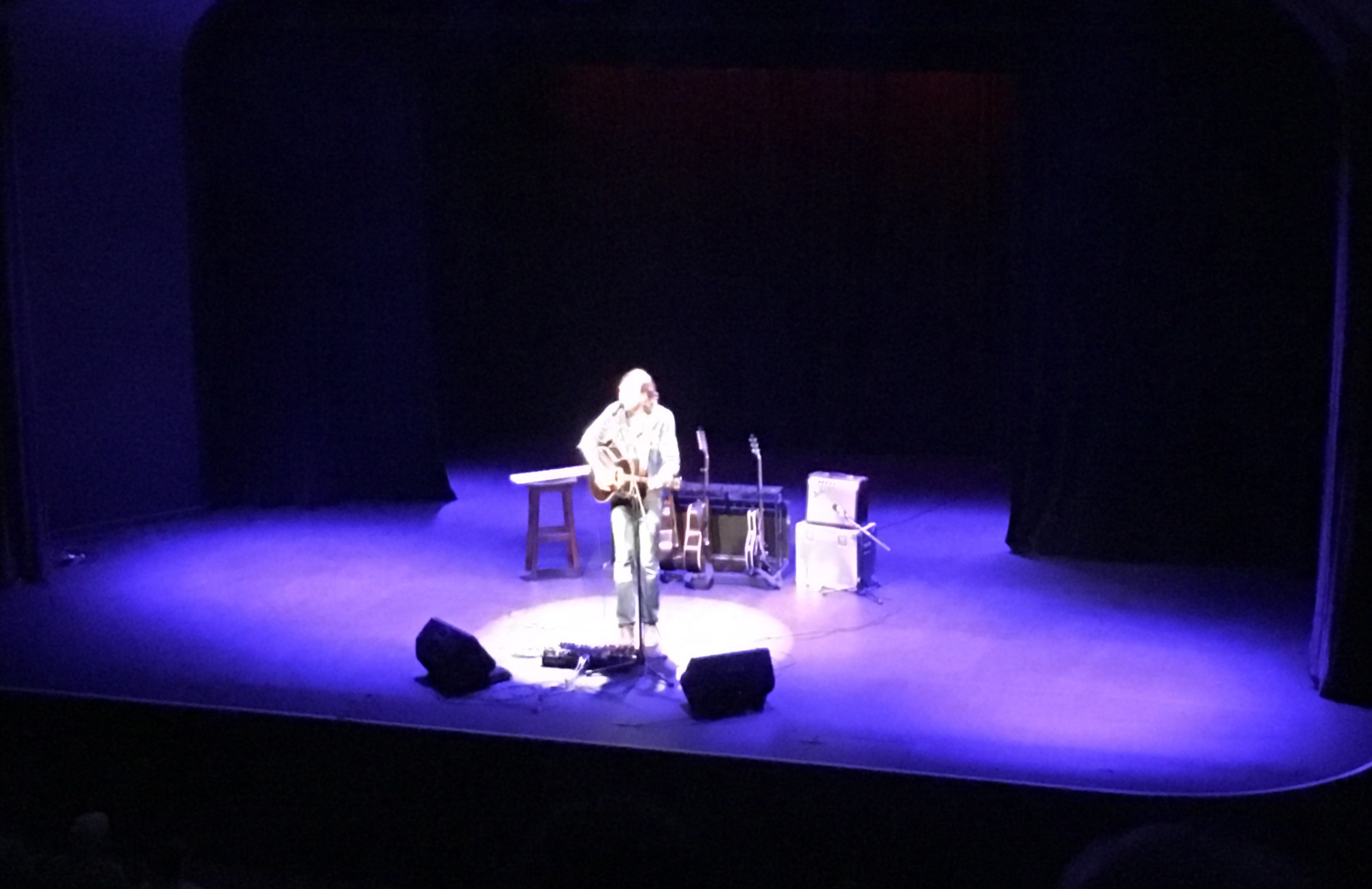 There was a block party happening in Dartmouth tonight. Many of Joel Plaskett's friends were there: Jenn Grant, Mo Kenney, and their DJ husbands. But the Nova Scotia kid was missing it all for a show in Grey County, Ontario, at the Meaford Town Hall, and we were, selfishly, glad he was here with us instead.
It was just him – no Emergency, but he brought his collection of acoustic guitars, an old keyboard and his penchant to tell stories. He is a storyteller after all, both in his songwriting and in his stage banter. In terms of songwriting, he's someone I would place on the same level as Taylor Goldsmith of Dawes when it comes to cleverness. I haven't come across anything quite like his triple release album 'Three' and may never, but my favourite album is actually his most recent, Park Avenue Sobriety Test. It is both clever and sincere; smart and sexy; approachable and nuanced. Okay – enough with the adjectives. Let's talk about his show tonight.
The great thing about live shows is that you get to hear the story about the song, which is why I go to so many live shows – it's all about the intimacy, the connection. Joel brought that tonight in a big way. He was in the mood for talking, and I loved it.
Joel gave us many stories as he moved from song to song. For instance, did you know his first band wasn't Thrush Hermit, but Nabisco Fonzie, a band who idolized Led Zeppelin to the extent of offering up a séance one night? His first introduction to music was a mixed tape balanced out with both Chuck Berry and Suicidal Tendencies? And that he has an ongoing battle with the town of Kelowna?
Advertisement
You may already know all of these things – many Plaskett fans do. But there are a few things you may not know unless you've been to a show lately: he recently visited Yellowknife and wrote a very cool song positing that 'Yellowknife is the new California in July.' And then he later told us to "go up North; it'll blow your mind, it'll change your life". I'm booking my trip next summer. You've inspired me, Joel. I've been to every province/territory in Canada except….well, the territories.
He played a variation of tunes from his albums that would please most fans, but played a few more from Park Avenue, including my favourite Captains of Industry. It was a nice stripped down version (no guitar solos obviously), and when he sang "if you want real love, show it" the crowd responded, and showed it, but it was during the song Park Avenue where he really got the crowd involved, so much that he had to giggle at the enthusiastic participation of some.
When someone shouted out a request for "Just Because", a tribute to Gord Downie, he responded that it would come later. And it did – in the encoure, when he read it as the poem – the medium it was originally formed in. And then he finished off the night with Rollin, Rollin, Rollin. And then we all rolled on to the lobby for a beer and to talk about our favourite songs and buy vinyl and get Joel to sign our stuff. It might not have been a block party in downtown Dartmouth, but I'm pretty sure Joel had a good time. I know I did.
Review by Jesse Wilkinson