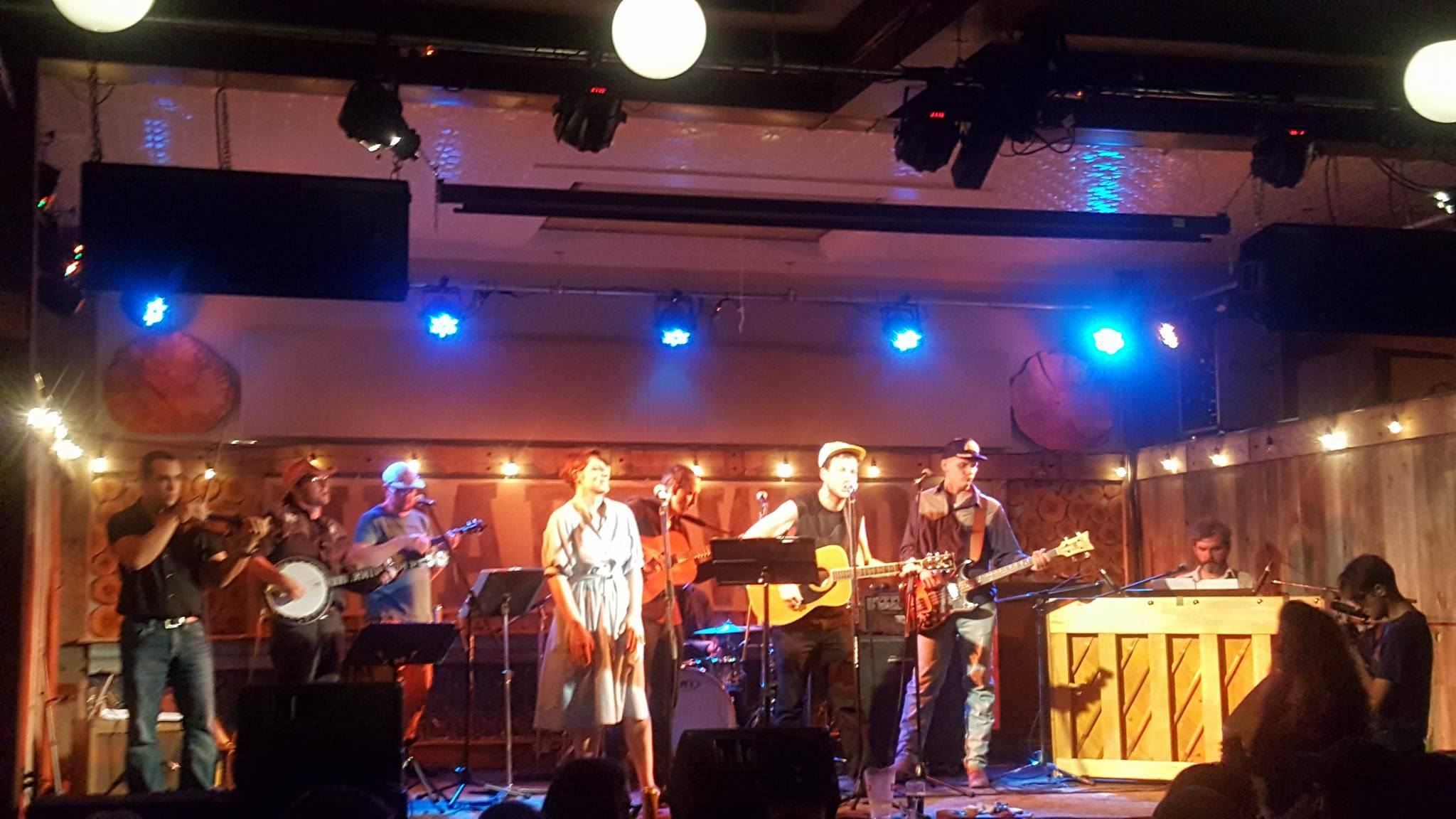 Cover photo: Maeve McCambridge
Laviolette stepped to the mic last night and sang "There's no use in trying to find me 'cause you just did." It's the opening line from his song Snuck Right Up, the first song on his newest album with the Oil Spills, titled All Your Raw Materials, and he was right – we all knew where to find him on Friday night: The Heartwood Hall in Owen Sound. He was returning to his home area of Grey/Bruce/Simcoe with a backing band called The Country Parade and a parade it was – a fiddle, a banjo, a mandolin, two guitars, a bass, drums, a keyboard the backup vocals of the opening act Jessy Bell Smith.
The band took that first song to find their groove, but once they found it, things moved along very nicely. By the time they rolled out Alright; No Sunshine from the same album, the band was in a comfortable and comforting space. Jessy's vocals and stage presence added a gorgeous nuance to the songs that I was used to hearing with Richard's voice alone, which has been called 'guttural' by critics and I would have to agree. And I love guttural, but Jessy's voice is beautiful.
Overall, last night was a fun show. The selection of songs was largely from his latest upbeat, alt-country effort, including the upbeat dirge Funeral Song where he contemplates his own funeral and how much fun it would be as long as they have a party at his house instead of sitting in a stuffy church; and the measured, poetic Winterbreath with the sweeping themes of survival and lines like 'A mist to moisten your tongue and cheek/ A film to cover your eyes with me' .
Advertisement
Richard had a smile hanging from his face the entire time – it's nice to see a musician having so much fun. My friend posited that part of the appeal of the music was that Richard seemed like just the kind of guy you'd want to sit and have a beer with.
After a short break the band came back out on stage and joked they were going to do a cover of Beck's Loser, but then launched into a few final songs that made Laviolette deserving of the constant reference to him as an 'old soul'. At one point he and Country Parade had the crowd at the front formed into a human chain of brotherly/sisterly love, arms wrapped around each other swaying gently to the music.
He closed with Q, which is one of my favourite songs of his, from his album that gets lots of consistent play in my household, A Little Less Like a Rock, A Little More Like Home. The collection of songs from that album may not have had the same effect as his newer, bouncier tunes and the crowd was much obliged. Granted, many were family and friends – when he asked all his family members to stand, close to fifteen of the hundred plus crowd stood up and clapped.
In another line from his opening song, he sings that "I love that I get what I get when I get it from you." I think if you asked anyone in the crowd, they would echo that sentiment –  they loved that they got what they got when they got it:  an energetic show from a guy with a beaming smile leading a Country Parade on the Friday night heading into a long weekend.
Written by Jesse Wilkinson