Liz Burt was never much of a runner, but when the pandemic hit, she picked it up as a way to get her body moving and get outside.
So when restrictions eased and a local shop announced it was reintroducing its run club, she decided to give it a try. Burt met a group of about 20 in front of the Collingwood sign on a late summer evening and geared up to join Group Two, which promised a route of about 5 KM.
Afterwards, she filtered into Gibson & Company with the rest of the crew for a social hour. The energy was palpable, and at the end of the night she left with the biggest smile on her face — and a bunch of new friends.
Almost a year has passed, and Burt can probably count on her hands the number of times she's missed a night since. "I look forward to it," she says. "I am always in the greatest mood going home from run club."
Advertisement
The club has since moved locations, added different running routes, and grown much, much bigger, but the energy from that first night remains.
Running is supposed to be fun, it's supposed to make you feel good… What better way to make you feel eveN more good is to have a drink after?
Hosted by VO2 Sports Co., a sporting goods and retail store located on the main street in Collingwood, the club had always been a dream of shop owners Sean and Mark Bechtel. It started small but was a great way for the brothers to connect with the local community when they first opened in 2019. The pandemic put a pin in their plans, and it wasn't until restrictions eased in the summer of 2021 that they really thought about bringing it back. But this time, they decided if they were going to do it — they were going to do it well. Mark connected with a few other local business owners and hashed out a plan.
He had researched other run clubs around the world and noticed the ones that were popular all had some sort of social hour involved.
"It looked like so much fun, I just knew it could take off here," says Mark.
Adding an "after party" gave the club a less intense feel and encouraged runners of all ages and abilities to come out, give it a try, and have some fun doing it.
"Running is supposed to be fun, it's supposed to make you feel good," he says. "And what better way to make you feel even more good is to have a drink after?"
It was also a great way to socialize, something that had been missing for the last few years. For the rest of the fall, the club would meet every Thursday at 5:30pm — with runners choosing between two different routes — and then everyone would meet up after for a cold beverage. As winter came and the weather got worse, the club only got bigger, and eventually it outgrew Gibson & Company and took over Summit Social House instead.
Around the same time, VO2 was in the process of moving to its new downtown location from where it first opened on First Street. The new space was much larger, and being so centrally located, it was the perfect spot to host the club. Part of the design for their new displays included tables that could turn into one large harvest table, so run club became a BYOB event.
They now meet every Wednesday at 6:00pm and have added a third route option for rookies. "Active and social. It's a good mix," says Mark. "And a great fit for this community."
And every week it only grows. Runners of all ages — from high school students to those 60+ — and skill levels show up rain or shine, all year long. Even on nasty winter days, when Mark isn't even sure he wants to go himself, he arrives at the shop and is pleasantly surprised by the club's commitment.
"It's a great community," says Natalie Dunn, an avid run club participant. "In the fall and winter when it's dark out, I might not be so inclined to go for a run but doing it as a group is motivating and gets me out every time."
Dunn took some time off from running when she gave birth to her son, but as soon as she was ready and able, the rookie group helped her get right back into it. "It's just what I needed to get back into it," she says. "It's helped me get out and actually do it."

On the other end of the spectrum, there are members who spend their weekends running ultramarathons or travelling across Canada for a triathlon. Burt even signed up for her first-ever race, completing the Sporting Life 10 KM this past summer.
"I never would have been able to do that without run club," she says.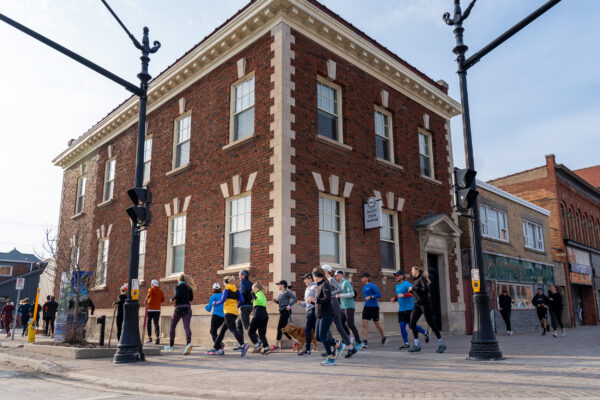 Mark has a lot of fun ideas he would like to incorporate, from special event nights and demo days to potentially hosting a Collingwood half marathon. Regardless, he said he always wants to keep it inclusive and really remove any intimidation factor that could remain.
At the end of the day, it's something he looks forward to every week, and he wants that to continue.
"I figured if I am going to be organizing this and doing it every week, I want to make it fun for myself," he says. "Now we've had so many people come by and say they met people at run club and have made so many friends. It's super amazing to hear that."
—
Words by Maddie Johnson
Photos by Jody Wilson