Just outside of Durham, Ontario there is a small country driveway leading to an old frontier town that is the site of an endlessly wild party you likely didn't know about.
As a first-timer to the Come Together Festival at Frontier Ghost Town (FGT), I wasn't sure what to expect. My friends told me we were going to a weekend-long music festival, so I pictured large expensive white tents, grand stages loaded with sound equipment, and a massive stage crew with security littered throughout. Little did I know that we were headed to an old western backyard jamboree, with the most diverse crowd of hippies, musicians, and partygoers.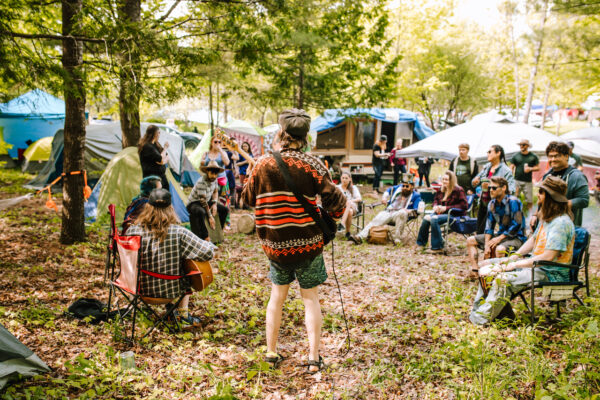 Frontier Ghost Town can be summed up with the old saying, 'Let there be dancing in the streets, drinking in the saloon, and necking in the parlour.' There may not be a parlour as G.M. Marks put it, but there are several cabins on site, and this is exactly how Come Together began back in 1999. You can most definitely count on folks dancing in all the streets of Ghost Town, while others rejoice with some green, or a cold bevy of choice down at the Saloon.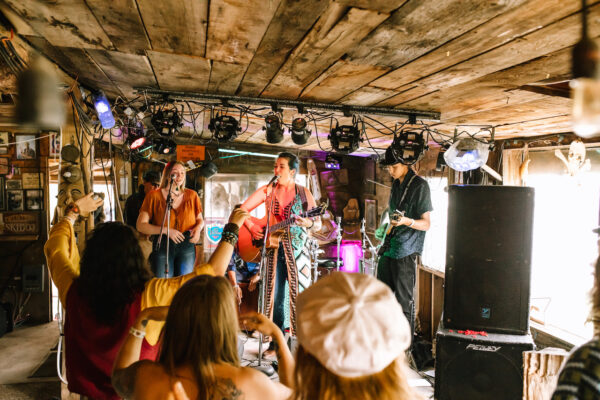 When you initially enter the storied site and take a deep breath, you will notice the soothing aroma of the musty old barn wood from the 1800's used for every building in the core of the property. The buildings include the star of the show – the Saloon, which took five years to complete and was finished by 1980 – as well as several cabins on-site, which the owner says can house about eight 'normal' people, or seventeen hippies.
Advertisement
Inside you will find a modest stage with bohemian, hypnotic tie-dyed hangings on the walls as décor, a man-made bar with several beat-up stools, and likely a big cloud nine of Maryjane lingering. If you look closely in the wood, you will find carvings of various quotes and sayings throughout the entire bar. Being a first-timer, I left my own, of course. It's cool to see how many people have literally left their mark, ones that tell stories lived from inside the Saloon walls. You will often find the place booming with live music, full of friends with rosy cheeks. In the morning, when the music is much quieter, it's also a homey gathering spot for coffee.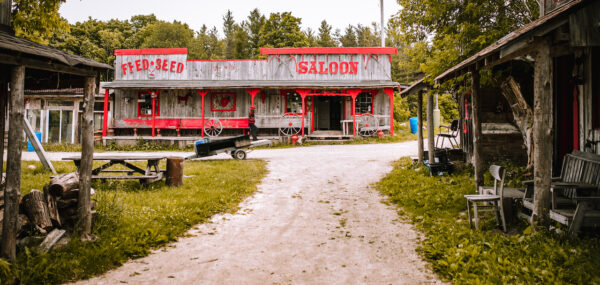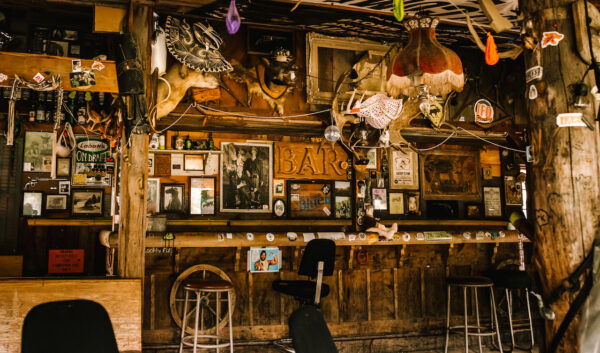 It's where I meet the owner of Ghost Town, Rick Drummond, to chat about how this place came to be. Drummond tells me he and his friend Mark Wilson stumbled upon this hidden gem as teenagers while on a snowmobile trip. Back in '89, it was run as a dude ranch by a fella named Gary, with horseback riding through the trails, and rodeo events. Gary wasn't looking to sell until Drummond came along, believing that if he sold to the wrong person, the town would be leveled and sold. Having faith in Drummond's vision, he offered Rick the spot in '98.
Gary believed that Rick would carry on the legacy of Frontier Ghost Town, and Drummond has truly respected Gary's wishes. Drummond says Gary offered up the best two pieces of advice when they made the arrangement, and that was, "not to grow weed in the barn, and not to take a drink from everyone that offers, or you'll be a drunk." Gary still comes by for a cold one from time-to-time and is proud of the community that's been created.
Drummond brought Wilson on as his business partner right from the get-go and has also brought the lovely Shannon Leroux on board as well. Shannon is the event coordinator and networking brain behind the operation, who's brought some cool, new ideas to Ghost Town like the Open Mics with the help of folks like Kyle Davis, who named the series Sounds of the Saloon. Through Leroux's industry connections, Frontier Ghost Town has benefited immensely. It's fitting to say she's Rick's partner on the ground and stands behind the team's policy that 'if we build it, they will come.' Together this stacked team has built an incredible experience here.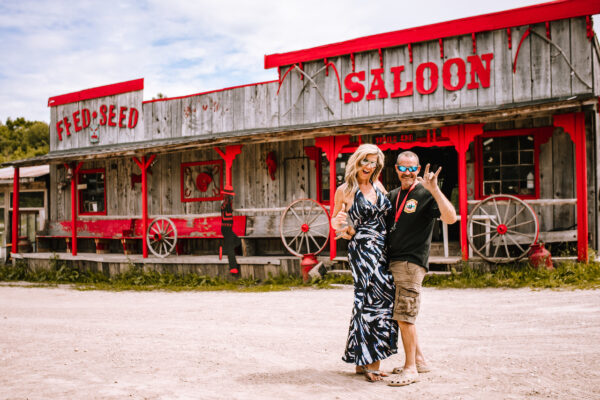 Come Together houses a wicked musical lineup thanks to Mark Wilson, FGT's Musical Director. He brings together many brilliant and dexterous artists, featuring musical genres such as blues, folk, rock, and psychedelic funk. With a weekend lineup of incredibly talented musicians, you will also likely hear several campfire jams across the field where the party never stops.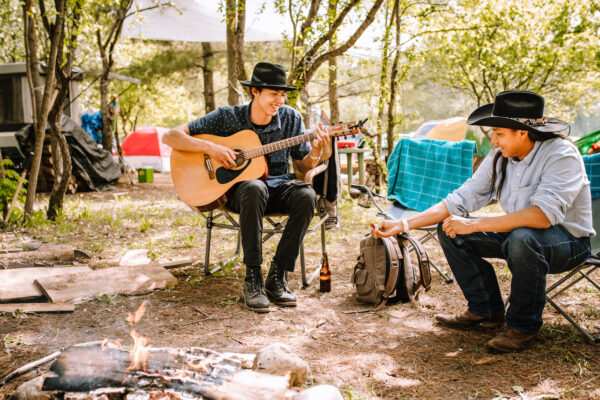 It's a festival unlike any I have ever attended in that it truly embodies the meaning of coming together. There isn't one location at FGT where you will feel alone or lost. Everyone at this festival is your friend, regardless of whether you've met them before or not. By the end of the festival, I had experienced the purest forms of love and care, and I felt like I had been adopted into a family. In fact, our friends at Frontier Ghost Town call us a 'framily' – friends who are so close they become like family.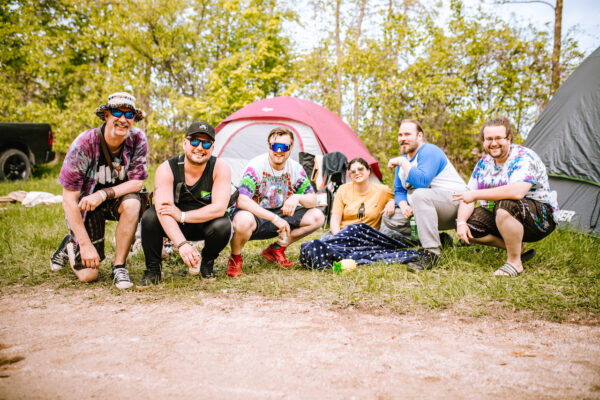 Drummond explains the first official Come Together was in 2000, where they had 5 bands play. They only had 7 people show up, so there were more band members than attendees. As time went on, the festival snowballed, hauling in massive crowds over 1500 people. Currently, Come Together is hosted bi-annually on Victoria Day and Labour Day weekends, and this was the first time the event was able to go on since Covid-19 lockdowns began. It was often heard across the festival how good it felt to be home.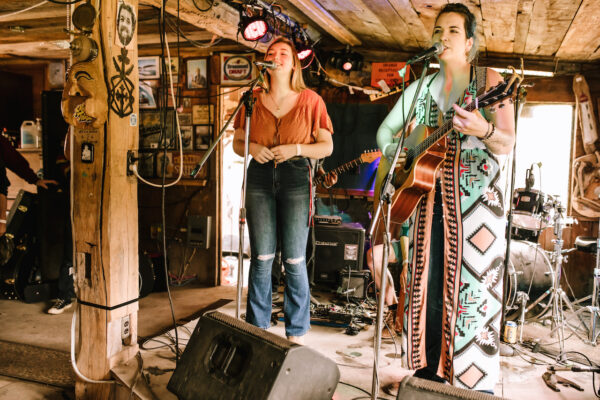 After these past few years, this return of live music has been a saving grace for many friends at Ghost Town. You could see how much joy it brought performers and audience members alike to be jamming out to all the beautiful sounds of the Saloon, echoing through the fields of the old frontier town.
On the closing night, I tagged along with my good friend Amber May and her talented crew of musicians and was delighted to photograph their performance inside while the rain poured down. I don't think one person inside sat still, especially as the beat of her bluesy tunes brought about relentless shoulder bumping and hip swinging that had been stored up inside us all. What a treat it was to dance to live music again.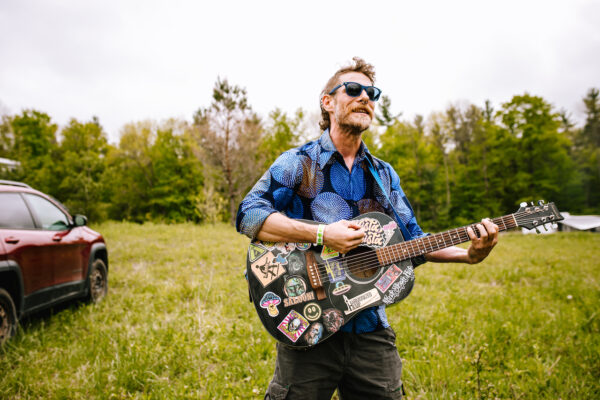 I celebrated the last year of my 20's with this crew, along with a boatload of strangers, and we had an experience I will never forget. I left this place feeling cleansed with the reminder that freedom is sometimes as simple as a trip to a random field in the middle of nowhere.
If you're looking for somewhere to get back in touch with your roots, experience a brief glimpse of the old rodeo ways, or just shake the dust off your boots, the best sermons are lived, not preached. Do yourself a favour, and head over to the saloon to wet your whistle, but if you climb up in this saddle, make sure you're ready for the ride.
Words and photos by Ashley Winters