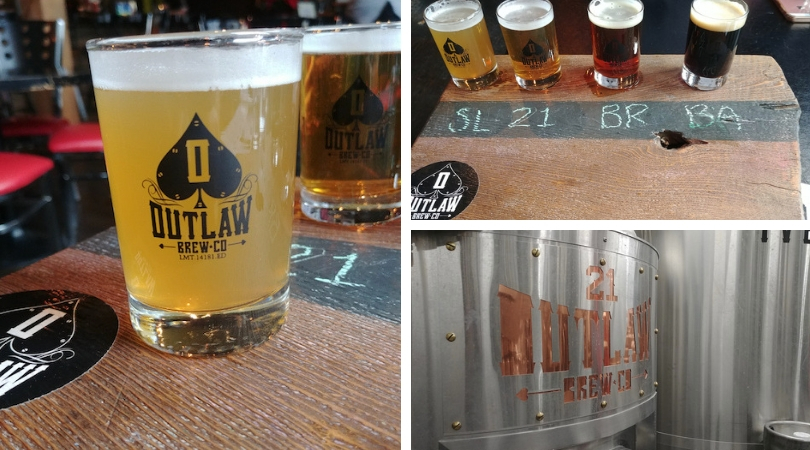 Outlaw Brew Co.
Southampton, Ontario

The Southampton Hotel has many stories to tell. It's as old as Canada and has been home to many different businesses and enterprises in its time. It's currently telling the story of how great beer is made.
It's been home to Outlaw since 2014.
Outlaw Brew Co. is a local business with a local focus. They source a majority of their grain from Fergus, and all of their brewing equipment comes from Walkerton.
Advertisement
A special shoutout goes to Brewmaster Andrew and Owner Deborah for being so accommodating and generous. They gave me a full tour of the facilities and a breakdown of their brewing process!
Bronco
Copper ale – 5.6% ABV
Appearance: Transparent, reddish colour, with an off white head
Nose: Almost no discernible scent
Taste: Sweet, malty, and bready, with the lightest smoky finish,
Body: Medium bodied and smooth
Where to Enjoy: In your favourite chair with a book you're hesitant to put down
.
Outlaw 21
Lagered Ale – 4.8% ABV
Appearance: Transparent golden colour
Nose:Almost no smell at all
Taste:This beer is very mild, with a malt-forward taste
Body: Light drinking and crisp
Where to Enjoy: This is a beer for watching the Jays with a bag of salty peanuts
.
Bandit
Dark Ale – 4.2% ABV
Appearance:Pitch black with caramel coloured head
Nose: Very strong and smoky
Taste: This beer is very earthy and smoky. It's like drinking a well-aged piece of oak. It finishes with a delightful sweetness.
Body: Surprisingly light and smooth
Where to Enjoy: After a hard day slinging straw bales
.
Southern Lass
Heather and Honey Ale – 5% ABV

Appearance:Golden, hazy with a white head
Nose: Sweet, floral
Taste: A delicate beer, It's slightly sweet with faint floral notes.
Body: Light bodied and smooth
Where to Enjoy: In a wild garden or flower bed on a warm spring day
.
Original Lager
Appearance:Pale golden, transparent
Nose:Sharp, faintly hoppy
Taste:The taste matches the nose – sharp, ever so slightly hoppy, and incredibly refreshing.
Body: Light, crisp, delightfully smooth
Where to Enjoy: On the kind of day where you break a sweat just lifting it to your mouth
.
The Sheriff IPA
India Pale Ale – 6% ABV
Appearance:Deep caramel, lightly hazy
Nose:Citrusy and sweet
Taste: Very subdued as compared to other IPAs. It's sweet and fruity with the characteristic IPA bitterness as a background flavour.
Body:Smooth, easy drinking
Where to Enjoy: An ideal cooking beer (IE "a splash of olive oil for these asparagus… and a splash of beer for me")
.
Mistletoe Kiss
Seasonal Brew – 6.5% ABV

Appearance:Very hazy amber, almost to the point of opacity
Nose: No smell
Taste: This beer is sweet, with a full, hearty flavour. It tastes boozy, and the spices stand out in this festive brew.
*When ordered as a full glass rather than the taster size, these come with a candy cane rim. I tried it at home with the can I purchased at the retail store. If drinking a Mistletoe Kiss with a candy cane rim doesn't put you in the festive mood, then nothing can save your Grinchy soul
Body: Full, smooth
Where to Enjoy: By the light of a Christmas tree, of course.
.
Final Thoughts
Outlaw is not a brewery to be missed. With so many outstanding beers on the menu, one would be hard pressed to find just one to order. With so many seasonal and one-off brews, such as the Mistletoe Kiss and the beet beer from the fall, this is a brewery that rewards repeat visitors.
Written by Andy Elliott
Photos by Andy Elliott