The evening sun casts long and lustful shadows across the field, its slanting rays giving way to a warm glow behind the horizon. With the heat of the day lingering, the afternoon fades into one of those summer evenings where anything feels possible.
Murmurs of delight dance through clinking glasses and that distinctive 'pop' of a brand-new bottle of wine as a second course of what can only be described as art-on-a-plate is placed in front of you.
It is against this backdrop that you're faced with the question: What do you bring to the table?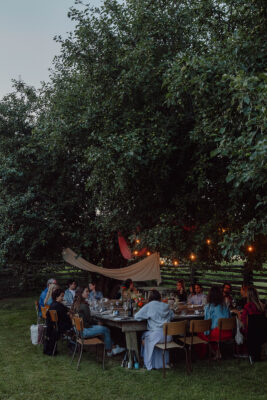 An age-old story, except this time you're not being asked it at a job interview or on a first date. You're being confronted with the question over a unique and delicious dining experience, served in an open-air setting under twinkling lights twined into a large willow tree. Seated at a farmhouse table decorated with the most beautiful tablescape you've ever seen, you are surrounded by a group of people whose attention you have tenfold.
Advertisement
And you aren't being confronted, but actually encouraged, because you — like everyone around you — brings something very special to the table.
This is what Table Project is all about.
Founded by Collingwood locals Courtney Parsons and Aysia Garbe, Table Project is an intimate dining experience created for creatives and artists alike — a night to inspire, be inspired, and connect with other unique creators. Table Project is on a mission to challenge social gathering norms and expectations by bringing together a diverse group of people over a delicious meal.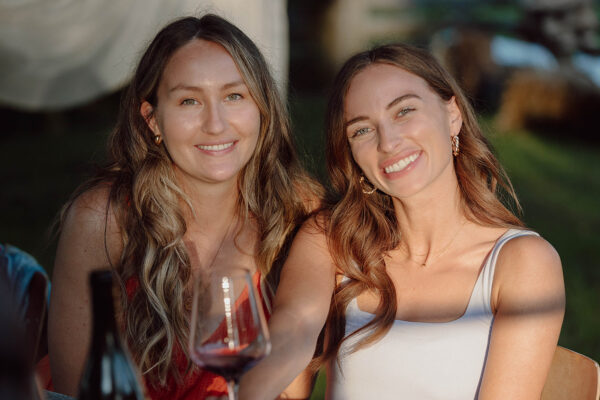 "Our hope with Table Project is to unite the many perspectives that may be sitting right across the table," says Parsons. "A chance to learn about strangers or connect with people you may already know on a deeper level."
The idea formed when Parsons first moved to Collingwood in 2019 and dreamed of connecting with other creatives in-person, away from social media. With the help of Garbe, who grew up in Collingwood and has had the pleasure of watching — and participating in — the growth of the creative community, they got to work creating the kind of experience they both craved.
The first step? Food. Because they believed the best way to nourish a connection is while nourishing one's appetite, as well.
"When I think back to some of my favourite conversations, it's usually over dinner. Either with friends or with my family around our dining room table," says Parsons.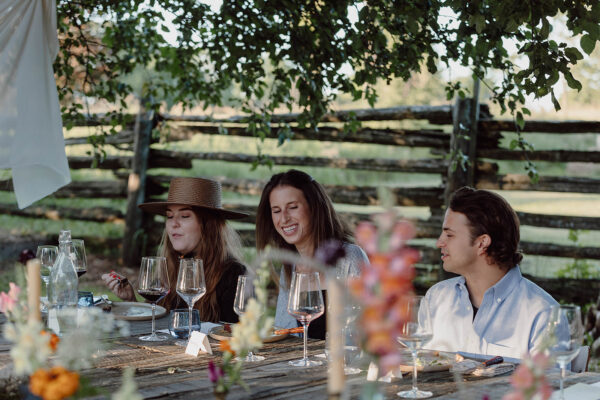 The inaugural dinner was set to take place in March 2020, inside, and on a much smaller scale. Closures caused by Covid-19 and ongoing uncertainty postponed the event twice, so eventually, reluctantly, the women put a pin in their plans.
Last spring, after over a year and a half of waiting, they started working to revamp and reschedule the event. All of the pieces fell into place and the dreamy, one-of-a-kind dining experience finally took place on July 10, 2021 — and the result was pure magic.
"In a way, I think it was a blessing," says Parsons. "People were really craving that human connection. It was a million times better than I think we ever imagined it could be."
"It really heightened the experience, being able to connect after a year and a half of being so disconnected," Garbe adds.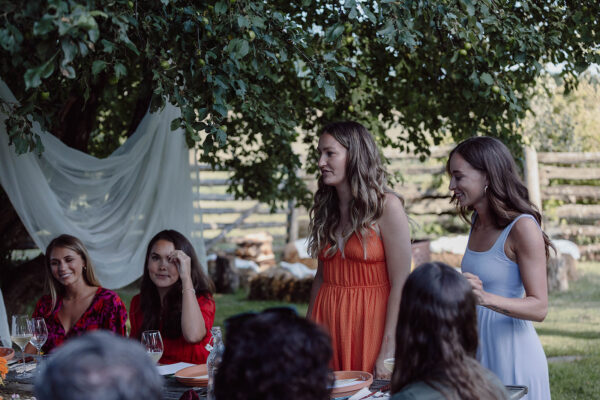 On the day of the event, 15 strangers climbed aboard a bus in Collingwood and were taken to Sumac + Salt's farm in Markdale. Owned and operated by Hannah Harradine and Joel Gray, Sumac + Salt is a hyper-local culinary experience that features local, seasonal and foraged ingredients through multi-course, tasting-style menus. They catered the evening along with Gibson & Co., who provided unique wine pairings to accompany each course.
"It was about bringing together everyone's art and craft, their passion and their way of self expression," says Garbe. "Admiring that and celebrating that in every way."
Parsons and Garbe had a large canvas on display, encouraging each guest to contribute in their own creative way. They also set up a space where you could create your own clay sculpture, and Nicole Bishop of Bishop Botanicals was offering tarot readings.
Some of the guests were hesitant at first, admitting that they didn't think they were creative, but as the night unravelled they opened themselves up to the experience, and the result was remarkable.
"There are so many ways to create and express yourself and I think we forget that," says Parsons. "So I think the concept of inspiring people to reconnect with that part of themselves was really cool."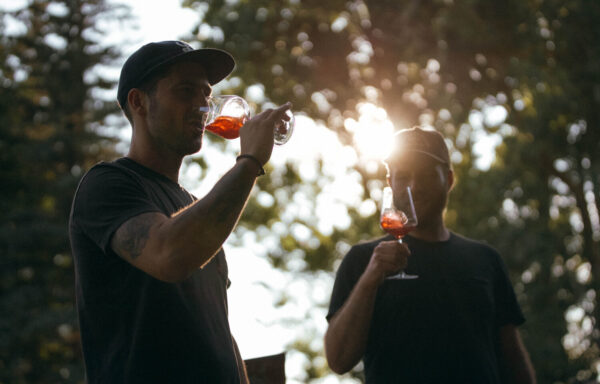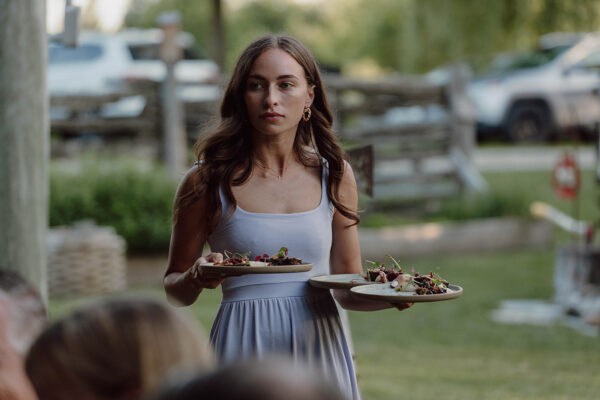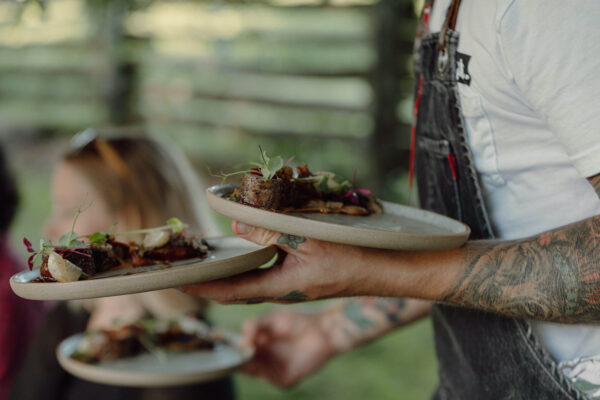 Making new meaningful connections as an adult is a whole different ball game. Small talk is our safe space and we often stay clear of asking the questions that matter, so conversation menus were provided at each place setting with a selection of questions designed to help bypass small talk and allow people to be vulnerable.
After dinner, everyone sat on hay bales around the campfire, carrying on the conversation with a whole new appreciation for the word connection.
At the end of the night, all 15 guests climbed back onto the bus as friends.
With summer fast approaching, Parsons and Garbe have a lot of plans in the works. They want to showcase as many creators, artists and vendors as possible, while still keeping each event unique and intimate.
But as they both say, creativity has no limits.
"Being creative is letting go of the idea that you are supposed to do things a certain way, and just really root yourself in what you feel is right," says Garbe. "What makes you feel good."
At the end of the day, their goal is to remind people what it means to be creative. Both Parsons and Garbe believe there is a common misconception that you need to be artistic in order to be creative, and that just isn't true.
"You don't have to be good at something to be creative," says Parsons. "It's human nature to create. If we aren't creating, we aren't being human."
Written by Maddie Johnson
Photos by Kirsten Schollig