Anyone serious about their bread-and-butter tarts has undoubtedly traveled north of the checkerboard to get their hands on the baking of Tina Chladny and Graham Thomas.
Under the name Harvest Moon Bakery, these two – along with their charming staff of both passionate locals and international WWOOF-ers – have provided locally sourced and organic baking that has graced tables and filled grateful bellies in Bruce Grey for years.
And then Covid.
No panic: this is where their story gets interesting. Through the pandemic, Tina and Graham retooled, leading to a newly cultivated undertaking that not only included the wonderful food of RavenStar, but also an invitation onto their grounds and into their gardens, ultimately inviting guests to slow down and notice the magic that is all around them.
Advertisement
And there is magic here. Surrounded by the rock ridges and forest of the Lion's Head area, this snug acreage is home to tree-spirits and their carefully constructed doorways, sculptures that guide your eye to unexpected places, and gardens that have been carefully tended to celebrate the season.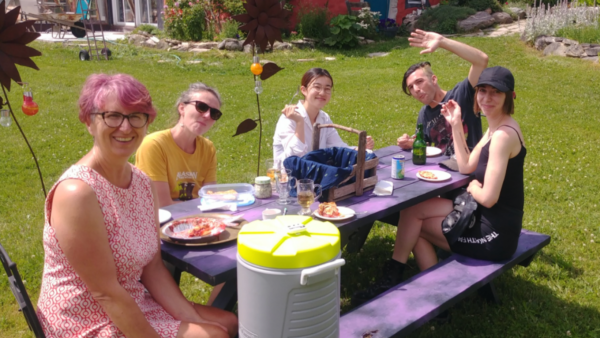 Following the trails with a mystical map in hand presents a perfect chance to practice that walking meditation you've been flirting with; it also offers time to pause and reflect in the celebration dome or bring a friend and try the display of found-sound. Possibly one of the most interesting stops on your journey around RavenStar is the Sacred Grove where Graham performs ceremonies on the major Druid festivals.
Tina and Graham have been the protectors and cultivators of this property since the mid-90's when – after looking for a property that could foster their mutual dreams – they bought this parcel of land. Located between Highway 6 with its streams of holiday traffic and the historic Bury Road, with its quiet local travelers through the past century, the energy on this land has always attracted people.
Its role has evolved from a B&B to a produce supplier at the Lion's Head market to a renowned bakery. The bakery provided eclectic music along with pies and pastries and became a must-see for tourists when – to no one's surprise – they made the Lonely Planet's Canada Edition, and the Country Bakeries edition of Cottage Life magazine.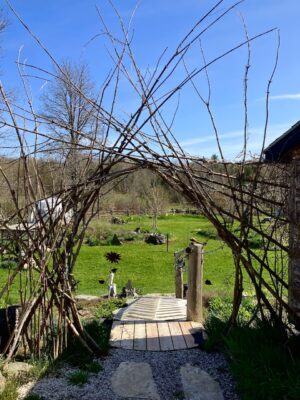 This helps explain where Tina and Graham find themselves today; marrying people's love for their tasty food with their desire to be in this magical place. If you are passing through once, you can take a picnic into the vista with their salads, home-made teas, and the baking du jour. If you're not hungry, then just enjoy the trails and gardens with all the secrets they reveal sans-food. And if you really enjoy the energy of RavenStar, seasonal memberships are available that will discount the cost of picnic baskets and special events.
Those special events got underway in their inaugural season; Moth Night, Meditations in the Dome, and The Forest Feast (a special beer-and-autumn-food event) helped guests celebrate the season while enjoying the harvest of the land on which they stood.
Events planned for 2023 include The Magic Life of Bees (a guided tour of the new RavenStar hives with a local apiarist), Mindful Mornings (gentle yoga followed by meditation and forest bathing), Healing Herbs (a series of herbal medicine workshops), Musical Events, Spring and Fall Forest Feasts and more. The magic is underway at Ravenstar and as your hosts Tina and Graham like to say…Magic Lives Here!
Ravenstar can be found 10 km north of Ferndale on Highway 6. It is open Fridays, Saturdays and Sundays from 10am– 4pm. Reservations are a good idea but not necessary. For more information check out www.ravenstarmagic.ca
Words and photos by Elizabeth Burrows