Iconic Swiss photographer, Robert Frank, believed the true art of photography lay not in the mechanism of the camera itself, but solely by virtue of the eye that had learned to listen. "When people look at my pictures I want them to feel the way they do when they want to read a line of a poem twice," he once famously mused.
That eloquence rings true of Wayne Simpson's work; a bewitching, beautiful opening into a world of care, intrigue, and reflection, honed over years of learning to listen. That equates to impact. Serious impact.
Looking for an Eye Candy dept. photographer is a funny thing at Rrampt – it always seems to sit close to the top of the pile of topics to discuss at editorial meetings. Not because we put a ton of energy into finding a photographer we want to feature, but because photography usually finds us, somehow, some way. There's always a sense of wonder and excitement when we put it out to the universe we need a new photographer – who's going to come along? What's going to find us?
Then Wayne's work showed up on my screen one night. Hailing from Elora, we starting chatting only to find he'd been photographing locals up the Peninsula and in Sauble Beach. His work is a dedicated exposé into the art of training his eye to learn to listen, as Frank would say.
Advertisement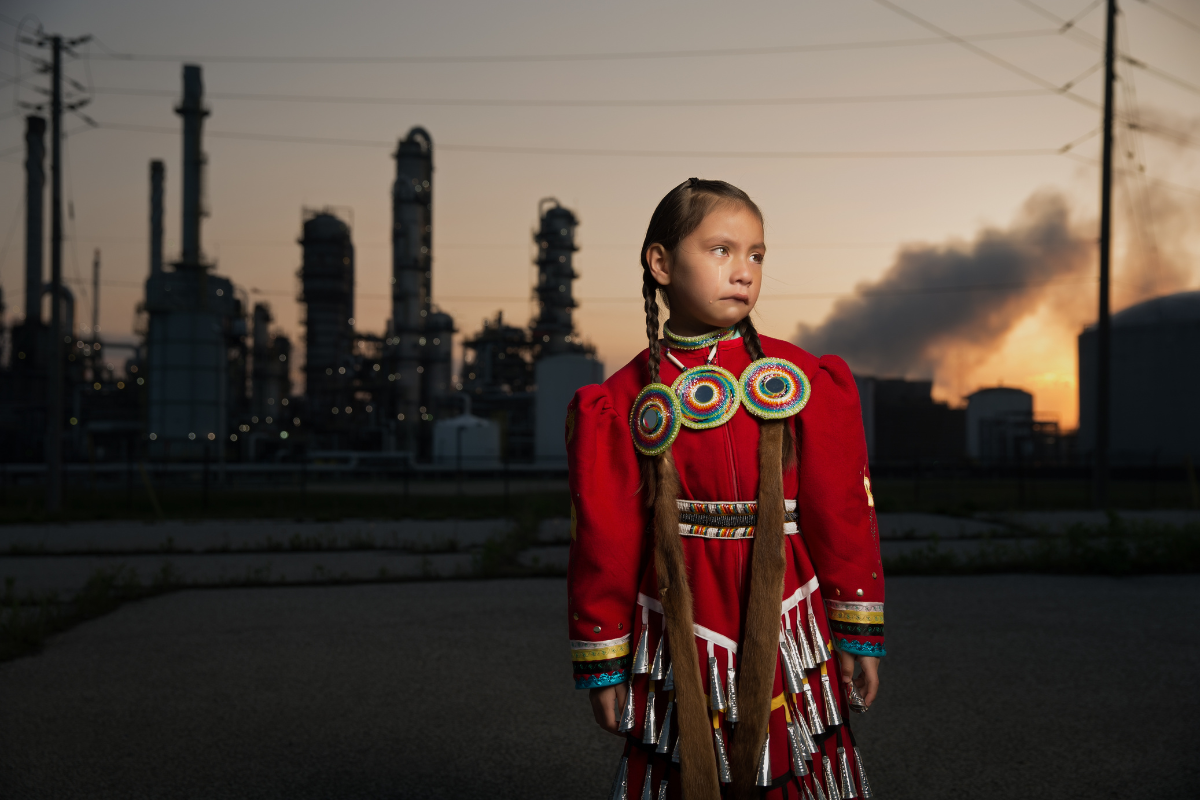 The level of polish in his photos is something special and cements this idea that his style is rooted in thought. It's methodical, personal, and intimate – all without revealing too much; it insists in keeping a sense of curioisity for the viewer that makes you look again – like you're reading that line in a poem for the second time.
It's our pleasure to showcase his work in our pages. Enjoy.
Rr: Your work has this spectacular element of calm to it. I get the sense from looking at your larger catalogue of work that photography may represent a real escape for you as a person. Maybe we'll start with asking about your photography beginnings – how did you get into photography, what inspires you, and how are you able to create the images you do?
My photography journey started out in Calgary, AB almost 20 years ago actually. I would regularly head out to the mountains in an attempt to capture the beauty of the place. That was an amazing time of discovery for me – I basically learned how to use my camera by trial and error!
While I fell in love with landscape photography as a means of mental escape, I find that my portrait work is more of a series of journeys I set out on. I'm inspired by people… their accomplishments, the battles they've fought, the pain they've overcome, their selflessness and their impermanence.
I find that I am curious about people and enjoy the process of learning about them. I find it so thrilling to approach a total stranger on the street and strike up a conversation. To go from not knowing anything about a person to learning all about them and creating photographs of them is what I live for! I think it's because of my curiosity and genuine interest that I'm able to engage with my subjects and create the work I do.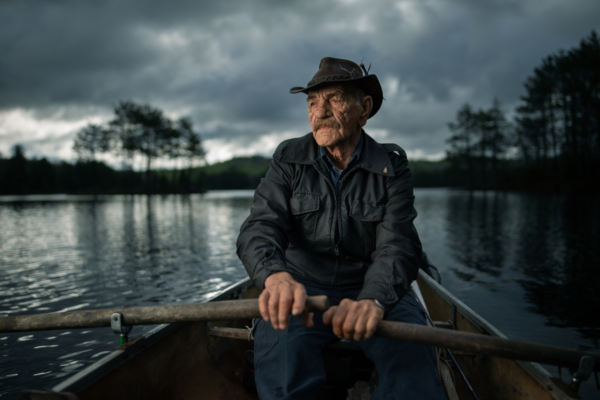 Rr: Portraiture as a whole is fascinating to me; you're able to pack a ton of emotion into your work and translate the complexities of the human experience into a single snap – a lot of your work is really powerful! Please describe your process, your go-to lighting and camera set up, and how you both work outdoors and in more classic studio settings to get those results.
When I first meet a person my goal is to learn more about them and understand their overall energy. I ask strategic questions in an attempt to understand the best way to photograph a person to tell their story. For example, I asked one man what his absolute favourite way to spend time was. As it turned out, he loves to play poker with his friends and keeps a table fully set up ready to play. I ended up photographing him playing poker at that table!
When I'm on location, I always try to analyze what the natural light is doing, then I'll usually place my lights in a way to enhance what is already occurring naturally. By underexposing the scene significantly I basically give myself a blank canvas to work with – my lights then become my paint brush.
At the moment I shoot with a Canon R5 and mostly with Sigma prime lenses. My favourite lenses to work with are the Sigma 28mm f1.4, the Sigma 40mm f 1.4, and the Sigma 85mm f 1.4. I use Godox AD600 battery powered lights both in studio and on location.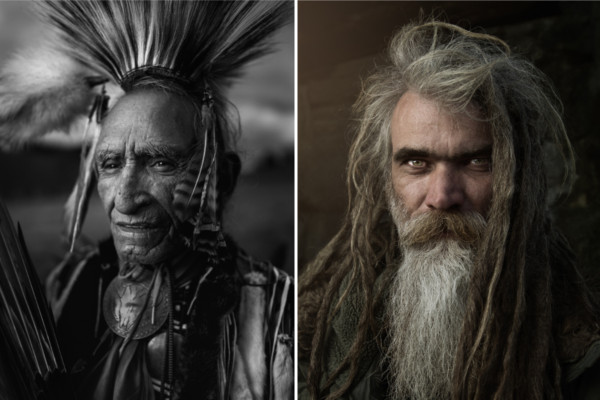 Rr: The level of detail and polish featured in your portraiture work is also something special. There's a level of detail that some photog's tend to overlook in the pursuit of authenticity, so in an industry where 'get it in camera, don't fix it in post' is a growing theme, I'm encouraged to see your work embrace the editing side of modern digital photography. Tell us about pulling those details out of the work and bringing life to subtle focal points.
I'm happy to hear that you notice the details, as I think they add to the individual stories. It's always my goal to only draw attention to the things that add to the overall story or mood of an image. I'll often start with an underexposed image (often a black frame) then sculpt the light so that it reveals details but hides distractions. A great example of this is the frequent use of a back light – it reveals shapes of items in the background but hides the distracting details.
While I always try to get things right in camera, I also embrace the editing process. To me, an image is often about 75 percent complete out of camera, but that last 25 percent, which comes in the form of editing, is what really brings the image to be it's best.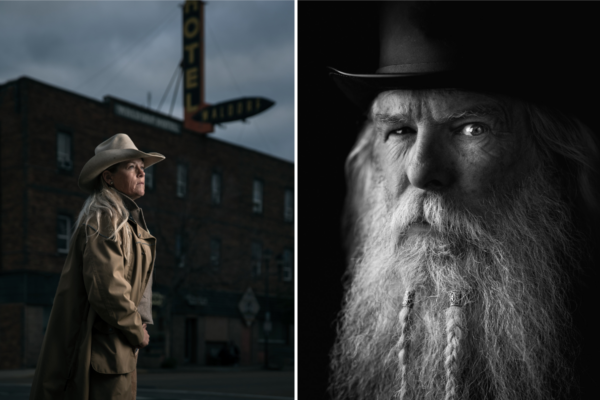 A very prevalent theme we've talked a lot about in this column with other photographers is the concept of putting yourself in front of great subjects – without something great to shoot, you just end up snapping pictures whereas the presence of intriguing subject matter can be quite transformative. How have you been able to approach working with such a diverse group of clientele and subjects, and how do those relationships help to manifest trust and translate into the images you create?
In the beginning, I sought out subjects that I found visually intriguing… people that stopped me in my tracks and made me do a double take. As time went on and I got deep into the creation of my book Resilient, things changed. Instead of subjects being chosen due to the way they looked, I was more and more drawn to the story. I found myself photographing several people whom I would not describe as being visually intriguing – but there was a story! In these cases I find it helpful to treat the location as an extension of the subject in order to create an impactful image.
When a subject sees how interested I am in them, and I open up to them as well, it changes everything. Trust can be like a backstage pass really… without it you only see what everyone else sees, but with it, you see the real people!
—
Interview by Nelson Phillips
Photos by Wayne Simpson.