The Canadian winter is a lot of things. Charming, maybe. Beautiful, yes. Crisp, certainly. Accommodating, it is not. So what happens when you're an ambitious guy, full of piss n vinegar, eager to embark on a new entrepreneurial adventure involving one of your most cherished lifelong obsessions, but it's minus twenty-five in your unheated garage? If you're Rob Elder, you sure don't wait for spring – you put on your coat, head to Tim's for a coffee, and start wrenching.
Back in 2021 Owen Sound-based musician, Rob Elder, got to thinking. He's loved motorcycles for years, owned many of them, and loves the thrill of learning about how to rip them apart, put them back together and give them new life. The gist of Rob's new venture is to build one bike per year, as near-perfectly as possible in his unassuming residential garage surrounded by the blue bins, kids toys, and stored lawn furniture.
When we first got to talking about the idea of following his first build as an article, the bike was quickly picked up by now-customer numero uno, our own Editor, Jesse Wilkinson. The experience even helped Rob to convince me to buy a '78 Yamaha fresh out of a Shallow Lake barn to be bike #2 – what can we say, the guy sells an idea hard.
The idea of building a motorcycle in your garage awaiting the spring thaw is a hugely romantic one. Its blue-collar charm is steeped in a DIY ethos that's all about learning, exploring what you're capable of, and giving life and personality to an inanimate object that maybe hasn't run in a couple of decades.
Advertisement
"This comes from childhood… when I was 16 I was hellbent on being a mechanic," says Rob. "I had the Hot Rod magazine subscriptions and I'd go to bed dreaming about Chevelle's and Nova's and Model T Rat Rods, stuff like that – over the years it just kinda festered and I was able to get into some motorcycle stuff – this isn't the first bike I've restored, but it's the first one I've put this much depth and time and money and effort into."
"the idea is to make some minor changes to make it look cooler and faster, and make some minor performance modifications – now you've got what we can essentially call a muscle car. It's the same concept. There's a lot with motorcycles you can strip off to make them look awesome."
The ultimate goal was always to have something to ride, but also to save rare and cool old machines from their untimely fate at the wreckers. The one bike per year idea was a way to slow his creative spark and keep the number of bikes in his garage to single digits. Before touching a wrench, Rob's creative process starts with a lot of inward thought, taking inspiration from other artforms he encounters along the way: architecture, music, fine art.
Bike #1 happens to be a 1970's Honda CB400, a wickedly cool little bike with a ton of potential from the get-go, and an almost cult following across the moto world. It's a beauty and somehow looks good even torn down to the frame. When we first set eyes on it in late January of 2022, it's been stripped, ground down, and the frame meticulously painted, prepped for the rest of the bike's new parts to be added on. The fenders are freshly chopped, new handlebars, speedo, tail lights, and the quintessential hoop seat that gives cafe racers their iconic streamlined look. As we circle the lifeless bike in the sub zero temperatures, ogling the emerging details, shivering, and sipping a medium regular, one thing is clear – this thing is going to be awesome.
"I guess I have a type," laughs Rob. "It's this range of bikes that I tend to focus on from 1970 to the early 80's. Honda, Suzuki, and Yamaha – even Kawasaki – those 4 companies were major competitors with a similar style, and that style was a simple bike with low slung pipes that gave them a hot rod look to begin with…a lot like a muscle car, the idea is to make some minor changes to make it look cooler and faster, and make some minor performance modifications – now you've got what we can essentially call a muscle car. It's the same concept. There's a lot with motorcycles you can strip off to make them look awesome."
So the bug was there. The inspiration was there. The history of tinkering on old bikes was there. But somehow – as it can – life gets in the way. As a young musician, newlywed, and father, the availability of excess time and extra disposable cash is always tight, so building a bike and really diving into a project that demanded Rob to explore what he was capable of was a far cry from being a reality. But life goes on. He traded up bikes over the years, starting with a Honda 125 he was gifted from his father-in-law, found stuffed in between a shed and a fence with a maple sapling growing up through the frame. He scoured Facebook Marketplace for cheap bikes and made a few bucks to sustain the next build.
Then in 2020, along came COVID19. Suddenly, time wasn't an issue and having a few extra bucks was in the cards. The perfect storm.
The bike embodied the perfect storm as well. A 1978 with only 11,000 km's on it – good compression, no rust, an engine that ran. Rob bought this particular bike and thought, 'man, I can make this thing sparkle.'
Fast forward a few months – it's mid-spring. Hot. The riding season is upon us. I made a call to shoot some update photos of the build, but it's not ready yet – and this is a big part of a garage build you can look forward to if you're thinking you'd like to give it a go yourself. Bikes are good at throwing curveballs. The world was reopening, summertime was getting busy, and Rob's attention to detail was allowing smaller tasks to command more time.
He spent time respoking the wheels, a gorgeous design aesthetic of the brat scrambler style that just screams badass. Then came the choice to go back and modify the frame to dial in the overall look of the bike. There's beauty in the process, but don't expect your garage steed to build itself. Honour the bike. Respect the process.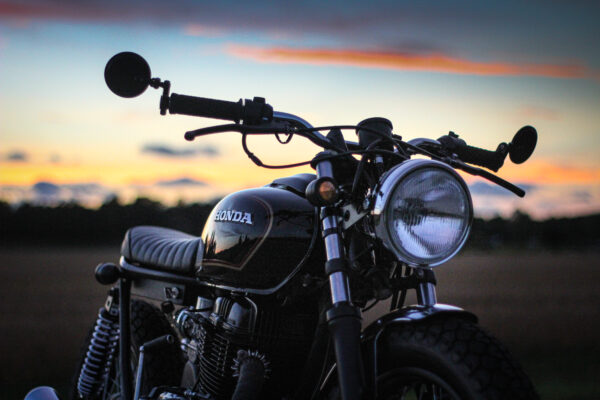 The summer came and went. September crept in and we got a phone call. We head to Rob's and the bike is in the driveway, completely refreshed and gleaming. Perched atop of the newly minted frame accenting the new bars and refurbished headlight is the tank – ladened in original paint. The perfect restomod feature to compliment the years of experience this bike has amassed.
"It's a little chipped up, a small bit of bubbled rust in the paint, but overall it looks good," admires Rob. "I kept looking at it and I had all these looks and colours in my mind – but I kept imagining it as it is – because it's just sitting there with that tank and the original decals on it. I thought jeez, might as well clearcoat over the patina and it'd look pretty cool if the rest of it is really perfect."
And it is. He kicks it over and the bike screams to life. It's loud – real loud. We follow him up Creamery Hill on the south end of OS, and cruise to the backroads to snap some photos at dusk. The exhaust tape is smoking it's so fresh, and when we arrive it pings and pops as the high engine temperatures subside.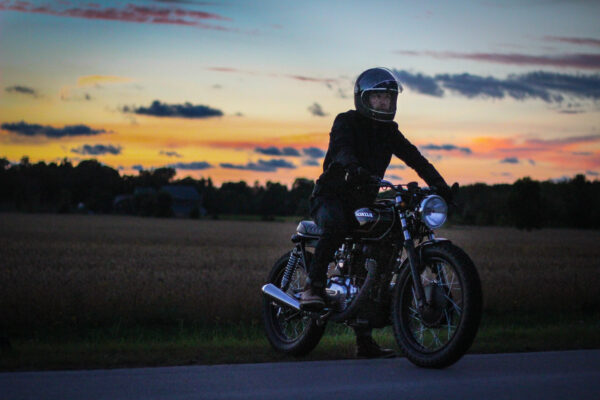 The fading sun is boosted by the jet black, chrome, and amber accents. It's a beautiful night and a fitting end to this process. We stand around this empty road and chat about the next steps. There's already another Honda in Rob's garage and a Yamaha across town in my garage awaiting Rob's touch.
This summer is going to be fun.
—
Words & Photos by Nelson Phillips