I just got home from a trip to Greece where I spent two weeks taking ferries from one Mediterranean island to another. Each island seemed to top the last, but the trips between were less than desirable. They were spent heaving my 30L backpack onto large ferries trying to find a seat that wasn't beside some cranky six-year old, all the while wearing three day old socks and sweat-stained t-shirts. All I wanted to do was get comfortable and sleep or read, but instead I hunched over my backpack on the floor shoving day-old pastries into my mouth and trying not to spill my coffee. The Greek Islands were amazing; the trips between were not.
So when I boarded Ontario's biggest ferry, The Chi-Cheemaun, Wednesday night for their popular Dinner Cruise and Concert Series, I instinctively looked around for a comfy spot on the floor to sprawl out. The organizers and crew had other ideas. I didn't have to fight for a good spot. They just politely led me to my table, which was already prepped for a fine dining meal. I sure wasn't backpacking anymore.
When the server came by, I ordered the striploin steak with peppercorn sauce and a glass of wine and cheers-ed my date to a new kind of ferry experience. One I could get used to. And then I sniffed my shirt just to make sure I wasn't dreaming.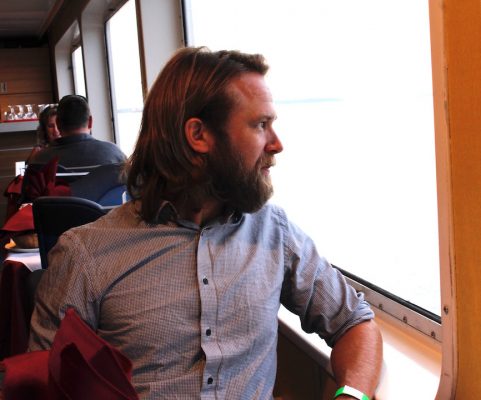 I've been on the Chi-Cheemaun before (obviously) but never for the Dinner Cruise and Concerts, which is a monthly opportunity to go for a little spin in the 'Big Canoe' during sunset – it's becoming one of those 'bucket list' things for both tourists and locals. I chose The Birds of Bellwoods precisely because I didn't know them that well and wanted an introduction. I'll do that from time to time.
Advertisement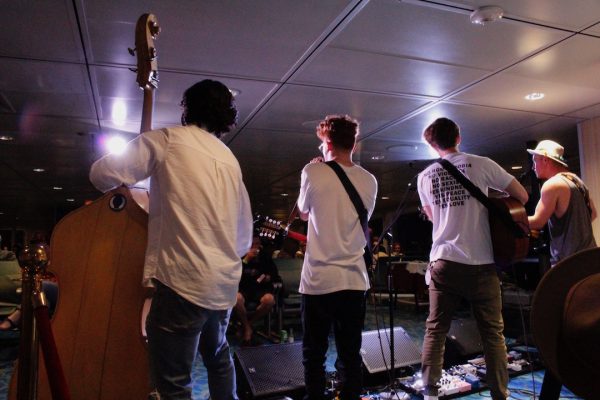 After our steak dinner, cheesecake and wine, we were directed upstairs to where the band was just taking the stage. We grabbed a couple Manitoulin Brewery tall cans (fittingly) just in time to hear the lead singer's Brett Dennen-esque voice launch into their first song.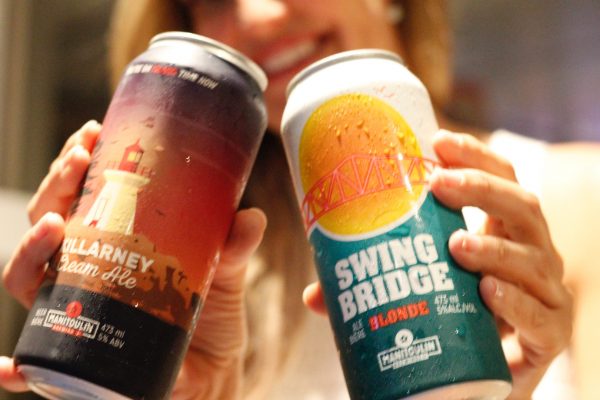 I found them to be young, talented, and energetic. Young as in early twenties; talented as in they craft anthemic indie folk songs with thoughtful lyrics and textured harmonies; and energetic in that they're full of jokes and dance moves. Picture a folkier Two Door Cinema Club.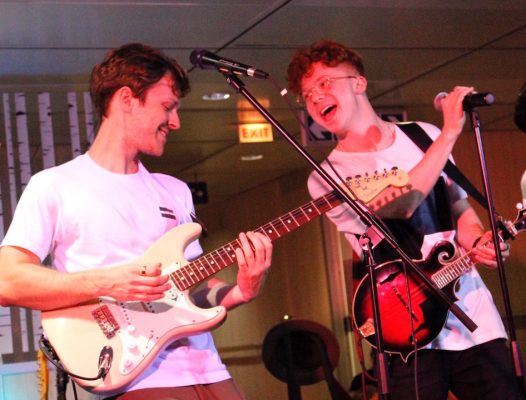 They were a great choice for the sophomore show in the series. The band's use of double bass, mandolin, banjo, and trumpet on many tunes adds a unique sound that sets them apart from many other indie bands coming out of Toronto.
Lead singer Stevie Joffe isn't shy to step off the 'stage' and wander through the crowd entering people's social space to get them a little more engaged. We had just carried our beers back to our seats to watch him float nimbly, confidently around the space as the band moved through tunes like Melatonin, Hey Hey, and A Year Ago from 2018's Victoria before pulling out some new ones like Easy and Walking in Circles.
After Reuben and the Dark set sail in June, this was the second successful Dinner and Concert Cruise aboard the Chi-Cheemaun. The next in the series is August 15 with Carmanah. Grab your ticket and you'll likely see at least one member of the Rrampt team there (we're hooked on these events). We might even be looking a little fancy. I mean, I wore a nice button up shirt, Sarah Goldman always dresses appropriately, and it's rumoured that Zak Erb even shaved his beard and cut his hair right before the series began. Coincidence? We like to think not.
See you in August food-and-music-lovers.
---
Words and photos by Jesse Wilkinson