It's been said that tattoos keep track of time. I'm not sure that's true for everyone, but it is for me. I can remember when, where, and why I got each of my designs, and even though they don't all hold the same significance for me today, they certainly remind me of my past.
For instance, my first tattoo is on my side and symbolizes my year backpacking through Europe, a time that seems so foreign to me now. And there's the Bonnaroo symbol on my arm to remember the four years of pilgrimage to that Tennessee farm; the open book on my chest to symbolize the completion of my first novel; and the trees on my calf to remind me how hiking the Bruce Trail got me through a tough year. They're all there to remind me about who I was, where I've been, and what's been important over the years.
It's just one way I've kept track of time, and it's worked. In fact, I even took it a step further by getting a tattoo every year at the same time – a birthday a gift to myself, nine in total. Do I love every one? No. Are there are a couple I regret? Yes. But I'm glad for that too. It reminds me that I need to live with my decisions.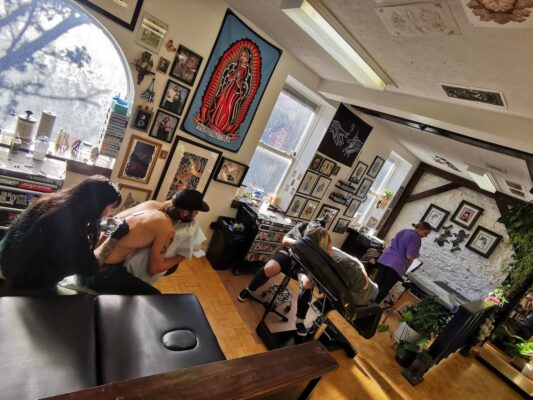 This year was going to mark the third birthday I had gone sans-ink sesh, so I needed to come up with something that could symbolize the pandemic years, and I had just the piece in mind when I received a message from Studio 1437 inviting me in for a visit to their shop. As soon as I entered their hip, new, slightly esoteric spot, I knew it was the place to get my next piece.
Advertisement
Tucked away in an upstairs loft in Owen Sound's River District, it had all the markings of my favourite new tattoo shop. I've sat in chairs across Grey Bruce Simcoe including Collingwood, Owen Sound, and Hanover, and I could tell that what Agella, Holly, Emma, and Lisa had created here was something special.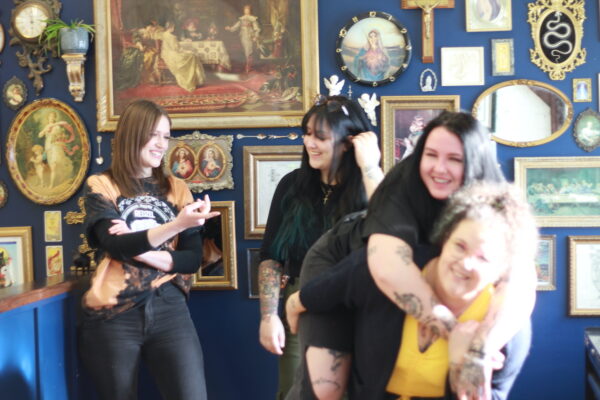 See for some, it's hella scary marking the body with permanent ink. And for others, like many of us here at Rrampt, there's something irresistible about it. When I told our publisher, Nelson, about my plan to get work done with Agella, he absolutely wanted in. I wasn't surprised.
Lisa Clark, our super-gracious contact, set us up with a time when Agella was free, and we both arrive at the unassuming entrance off 8th Street, punch in the code we've been given, and ascend the stairs to the second-floor location.
To say there's a hip scene happening is an understatement. The vibe is seriously authentic – walls covered in framed pictures of everything from religious iconography to Bo Burnham, who is actually a holy figure in Agella's life, and we bond right away over our shared love for Burnham's latest special Inside.
The shop is run by four women, but by no means is this just a shop for women. Agella, who started the Studio, makes it clear that everyone is welcome. Nelson and I are given the tour before making our final decisions on artwork. He's decided on a Scenic Route sign that I think is bloody brilliant, and while he and Agella figure out where to place it, I decide where mine should go.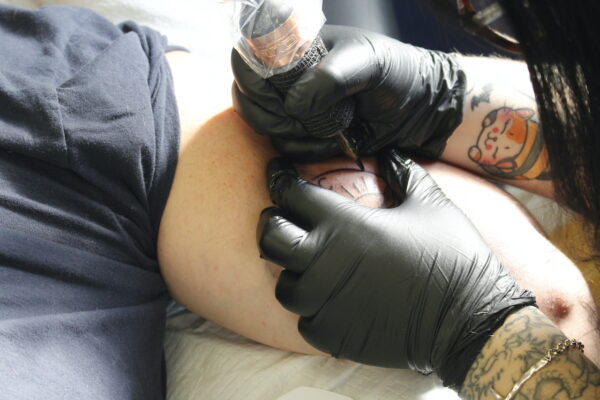 I decided on a saying that symbolizes my experience through the pandemic years, something I've written about in a past editorial, and Agella suggests halfway up my back beside my spine; right away I know it's the perfect spot. The difficult part for me is done. Now it's time for Agella to get into artist mode, which consists of the same easy going, fun disposition she's demonstrated since we met her. Her warm energy puts you at ease, and her fun sense of humour makes you laugh. And she listens, which hasn't always been my experience with tattoo artists.
"Not everybody of course, but a lot of old-school artists are like 'you're either doing it my way or no way at all' whereas for me and my girls, we have our own styles, but we'll do what you want," she says as I ease into the chair and get that familiar feeling of excitement/nervousness. As the needle sinks into my skin, I take the opportunity to ask Agella a few questions and realize it's the first time I've conducted an interview while getting a tattoo.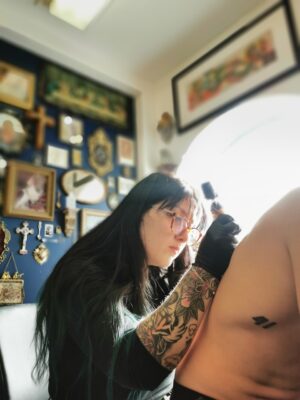 We joke about how difficult it is to find her place and I ask why she decided to put it so out-of-the-way. "Some people don't even know where it is," she says. "We'll send out the address and they'll walk all the way down the street."
It was all by design, though, so she he can offer her patrons a level of privacy when they're in a vulnerable position. "I loved the idea of never having a walk in ever again," she says, alluding to how uncomfortable she felt with people coming in and hanging around the shop, especially when she was doing a piece on a woman's chest.
What Studio 1437 is becoming known for is its fine line pieces that many other artists don't do. "I became popular around here with the younger crowd, especially with the tiny tattoos and the fine lines; that's what got my name out there because no one else around here does that," she says, and notes that her fellow 1437 artist, Holly, also does beautiful smaller pieces as well as amazing portraits, some of which are framed on the walls.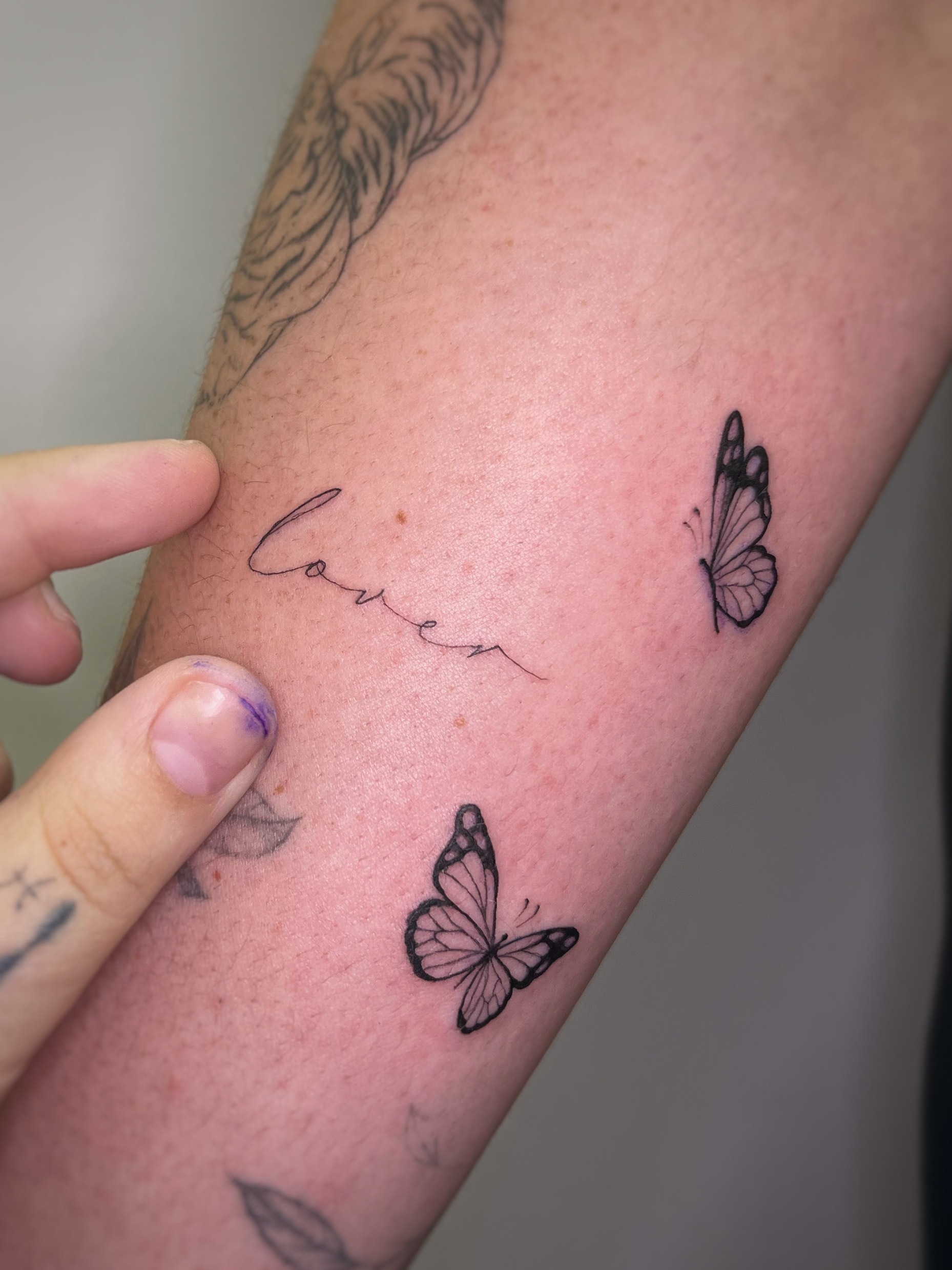 Agella says there's a misconception around the practice of fine line work: "Some old-school artists don't want to do it because they think it fades over time but if you do it right, it really won't." But like any tattoo, it takes a real artist who can do it right. "I love challenging myself, like the smaller I can do things the better," she says. "It's really new, this fine stuff, and I love it."
The pieces that these artists are doing at Studio 1437 are top notch and gaining them some serious attention. Who needs street visibility when you've got a strong social media game? And good ol' fashioned word of mouth, which comes about when the quality is good, and their work speaks for itself. Don't take my word for it, go and see for yourself. You'll notice that Agella, Holly, and Emma are all pros who love what they do.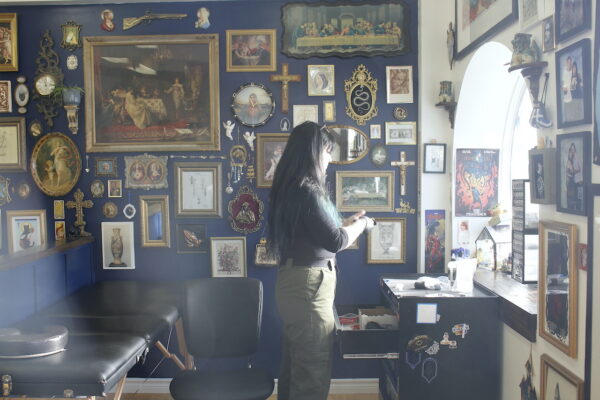 My last question for Agella is a stupid one: are they constantly tattooing each other? She gives me a 'hell yes'. "Holly just did my neck," she says and points to the small piece. "See this is done with a single needle, the thinnest you can go." Lisa has also received a number of cool pieces that adorn her arms, perk of the job I guess.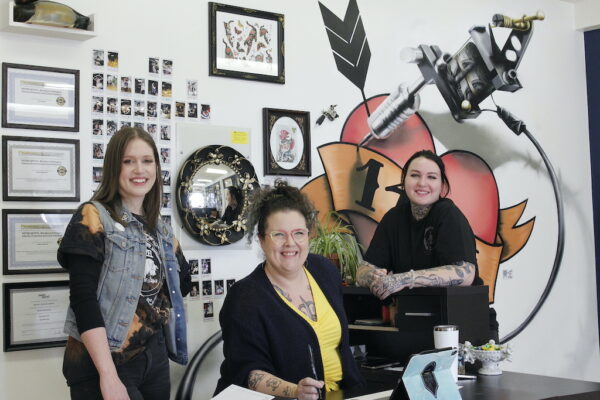 It isn't too long before Agella tells me she's all finished, and Nelson and I sadly hit the road. We want to hang out in there all afternoon, but that's the kind of thing Agella wants to avoid: a couple 'a Jimmy's hanging around all afternoon while they're trying to work.
But she's definitely found herself two new clients. Nelson's already scheduled himself in for another session. And I'll be back next year for another birthday present to myself. There's just something about the buzz of the needle, the smell of the ink, and painful tickle of the artwork sinking into your skin that keeps bringing me back.
Email Studio 1437 at studio1437info@gmail.com to set up an appointment.
Words Jesse Wilkinson