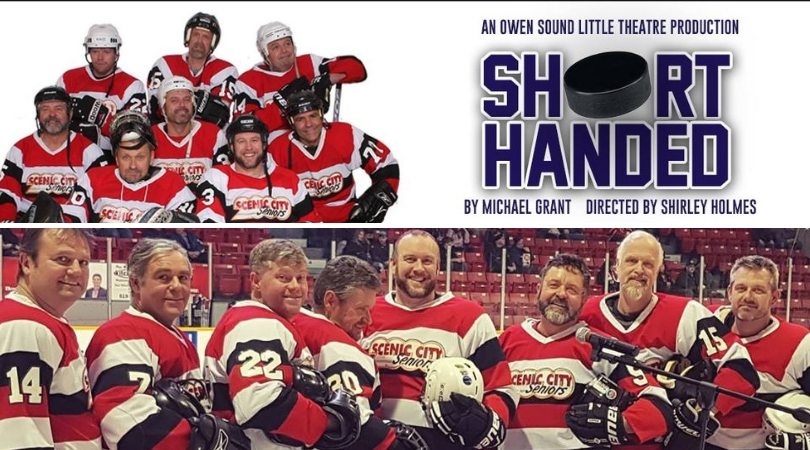 If we had to choose two quintessential things about being Canadian, most of us would probably say snow and hockey.
Keeping with this theme, I made my way through a blizzard to the Roxy Theatre in Owen Sound to chat with Shirley Holmes, director of the upcoming hockey-themed play Shorthanded, and two of the cast members, Jason Dedrick and Dan Herrick.
Written by Ontario playwright Michael Grant, performances of Shorthanded have received rave reviews and the play won Best New Comedy in 2012 for the Playwright Guild of Canada. I cannot claim that I'm a hockey fan (don't judge me!), but I quickly realized that Shorthanded is about so much more than the sport. As Holmes puts it, "it's about relationships in the framework of hockey."
At a glance, Shorthanded follows an Old Timers hockey team in the locker room as they gear up for game 7 of the league finals, ribbing each other and hashing out old friendships. Bringing together a group of men from different walks of life, this play allows audiences to glimpse fundamental human connections while still having a laugh.
Advertisement
Herrick believes that the blend of hockey culture and theatre culture is what makes Shorthanded appeal to such a wide audience. He jokes that the combination is a "gateway drug" in fact, bringing hockey fans to the theatre and theatre fans to hockey. With eight distinct characters set against a background of stories, laughter, and the baggage that we all carry, there is something for everybody to relate to.
Holmes hopes that the audience will be able to see themselves reflected in the characters and appreciate that these are all good men, striving to keep their families and friends at the forefront of all they do.
Shorthanded sounds like it will be as much fun to see as it has been for the cast and crew to put together. Holmes, a seasoned director, explains that the best way to get into character is to literally put yourself in their shoes – or skates! – and so from quite early on, the men wore skates and guards for practices.
Herrick and Dedrick recount the early rehearsals with laughter, remarking how neither of them have much experience with hockey and that learning to manoeuvre in the gear was one of the more challenging and hilarious aspects. They also chuckle as they talk about having to strip down on stage before they suit up. "It's not that exciting!" insists Dedrick, but we'll let the audience decide.
The honesty of the actors – some of whom will be stepping on stage for the first time – is yet another draw, breaking the stereotype of theatre actors and instead offering us charming, humble people. Holmes, Dedrick, and Herrick all describe Shorthanded as a comedy that reflects real life, where "things change on a dime," offering plot twists, laughs, heartwarming messages, and good-natured Canadians.
Shorthanded opens January 31st, with shows from January 31st to February 2nd, and February 6th to 9th. Tickets are available through the Roxy – visit the website, call, or hook up your sled dogs and head over to the box office. Whether you're into hockey or theatre or both, this is a show that will be worth braving the cold for!
Written by Sarah Goldman
Photos provided the Owen Sound Little Theatre