Summer is finally here and some of those newfound hobbies are starting to pay off. Whether you're literally seeing the fruits of your labour through raised garden boxes you started a few months ago, or finally achieving that beach-ready bod that you've always dreamed of, you all deserve a pat on the back (hypothetically, of course – stay 6ft away from each other). Unfortunately, we're not quite out of the woods yet (although reconnecting with nature is another rewarding experience brought to us by a global pandemic) there's still tons of local businesses that could use your support!
Owen Sound's downtown has many amazing local businesses and there's no better time than the present to see what you've been missing out on. Lack of parking and not wanting to walk has always been a pretty poor excuse, and with the bridge construction slowing down traffic, you can really get out and explore. A bicycle would probably be the perfect way to travel!
No bike? No problem, Brandon Bragg at the recently-opened Scenic Cycle in Owen Sound can help you out!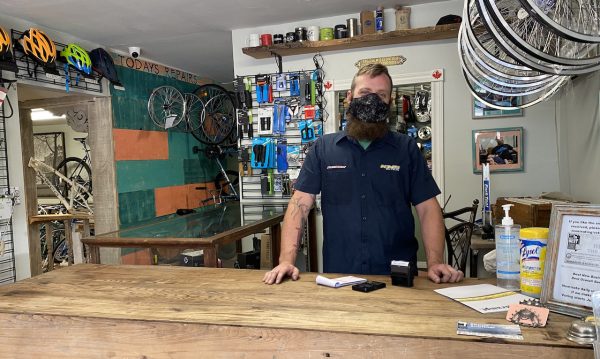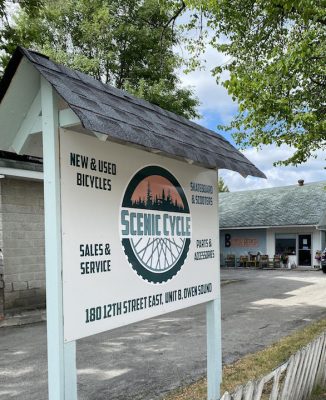 "I knew I wanted to open my own shop, but I wasn't quite sure where yet," Bragg says. "We were visiting family in the area and obviously we loved the nature, but when we visited downtown there were lots of empty storefronts, and I knew I could bring my passion here. It was actually the arts scene here that made me fall in love with Owen Sound, and usually where there's a budding arts scene, the businesses aren't too far behind."
Advertisement
Bragg has spent the last 10 of his more than 20 years experience in cycling at Backpeddling in Guelph, moved to Owen Sound in 2019, and was preparing to open his shop just as the world was forced indoors by COVID-19.
"It was just a streak of bad luck," he explains. "I missed out on the 'bike boom' of people getting a new ride or getting a tuneup to stay busy during lockdown because I wasn't quite open yet, and now that my suppliers have re-opened and I'm able to open, most stuff is on backorder…I've never spent this much time staring at my phone." But unreliable ETA's and bad timing aren't enough to keep Bragg down. His grit and determination are certainly admirable. "I'm not looking for a pity party or anything. I'll pick up a second job at Home Depot or something if I have to but I'm not going to let this beat me".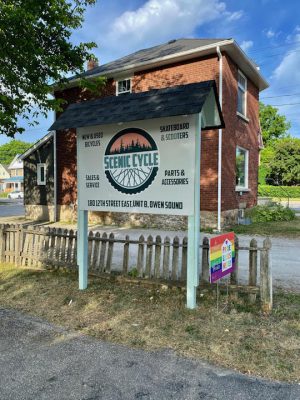 Scenic Cycle offers a wide variety of goods and services from new and used bicycles (starting at $75!) to scooters and skateboards (they're even looking into roller-derby gear), but it's Bragg's commitment to customer satisfaction that will surely make Scenic Cycle stand out. "This is my passion. I love my job and I love helping customers. My image is everything to me and I just want to offer my knowledge to the community." The shop also offers repairs, which ended up playing a way bigger part than Bragg could have imagined, "I was doing a lot of curb side stuff trying to limit contact with customers, which was kind of tricky being a new business – trying to build a report when you can't really see their faces or make conversation, but that's just how it is right now. I've been doing this a while so I can fix most problems, usually starting at $45. For all the new bikes I usually suggest the customer ride it for a little bit before bringing it in for a tuneup because bikes can take a little while to settle so that's a service I offer at no charge".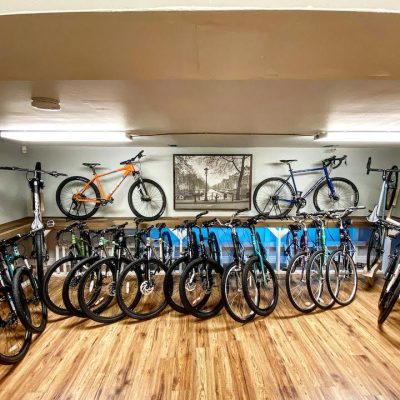 As previously mentioned, Bragg's commitment to customer service is on a whole other level. A few days after our initial phone call, he sent me an Instagram message to tell me about a recent experience he had with a customer. "I had missed a call and had a voicemail waiting for me. It was from a gentleman that had his recumbent bike in for repair a couple days prior. He had only called to say 'thank you for the amazing job and fast service' and that I had made a customer for life. At 8am by myself it nearly brought a tear to my eye. It made me feel good about myself and filled me with a sense of purpose and meaning."
He also attached an article about bike shop employees treating their customers like garbage and expressed his outrage for shops that do it. When I brought up that I had thought cycling was a pretty inclusive sport he replies: "It's supposed to be pretty easy-going and welcoming. It should be a lot harder to take yourself too seriously and be an alpha jerk in a sport full of guys who shave their legs."
Luckily we have Scenic Cycle and won't have to deal with establishments like that.
Scenic Cycle is located at 180 12th St E in Owen Sound and can be found via Facebook and Instagram.
---
Written by Russ Walsh of Sourcat Records
Photos provided by Brandon Bragg of Scenic Cycle