Okay, here's the first experience in our new series where we stay at a seasonal retreat somewhere in Grey Bruce Simcoe and tell you about it from a Rrampt perspective. Pretty simple right? First up – a little seasonal rental called Suite Ste Marie in the heart of Collingwood.
So where to start…you know that feeling when you've been inside your place for too long contemplating Covid, and you just need to get away and do something different? Even if it's for just a weekend? And even if it's in the area you already live in? It's what people might call a kind of stay-cation I guess, except that I was leaving my home and driving a short distance to spend some time in the heart of Collingwood, a town that offers a perfect getaway, whether it's for a weekend or a month or a year (well, maybe not a year – this Covid thing's gonna end sometime). But this is a rental that can be booked for months at a time, so there's no need to keep it to one weekend!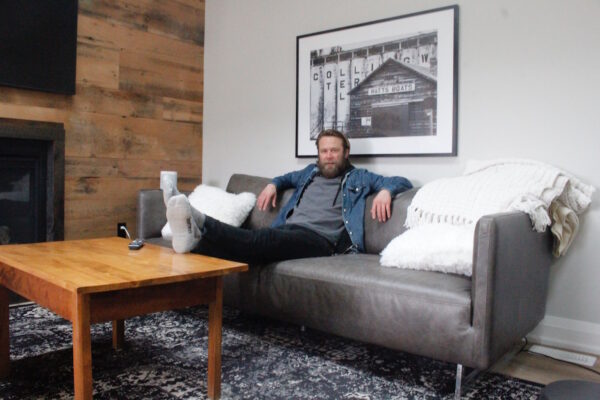 It was a lazy Saturday afternoon as we made our way between mountains and waves along 26 to our cozy new renovated suite on Ste Marie Street, just down the street from Mtn and Wave, the cool new store in the Simcoe Street Theatre building. The weather was mild as we made our way along the cool waters of Georgian Bay; the skiers could be seen zig-zagging down the slopes and the après-ski spots were all open and serving take-out to the Cwood crowd.
Suite Ste Marie is situated on the second floor of a white Victorian home that has recently been renovated in a modern chalet style with rustic sensibilities. The barnboard on the walls and large beams on the ceilings offer a comfortable vibe in a clean classic style.
Advertisement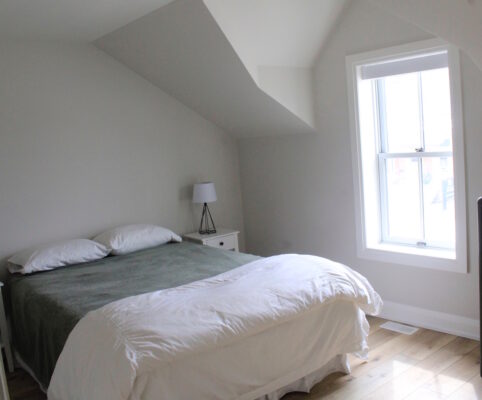 We were there for a getaway, a change from the ground-hog-day shit that has taken over our lives. I hadn't been leaving my house much the past few months so this was a welcome chance to spend a few evenings at a place that wasn't my own. The colour zone was red, which meant that places were open and restaurants were allowing some indoor seating, but most were going the take-out route.
Suite Ste Marie is highly accessible with both stairs and an elevator to get to the second floor. When I turned the keys and threw my bags down, I was impressed by the natural light pouring in through the skylights in the main living room, an open concept style arrangement that joins to the modern kitchen, where a six pack of Black Bellows' El 9 Wye was waiting for me. Nice touch.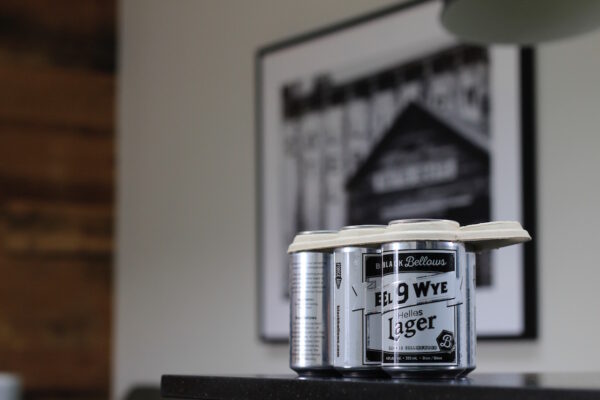 I cracked a brewskie and toured the place, sipping back the refreshing suds that were made just a block away.  I could actually see the Black Bellows sign from the patio, as well as the Simcoe Street Theatre, Tremonte Studio and the iconic Collingwood Clock Tower. That's how central this rental is. Once you park your car, you won't need it anymore.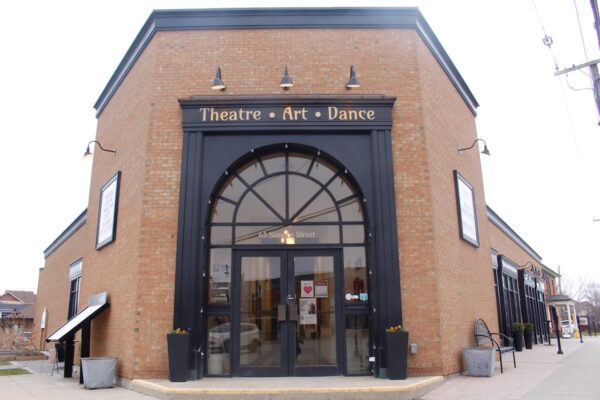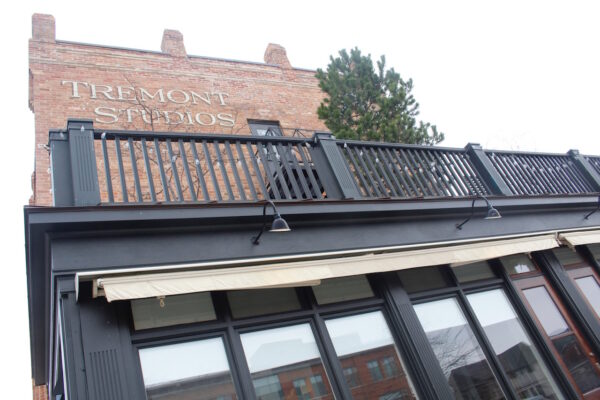 We scoped out the three bedrooms and was super impressed by the master bedroom with a huge walk in closet and en suite. Natural light poured in from the two south facing windows, and I could only think of one thing: nap.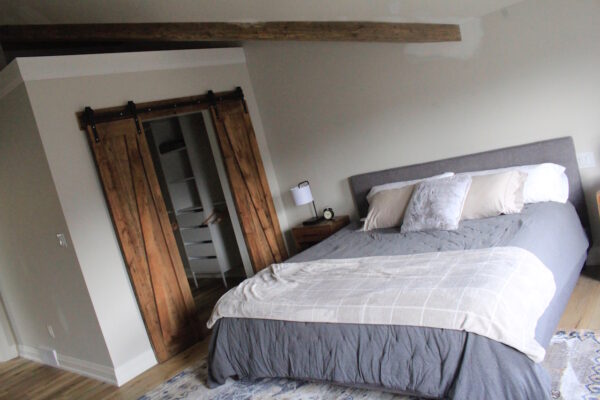 But my main point of interest was the walk out patio, which put me to a tough decision. Do I BBQ, or take advantage of one of the killer restaurants in Cwood's downtown core? I mean, there were a dozen within walking distance – the closest being Lowdown, which was right around the corner. We had heard great things about The Pine, a new spot on..well Pine Street! And the same with Later Pizza, but we ended up opting for a little Bent Taco action. The Charizo Sausage Taco Kit offered a spicy kick to our taste buds and sure hit the spot.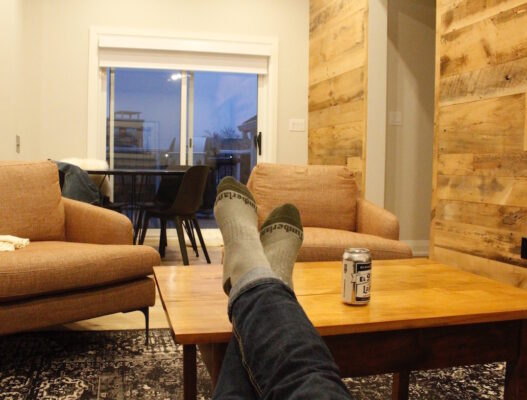 Collingwood has some great locations for live music and theatre, but in the time of Covid, we settled for a walk around the beautiful neighbourhoods and harbour before settling in for Netflix and glass of wine. (Has anyone seen the new College Admission Scandal doc? Damn, those rich folks down south sure got themselves into some trouble).
The sleeping was easy in the luxurious master bedroom with a king sized bed, walk in closet and en suite. Feeling refreshed, I didn't really need a coffee but wasn't missing the chance to walk over to Gibson & Co. for a little cappuccino and scone combo. There was no rush on the day, but we knew we wanted to hit The Hive and Pine Eco and Refillery, both favourite spots. The Collingwood Olive Oil Company was just across the street, and we also wanted some buch from Collingwood Kombucha Company!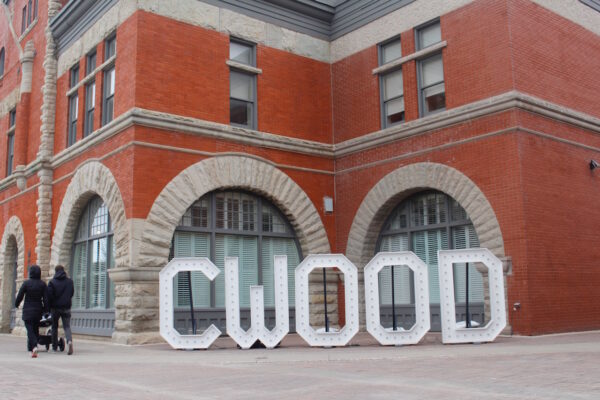 The weekend ended with a walk through the Village and a stop in Thornbury for another coffee from Bread and Butter. Arriving home well rested (and well-caffeinated) it was just what the doctor ordered. A weekend away from the endless Zoom meeting that is Covid life.
To book this seasonal rental, just shoot an email to Mike at suitestemarie@gmail.com
Written by Jesse Wilkinson