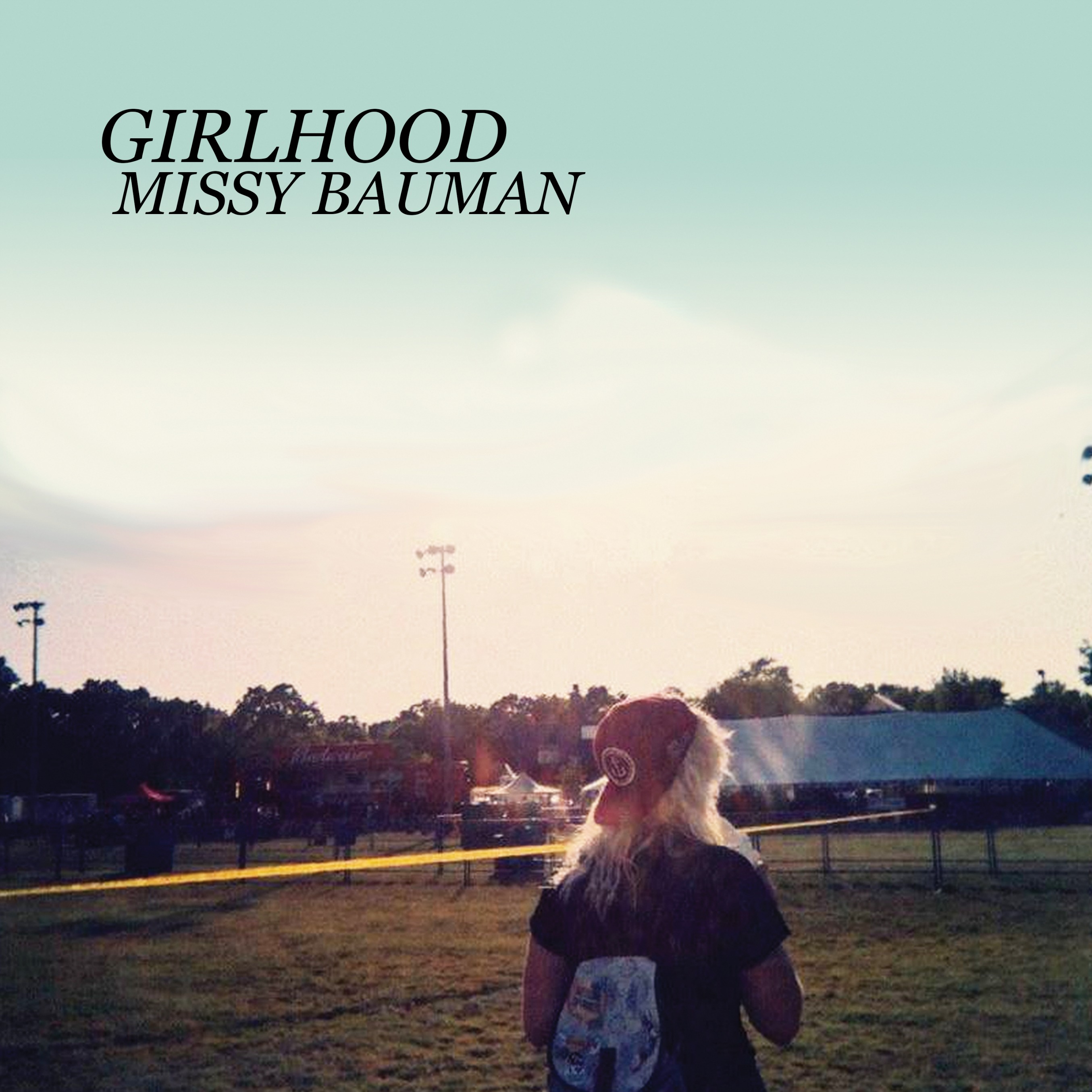 When Missy Bauman's vocals first enter the song Her, the first on her five-song EP due out tomorrow called Girlhood, I would call it a dreamy, beatific sound. She might call it "dreamy drug folk. sad pop. girl power". I think the fact that we both use the word 'dreamy' is important here, though. I feel that this album is an exploration of the ethereal. And it's not to say that I don't agree with the sad pop/ girl power. But I'll get to those later.
This is a songwriter who's not afraid to make herself vulnerable, and it really pays off. This album doesn't drop until March 25 (tomorrow) but Rrampt was given an advanced copy, so for the last few days, I've been listening to these five songs that have captured me and immersed me in Bauman's dream-world full of introspective lyrics and captivating vocals. She tells us right away that "I was much weaker when you met me/ that's the reason why you kept me" in song that really enables her to show off her vocal range, hitting notes and holding them over long, soft vowels that keep us right where she wants us.
Bauman has already had a fairly storied start to her career. She's won awards such as the Hamilton Music Award's Best New Artist (2012) and Rising Star (2012). She was a Competition winner for the Summerfolk Youth Discovery Series, and was an Official Selection for Hillside Festival's Girls with Guitars Program this year. She's shared the stage with such artists as Feist, Arkells, Gordon Lightfoot, and Bahamas (which I'm sure makes her boyfriend, Andrew Nunno, jealous, who Rrampt learned is a huge fan of after our interview with him this past fall).
But I want to talk about dreams for a minute and how Missy Bauman weaves them so beautifully into her lyrics and layers sounds behind her that makes this new EP an effort that will put her on the map. Once you listen to any one of these five songs, you will realize that Missy Bauman is a name you will be saying again. For example: "Hey, I just got this new EP by Missy Bauman the other day, and I…can't….stop…listening to it! I went to her website to see where she's playing next and she's got some Ontario shows coming up! Let's go!"
Advertisement
She opens the song Motherhood with: "I sit and wonder why/all these cliché dreams that I / keep spitting out/ like I will die /without a thought made in my mind". But her dreams aren't cliche at all. Sentimental and relatable yes. But cliche, no. Her lyrics can be very bold, actually, especially on this second song where she details the raw, sexual details of relationships and the complex feelings attached. When she describes her hands forming fists as they kiss, she understands the spectrum between lust and anger. And she doesn't care if her room-mates can hear her having sex, because "life's too short." This, to me, feels like the self-described 'girl-power' label she gives her songwriting. She asserts her womanhood, sorry – Girlhood, very clearly on songs like this while keeping an element of fragility. But I think vulnerability is powerful, too. I get the feeling she does, as well.
The only time she borders on cliche is when she conjures up the image of sitting by the windowsill on Lucky, but then she turns it into a metaphor about lost moments when she asks "How can all my windows close?" It includes some of my favourite lines on the album: "Sleepy moments in the wake of light/ sleepy kids, he held me in his arms/ he loved me" and "You told me to have faith in you/ We all promised and then we all backed out." She's lamenting for a time gone by, a time when she realizes she was lucky. Don't we all have those times in our lives where we wish we could go back to, and tell our ourselves to enjoy it – that it won't last forever?
Easier details a struggle that begins by revealing she "drove for hours to be a one-person crowd/ he told me everything." She is reaching out to his most recent lover and reveals "He wouldn't tell you/ but I was before you/ and all in between". This song would fall under Bauman's self described 'sad pop' sound but I really enjoy the way this song builds from simple guitar strumming to aggressive piano chords and then slows down again after the climax to ask "Did it get easier for you?/ Ya things got better for me too". The relationship she's describing here is another complicated one and there are still feelings tugging at her. She uses the theme of dreams again to unpack things for us: "I plan to keep the things he said in my sleep/ a life forever/ pretend he never let me down."
She chose the bouncy Kids for the final of the five; it's not a song about growing up but about how some of us never do. Or never want to. "Like a kid I disregard all consequences" and wonders if "you think I'm smart, or at least interesting". These are often questions we attribute to growing up, but these vulnerabilities never leave us. So, no one ever truly grows up. And that's a truth she's tapped into here. We are all vulnerable; we just try to hide it most of the time. But Missy Bauman has put many of hers in plain sight on this album and I'm drawn to it for that reason. This is the work of a truly talented artist, and one Guelph is lucky to have, and one that Owen Sound will always welcome back.
So in answer to the questions she leaves us with on the last song: yes, we at Rrampt think you're a smart songwriter; and an interesting one. So keep writing down your dreams and sharing them with us. They're not cliche at all; they're nuanced and beautiful.
You can catch Missy Bauman playing at The Cornerstone in Guelph on March 25, and The Cameron House in Toronto on May 6. She'll be performing with Andrew Nunno in Owen Sound on August 11 at the Bleeding Carrot.
Written by Jesse Wilkinson