I'll preface this review by saying that I am not from Owen Sound. I moved here about 5 years ago from Newmarket.
My hometown isn't as tied to its history as Owen Sound is. All I really knew about Newmarket is that Jim Carrey was born there, and a guy called John Bogart built a house there in 1811.
Owen Sound is totally different. History is so present here. Anybody can tell you about how it was a dry city into the 70s, or how it was the last stop on the underground railroad.
There are historic plaques all over. Restaurants and record labels here are named after historic parts of town. It only makes sense that some of that history would make it into the music produced in Owen Sound.
Larry Jensen's new album Late Nights on Irish Mountain is littered with historical references. It's the first album that's made me want to visit a library since Rush mentioned Ayn Rand in the liner notes of 2112.
Advertisement
---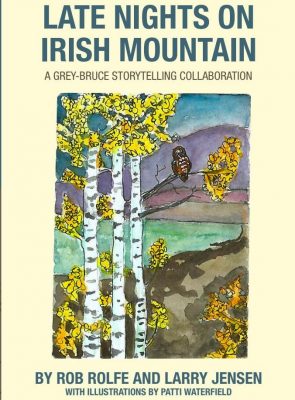 ---
What's striking about the songwriting on this album is that it never feels like somebody singing about something they read in a book. Rather, it comes across as a first-hand account from a person who lived it. Larry finds the soul in the history lesson and weaves it into a story not dissimilar to one you'd hear from a very engaging stranger in a bar. And that's because that engaging stranger in a bar is actually poet Rob Rolfe who wrote the lyrics collaboratively with Jensen for this project. They met when Rolfe moved to Owen Sound from Toronto years ago and have collaborated on projects since their introduction, including a stint as the Owen Sound Poet Laureates. The fabled area of Mudtown is one that resonates with them both – it's where Jensen grew up and where Rolfe lives now.
The sort of balladry songwriting that defines this album is nothing new to folk music, but when you can listen to a record and get every off-hand reference, it's easier to make a connection to the music.
Late Nights on Irish Mountain shifts tone dramatically, but not in a jarring way. Although many of the songs tend to be on the slower side, they range from brooding blues (Hard Road) to a tongue in cheek take on gospel music (Devil's Train). It's a fun listen, and the shifts in tone help to emphasize the subject matter of each song.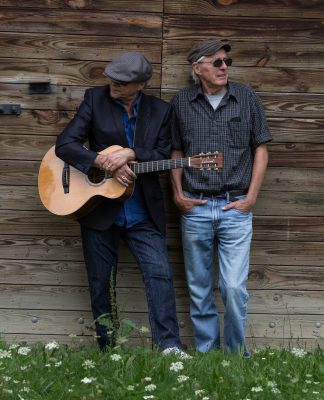 Musically, this album is pure Canada. Larry's guitar playing would not be out of place if you heard it on Yonge Street in the 60s alongside Neil Young and Buffy Ste-Marie. Larry did most of the instrumental tracking himself, with a few guest musicians like Pete Devlin, Tyler Beckett, Sue Seguin, and others.
Interestingly, the album is almost completely percussion-free. It's not something you'd notice on the first listen, and it's not something I really missed either. In fact, I didn't even (consciously) notice until the third time I listened to the album. The effect is subtle, but the lack of drums allows the musicians to play a little faster during their favourite parts, and a little slower during parts they want you to pay attention to. And the energy is contagious! If you can listen to this album without tapping a toe or cracking a smile, you may want to get your vitals checked.
Overall, Late Nights on Irish Mountain was a great listen. It felt very personal, especially on the tracks dealing specifically with Owen Sound. There are some touching, heartfelt songs, songs with good messages, songs that are just plain fun, and some that are all of those at once.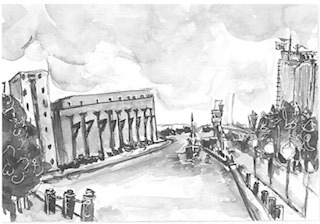 Not a single note was wasted during the making of this album…unsurprising given Larry Jensen's experience. And not a single word either, which is a testament to the economy of language that poet Rob Rolfe brings to this project. And to take it even further, not a single stroke of paint was wasted on the cover art, crafted by artist Patti Waterfield, who also illustrated the book that accompanies the CD. The book contain's Rolfe's lyrics with both Larry's and Rob's commentary to each song, a true must-have for any Jensen/Rolfe fans out there. This project is a true combination of local talent – a trifecta of poetry, music, and art.
Given the time of year it is, Late Nights on Irish Mountain should be up there on the list of things to play when your family comes around for a visit. You may not live in Mudtown, but the stories are much bigger than one small area of a Canadian city – they are stories that define us all.
Late Nights on Irish Mountain is available from the Ginger Press Bookshop and Cafe.
---
Written by Andy Elliott