Have you looked up at the climbers on the Niagara Escarpment and thought, "That would be exciting to try, but I don't have the skills or bravado"?
The good news is – there is a way to get the view and thrills of climbers without the required skill set or specialized equipment. The bad news is that you can't get the experience in Ontario yet. To try Via Ferrata, a trip to either Quebec, Alberta or British Columbia (which isn't such a bad thing) is required.
Via Ferrata means iron way in Italian and is a series of fixed cables, ladders, metal walkways, cable bridges, and rungs drilled and cemented into the rock face. It was invented in Italy before the first world war to allow the safe movement of troops with minimal equipment to reach the high ground of the Alps in their battle against the enemy. Afterwards, the war routes fell into disuse, but were re-established during the second world war.
In the late 40's and 50's sport climbers began to use the existing routes, building new Via Ferratas to the point where over 1,000 routes now spiderweb the mountains of Europe. In Canada, Via Ferrata were first established in Quebec; now over 10 routes in different parts of the province are open to the public. In BC and Alberta several routes exist with new routes being put up continuously.
Advertisement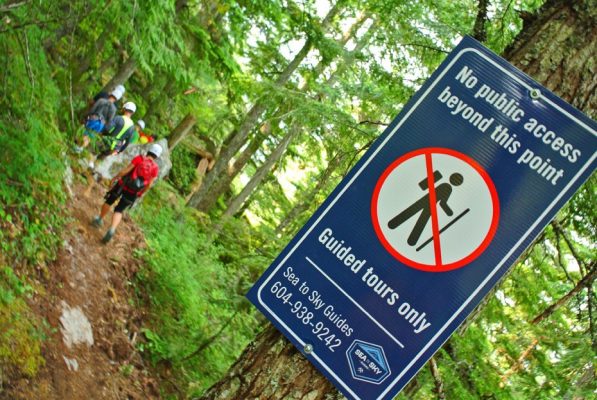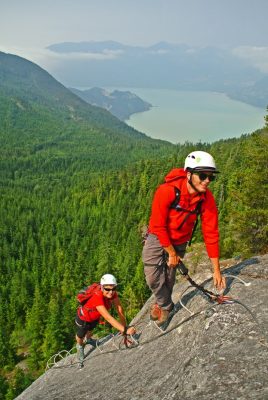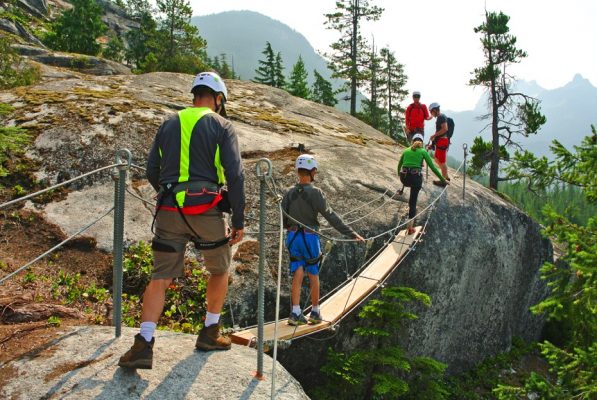 Audrey, my wife and partner, who has a aversion to heights, was convinced to try British Columbia's Squamish Via Ferrata 300 metre long route after seeing glossy photos of smiling children (age 12 and up) climbing the cables. We also had enthusiastic endorsement from our millennial daughter/climber.
Smoke from forest fires north of Whistler were still turning distant peaks into ghosts as we spent 10 minutes riding the Sea to Sky Gondola 880 metres to the Summit lodge where spectacular views of Howe Sound and Sky Pilot mountain peak await you on a clear day (not to mention a nice cold local craft beer after the climb!).
Mountain Skills Academy & Adventures guide, Gavin Williams, outfitted us, along with four other clients, with the latest climbing helmets and harnesses. After explaining safety rules, we walked a short distance through a tinder dry alpine forest to where a vertical wall of glacial granite towered above us. Here Gavin gave us detailed instructions about the procedure – to only have one carabiner off at a time.
He said "clip, unclip, check and then clip, unclip, check," but his kid friendly phrase, "Scooby-Doo" was our group's mantra as we climbed rock faces that stretched our comfort zones. Intellectually, you know you are safe but emotionally it is a stretch from your regular routine.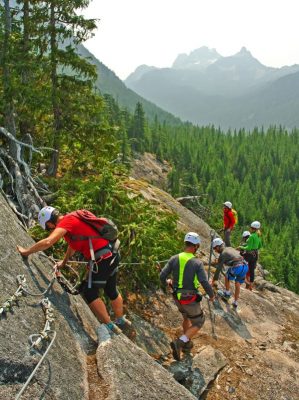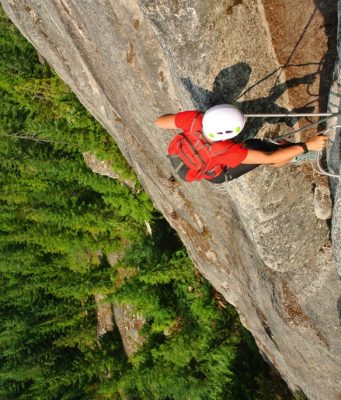 Here is where I'll let Audrey take over the tale. "Each of us clipped our two lanyard attached triple action carabiners into the 3/4" compressed steel cable and headed out starting with some low anxiety climbing, the two clips slid neatly along the cable attached at points called swan's necks. That is where you 'Scooby-Doo,' to attach to the next section of cable. No problem!
Then we came to a point where the ascent was straight up a cliff face. Initially surprised by the exclamations of other climbers, I concentrated on breathing deeply, placing one foot ahead of the other and reminded myself, 'There is a 13 year old ahead of me, I can do this, too.' Duncan Genge was my inspiration and I also thought, 'what is the problem? I am in a harness and on a cable!'
I didn't look down until we got to our first ledge, and then waited till I was really well settled on the metal bench to enjoy the spectacular view over a now smoke free Howe Sound, and wondered – why was I worried? Although I am not a climber, I felt comfortable with my harness, my encouraging guide, and supportive group. This is an amazing opportunity for non climbers like me to experience the exhilaration of climbing in a totally safe and secure environment."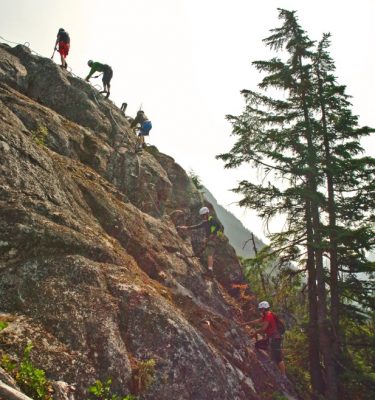 When asked why he guides, Gavin replied, "I like taking people to cool places they wouldn't normally go to. As you climb Via Ferrata, people gain confidence and you can apply that to other areas of your life, too."
A couple on our tour visiting from Toronto for a stand-up paddling clinic in Squamish thought the Via Ferrata would be a fun addition to their busy itinerary. Reflecting on the experience, Mary Le Page, who works in media sales, said her "initial fear turned into exhilaration and an over all fantastic experience." When asked if he would like to see something like this in Ontario, Adrian Richter, a high rise construction superintendent replied, " Oh, for sure! This brings climbing to the people."
A father and son from Vancouver found the experience to be a fun summer outing. Ross Genge, who works in financial security commented, "The thing that really impressed me was how tailored it was for every level; it was modified to suit all skill levels." His son Duncan, had no worries, "but for the steep parts and looking down."
As for a non climber like Audrey, the experience hasn't turned her into a climber yet, but as Gavin suggested, it has given her more confidence and she applied that to a recent hike along a sketchy cliff section on the upper Bruce Peninsula. Previously, she may have turned back where we had to pull ourselves up over steep loose sections of the escarpment, but after our Via Ferrata climb, she thought "I can do this!"
---
Words and photos by Willy Waterton