"Screw it. It's time to be out. It's time to be loud. It's time to take up space and not be hiding."
These glorious words struck me while I was sitting down to chat with the fearless founders of Femmes Fêtes-als, Shawna Cox and Rachel Paterson. These two have been working tirelessly to create spaces in which the local LGBTQ2S+ community can connect, have fun, and feel safe – something that is much-needed in this area.
"I think that there's lots of people who just hermit themselves away because they don't feel safe," ventures Cox. Although Grey-Bruce-Simcoe has come a long way over the years in terms of supporting the queer community, there remain quite a few gaps to fill. And this is exactly what Cox and Paterson set out to do with their LGBTQ2S+ event planning initiative.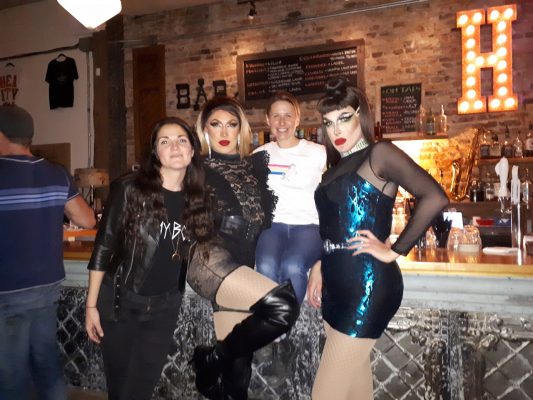 They originally started up Femmes Fêtes-als as a way to break out of the isolation that can come with being a queer individual in a rural area. Until recently, the LGBTQ2S+ community up here has been largely underground. Now, with organizations such as Grey Bruce Pride and events like the Owen Sound Pride Parade and Pride and Transgender flag-raisings, we are becoming more visible. However, it can be difficult to find social opportunities specifically for LGBTQ2S+ individuals. Paterson mentions that a lot of the opportunities tend to be age- and interest-specific. "We just found that there really wasn't anything for us younger folk," Cox adds. "Nothing for that younger demographic between twenty and forty." Naturally, the couple decided to fix that.
Advertisement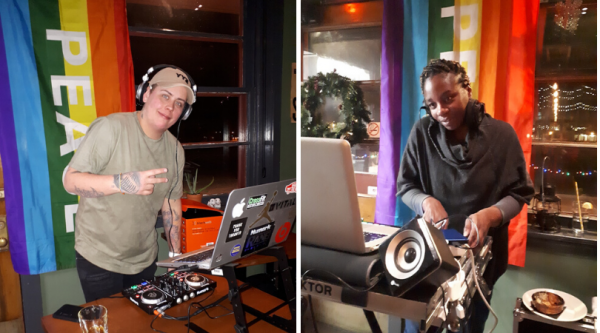 Beginning with a Big Gay Beach Day just this past summer, the events offered by Femmes Fêtes-als have quickly grown over the months and are now a fixture in the local LGBTQ2S+ community. You can even download the calendar from their website and synch it with your smart phone so you'll have all the queer goings-on at your fingertips!
The monthly Femmes Fêtes-als pub nights and Beers with Queers at Mudtown Station have been such a success that they're looking to expand these types of meet-ups to other small towns in the area. Regular LGBTQ2S+ pub nights will be coming soon to The Wismer House in Port Elgin, and the Femmes are constantly brainstorming innovative and entertaining special events to offer. (Bring Your Own Vinyl – Pride edition, anyone? Or how about a beach-side Pride Floatie Parade?).
During the day, both Cox and Paterson have jobs in social work, so keeping this venture on the go is a welcome way to balance out their lives. "It's all just fun, coming up with crazy ideas and seeing if it works!" laughs Cox.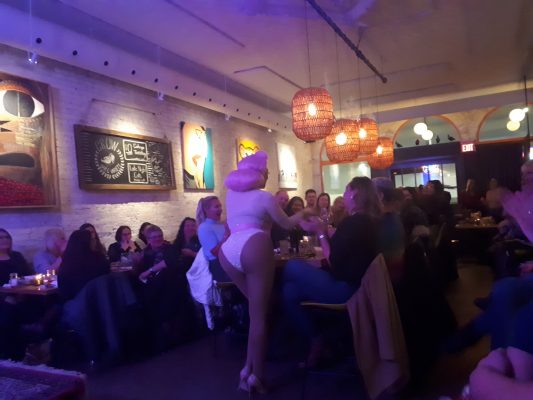 Perhaps the most popular recent events have been the drag shows held at both Heartwood Concert Hall in Owen Sound and Crow Bar and Variety in Collingwood. Paterson notes that the events themselves – featuring a group of queens from London's Haus of Drag – and the audience members have helped to break down some of the stereotypes associated with gender and sexuality. "None of us fit any moulds!" she says. "There's a lot of really fun, urban, progressive things that we don't have access to here, and so we're trying to do that." There's another sold-out show in Collingwood this month, and then they'll be bringing the Toronto-based drag king troupe, Rebel Gen, up to Heartwood on June 6th – stay on the lookout for tickets to that event, because they'll move fast!
The success of the drag shows has brought to light the need for local drag opportunities, with more and more people expressing their desire to learn the art themselves. In order to answer that call, Femmes Fêtes-als will be hosting Drag University in June, a series of workshops for aspiring queens, kings, and gender-bending individuals!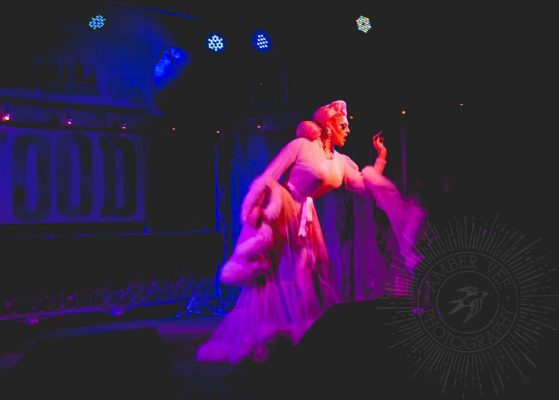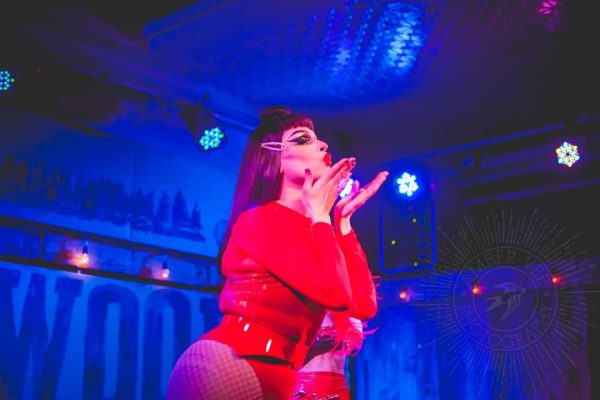 In the mean time, if you want to learn more about gender identity, gender expression, sexual orientation, and the history of drag, join Femmes Fêtes-als this Friday, March 6th for a community discussion at the Owen Sound library auditorium from 6:00 to 9:00 pm. It's open to everyone and free of charge – although donations will be welcome in order to help subsidize future events and make them accessible to all who want to attend.
Accessibility has become a growing focus of Femmes Fêtes-als. "A lot of the younger LGBTQ folks are living close enough to the poverty line as well – if not under it," explains Paterson "So, trying to make sure we have affordable [events] has been a big part of things." Even the pub nights have a pay-what-you-can cover fee so nobody is left out. It's all part of removing as many barriers as possible from within and surrounding the LGBTQ2S+ community.
Paterson and Cox have already begun the process of starting a GSA (Genders and Sexuality Alliance) Network with a local institution, and their website includes a comprehensive directory of queer-specific local and provincial supports for mental health, physical health, and sexuality. It's the first resource list of its kind for this area and a huge step in creating an inclusive community.
Of course, as Paterson points out, much of the work to bring the community together involves ally-ship. "We can't make the safe spaces without the safe allies." Whether friends, family, businesses, or organizations, support from the non-queer community is essential, which is why the events are always open to allies. No matter where people fall on any of the gender or sexuality spectrums, everyone is welcome to join the Femmes Fêtes-als in celebrating all things LGBTQ2S+. Come on out to connect, take up space, be visible, and just have fun! It's time.
---
Written by Sarah Goldman
Photos by Amber Vee