Ever craved fresh oysters from a roadside motel?
Well, you're about to start.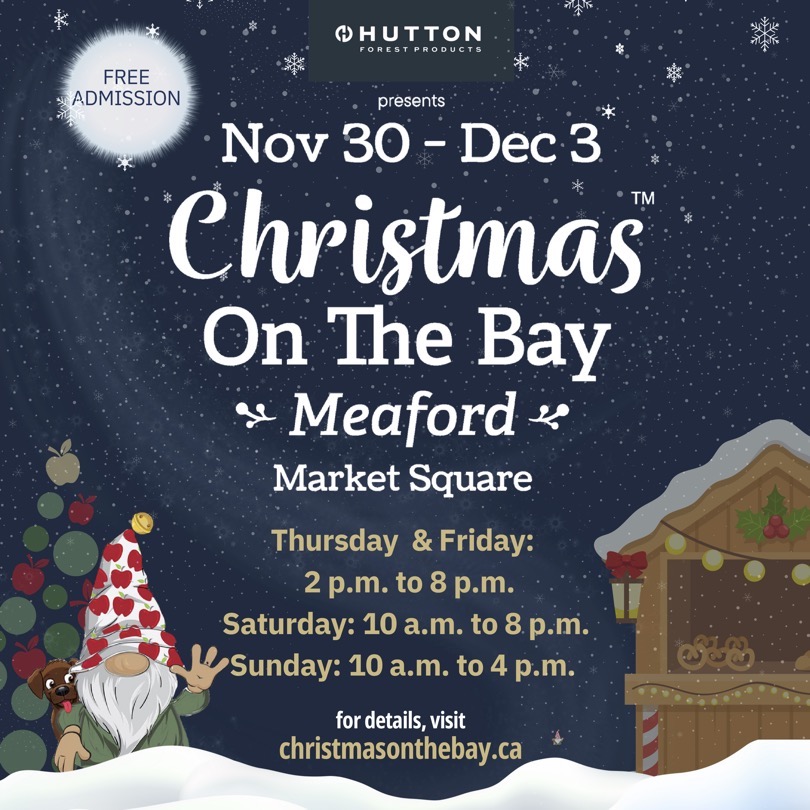 By now, you might have heard of Penny's Motel, which opened at 141 King Street East in Thornbury back in July. The boutique motel, which has actually been in service for over 40 years, is under new ownership and recently underwent a 'motel makeover' of its own.
With just thirteen rooms leading to a manicured courtyard, the motel maintains its original architecture and '70s vibe outside, but the interior has been completely gutted and upgraded for a modern and luxurious feel. Each room has its own flare, with accent walls featuring mountains, palms, florals or seascapes, but all are equipped with the same crisp white linens, minimalist decor and hand-picked retro touches, like record players and vintage-inspired alarm clocks.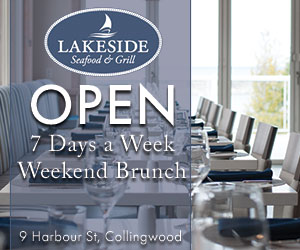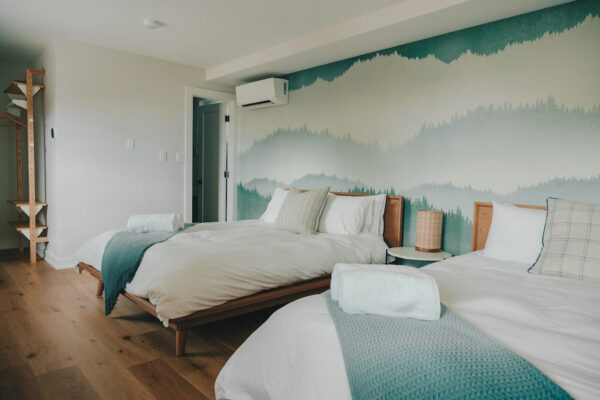 Even the bathrooms have been retrofitted, with heated flooring and brightly tiled showers that match the wallpaper in the bedroom.
"The vision was to make Penny's a destination, not a pit stop," said John Bellknap, the owner of the recently reopened motel.
And he knew the addition of a restaurant would do just that.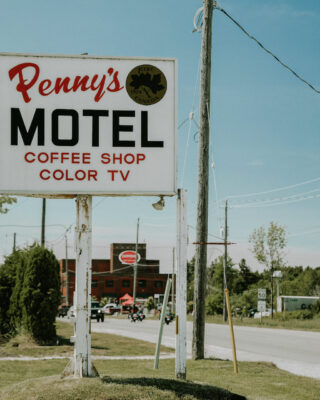 Having grown up visiting South Georgian Bay on family vacations, Bellknap, who is the owner of John and Sons Oyster House in downtown Toronto, fell in love with the area long ago. Eventually, living in a Toronto condo was no longer cutting it, so in 2018, Bellknap moved to Collingwood with his wife and three kids, eager to bring his decades of hospitality experience to this area.
"I figured the kinds of people who would eat with us would probably stay with us too," he said. "It's a different vibe, it's almost a resort atmosphere. Here we get to embrace slow hospitality."
While the focus for the first half of the year was on getting the motel up and running, Bellknap was eager to host guests for dinner and drinks at the newly built restaurant. He always knew he wanted to incorporate his love of oysters into the experience, while also showcasing local farmers, so he teamed up with chef Amber Plourde and together they began designing Penny's first Après menu.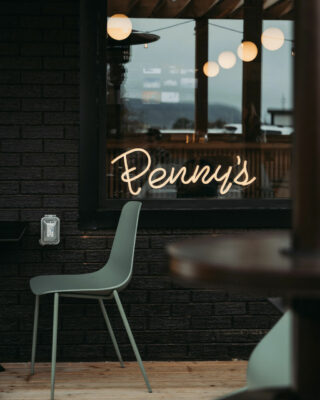 Plourde, who is the former sous chef at The Drake Hotel and now a Thornbury local, was excited to have the opportunity to put her culinary creativity to the test.
Some of the current menu items include charcoaled shrimp with black garlic butter and citrus; shoshito peppers with a spicy peanut sauce; a lobster and crab roll with amba aioli; focaccia beef tartare; and of course, hand-selected oysters from a variety of regions.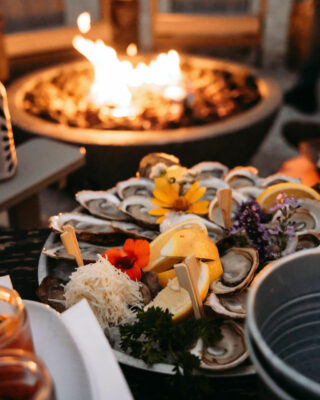 "The idea was to have small, seasonally-inspired, shareable plates," said Bellknap. "And I fell in love with oysters because of the atmosphere they bring. It's an added level of entertainment, and almost intimacy. We want our guests to be able to slow down and connect while sharing a delicious and unique selection of food and drinks."
Due to limited kitchen space, Plourde and her team are utilizing a covered barbeque and custom-made fire pit to grill the seafood and meat — giving each meal an authentic, fire-roasted flavour.
The restaurant itself fits right into Penny's home-away-from-home vibe, with a covered patio boasting 50-seats under twinkling lights. As the temperature drops, heaters and blankets have been provided hoping to prolong patio season, — and make it that much cozier.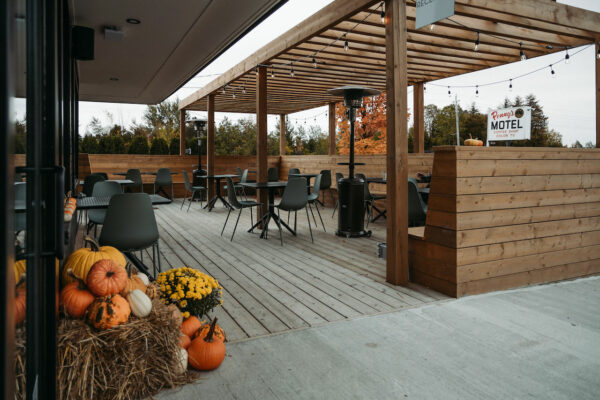 "I've learned a good patio is so important," said Bellknap. "Especially in this area, everybody wants to be outside."
Inside, an intimate bar — which doubles as reception — is accented by exposed wood and industrial style shelves, and features a selection of global wines, local beers on tap, and a rotating selection of oysters.
The bar area is open at 8:30am every day for craft coffee, tea and a selection of baked goods that are made in house. Oysters, wine and cocktails are available from 4:00pm onwards. The kitchen is open Wednesday until Saturday for lunch from 11:30am until 3pm, with dinner service running from 4:00-9:00pm.
Lunch offerings include an always-evolving few items designed to take with you on your daytime adventure, or sit and enjoy with a few oysters and a beverage on the patio.
Bellknap is also hoping to make room service available in the near future, so you can have a dozen oysters and a bottle of wine delivered right to your door.
He is also looking for opportunities to connect and work with other local businesses, and likes that the restaurant really allows him to be able to welcome both tourists and locals alike.
"Penny's Après adds this extra layer of texture to the whole property," said Bellknap. "Having people that aren't necessarily staying here, but eating here, just activates the property and hopefully gives this community a whole new energy."
So, who's up for oysters?
Words by Maddie Johnson
Photos by Jenna Kitchings from Soka Media